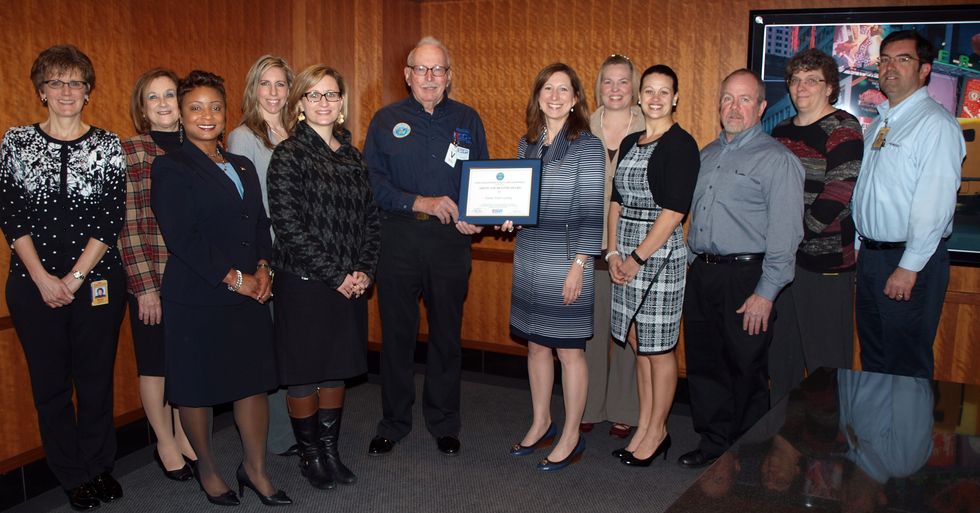 Penske Receives Above and Beyond Award for Military Support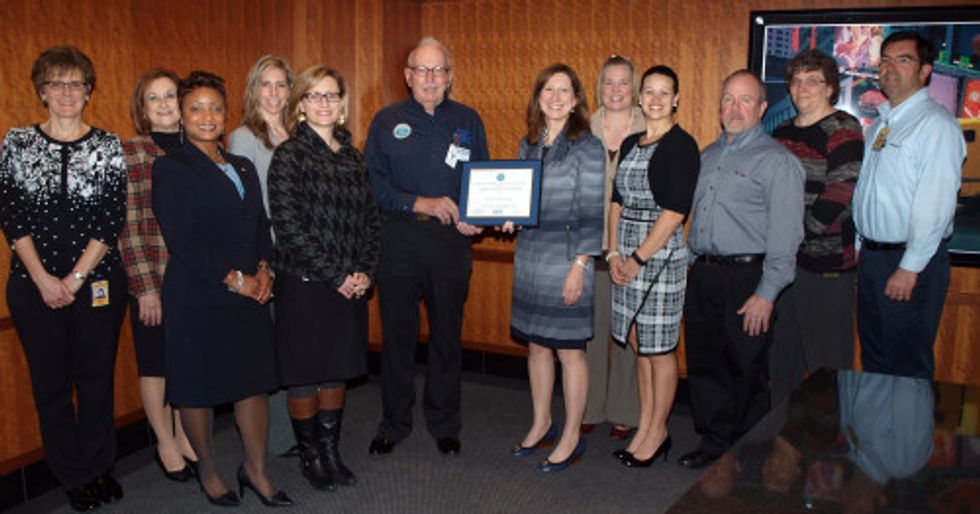 Rodger Diehl (center, left), east central area representative for the Employer Support of the Guard and Reserve (ESGR), presents an Above and Beyond Award to Jennifer Sockel (center, right), Penske's senior vice president of human resources. Also in attendance was the Veterans Day Planning Committee: Penske associates (from left) Michele Hansen, Charlene Nash, Delphia Howze, Kandace Wertz, Karyn Troxell, Julie Levering and Ashlee Kantner; Grayson Krauss (supervisor of John Adams, who nominated Penske for an ESGR award); and committee members April Schaffer and Scott Norman.
Penske Truck Leasing received an Above and Beyond Award from the Employer Support of the Guard and Reserve (ESGR) for its continued efforts to support associates serving in the Guard and Reserve.
---
Rodger Diehl, ESGR's east central area representative, presented the award to Jennifer Sockel, Penske's senior vice president of human resources, and to the Veterans Day Planning Committee during a brief ceremony at Penske's headquarters in Reading, Pennsylvania.
According to the ESGR, the Above and Beyond Award is bestowed to companies "who provide exceptional support to their Guard and Reserve employees." ESGR considered Penske for this honor after the company recently received several Patriot Awards – which recognizes individual supervisors for their supportive efforts to offer flexible schedules, provide time off prior to and after deployment, care for families and grant leaves of absence, if needed.
"When Patriot Awards start to accumulate, the ESGR recognizes that it's more than just the supervisor supporting their employees. It's the policies and how the company treats their Reservists and Guardsmen. It's an honor for companies to receive this award," Diehl said.
Penske's latest Patriot Award stemmed from a nomination from John Adams, an IT engineering supervisor in Reading. Adams has served 25 years in the military: nine in active duty and 16 in the Reserve. Penske supported Adams when he was activated in 2003 and 2008. Adams again is on military leave and will return later this month.
In his 2015 nomination, he shared, "When I have personally been deployed, I received care packages and regular communication from my manager about my well-being and that of my family. My manager has been fully supportive of my commitment, whether it was for a day or a year for the past 15 years since I have been employed at Penske."
Diehl praised Penske for supporting associates in the Guard and Reserve during a stressful time when they are away from their jobs and families.
"It's so great when corporations like Penske support these guys," Diehl said. "How you treat them and support them really helps them. It takes off the pressure."
As Sockel accepted the award, she emphasized Penske's commitment to supporting both Guard and Reservists and veterans. Last year, 11 percent of Penske new-hires were veterans.
"We're very focused on helping our veterans transition into the workforce," Sockel said. "We appreciate their values, work ethic and skills and truly value them within our organization. We're honored to be recognized by the ESGR and other military organizations for our efforts, as it is a fitting testament to how Penske prioritizes our commitment to veterans."
Penske has received these other ESGR awards:
For the sixth year, Penske is a top 100 Military-Friendly Employer on a list published by Victory Media, publisher of G.I. Jobs and Military Spouse magazines.
By Kandace Wertz