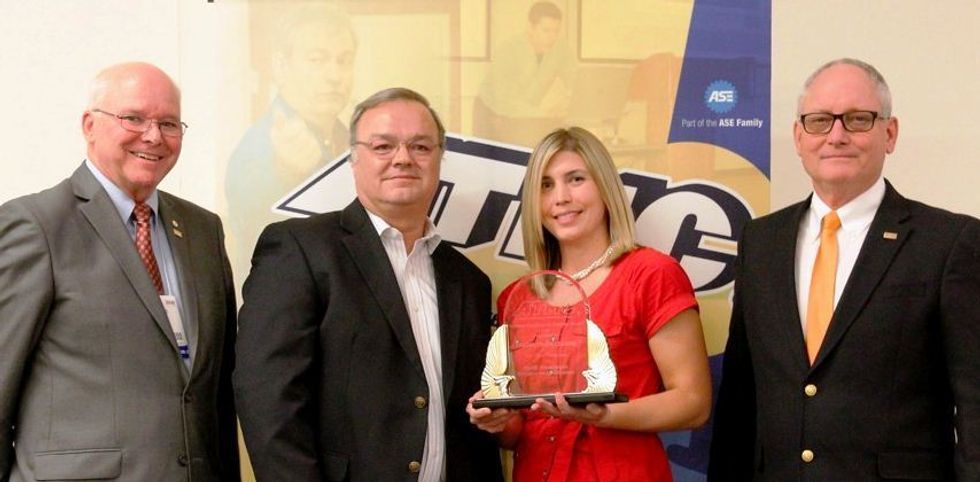 Penske Honored with ATMC Excellence in Maintenance Training Award
Penske Truck Leasing was given a 2013 National Excellence in Training Award by theAutomotive Training Managers Council (ATMC). One of seven companies to earn this honor, Penske was lauded for its heavy-duty and medium-duty truck preventive maintenance certification program for the 5,500 maintenance technicians and customer service representatives it employs across North America.
---
Penske was formally recognized at the Annual ATMC Industry Week reception on Nov. 6 in Las Vegas. Accepting the award for Penske was Jeff Nelson, vice president of field maintenance for the West region, and Holly Gerke, technical training manager. Gerke is vice chair of the ATMC board of directors.
"This new comprehensive curriculum helps drive our vision of an industry-leading maintenance workforce, and we thank ATMC for recognizing our successful efforts," stated Bill Jacobelli, senior vice president of maintenance for Penske.
David Taliaferro, Penske vice president of quality and fuel services stated: "our technicians support the largest, most diverse fleet in the industry. Innovative and effective training is a must for us to deliver on our customer service commitments."
ATMC is a non-profit organization dedicated to the advancement of training and professional development within the auto and truck service industry.
"Judged by a panel of ATMC training professionals, the Penske program and six others were selected from among numerous submissions for their ability to meet training objectives in a highly effective and innovative manner," said Dave Milne, ATMC president.
By "Move Ahead" Staff
Photo caption: Posing with the ATMC training award is from left, Dave Milne, ATMC president; Jeff Nelson, Penske vice president of field maintenance for the West region; Holly Gerke, technical training manager for Penske and ATMC vice chair; and Bobby Bassett, ATMC chair, board of directors.