Penske Helps Deliver a Christmas Miracle for Military Spouses
It was the Christmas that almost wasn't.
---
When Hurricane Florence swept through the Carolinas this fall, it brought devastation to many, including Support Military Spouses (SMS), a South Carolina non-profit which provides holiday care packages to military families.
All the holiday gifts and cards were destroyed, threatening to steal Christmas joy for hundreds of military spouses and children. Yet, like many great holiday stories, this one has a happy ending.
Thanks to donations from so many, including Penske Truck Rental which provided a rental truck, Support Military Spouses was able to deliver care packages for 1,000 military spouses and 1,100 children this month across the Carolinas.
"We are calling this the Christmas miracle," said Diane Rumley, who operates the charity with her husband, Steven. "It's a very exciting time."
Nearly A Decade of Caring
The Rumleys created the non-profit SMS in 2009 with a goal to provide every U.S. military spouse with an appreciation care package as a way to thank military spouses for their sacrifices.
That first year, in 2010, Mrs. Rumley remembers packing up a Penske van with 35 shoeboxes filled and donated by caring individuals, and delivering them to Seymour Johnson Air Force Base in Goldsboro, North Carolina.
The shoebox, like today's care package, contained a handwritten note, a simple but meaningful gesture that touches the hearts of the military spouses.
SMS provides care packages twice a year: on Military Spouse Appreciation Day in May and at Christmas when the effort extends to children, dubbed by Mrs. Rumley as "the littlest heroes."
As the end of this month's package delivery parties, SMS will have delivered more than 68,000 care packages to military spouses and their children, Mrs. Rumley said.
The Storm's Toll
The planning process starts in October for SMS, as the charity's warehouse is transformed into a virtual Santa's workshop. Volunteers attend assembly parties in November to create care packages for spouses and children.
"We go through the warehouse. We select our inventory. We prepare the assembly area, and we reach out to our volunteers to have them register for the November assembly parties. It is all done in our warehouse office location."
That all came to an end in the wake of Hurricane Florence.
"After the hurricane happened and the flooding took place, we lost everything in our warehouse and or corporate offices," Mrs. Rumley said. "We lost everything – computers, desks, chairs. You name it and not to mention all the items for the 2018 Christmas packages."
The Rumleys lost personal items as well – 30 years of Christmas ornaments and baby shoes used by their now-grown children.
In all, 17 tons of items – keepsakes and memories – had to be thrown away and taken to a landfill. Yet, they were not alone.
"I know that many of the spouses in the areas we are going to went through a similar flooding situation," Mrs. Rumley said. "There is an emotional element besides the physical element of seeing everything ruined. We all experienced disruption of life as we knew it."
From Devastation to Celebration
After the initial shock wore off, Mrs. Rumley and the SMS team began the task of seeking replacement items for the care packages. Soon after, the charity experienced the highest number of registrations for the Christmas care packages.
The care packages the spouses received contained jewelry, stationery, Christmas gift tags, while the children received toys. One of the more poignant items is a thank you note found inside each package.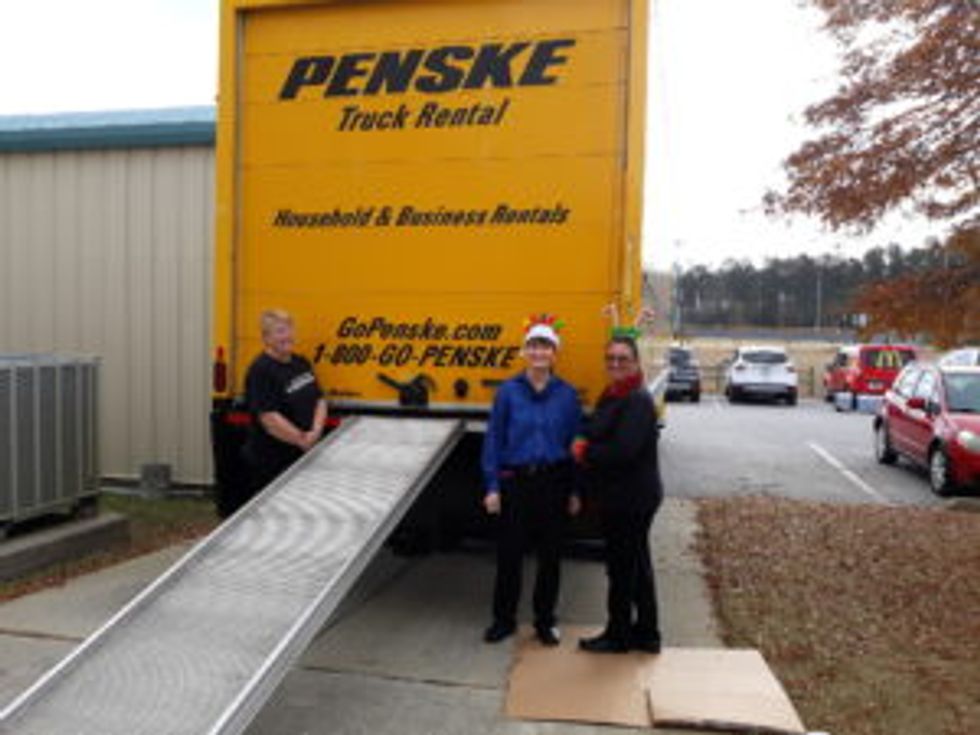 Penske associates sent 1,000 hand-written thank you notes to the spouses in time for insertion into the care packages. "Those caring cards that you all wrote – the spouses cry when they read those cards," Mrs. Rumley said.
The significance extends beyond a holiday sentiment for the spouses.
"It is so wonderful for them to read and know that they are really appreciated; that people really do care about them and understand that they are making a sacrifice like their service member husband or wife," Mrs. Rumley said. "They are the silent hero on the home front."
Yet, Mrs. Rumley said the care package distribution could not be done without Penske's rental truck, which she has dubbed "Santa's Sleigh."
"The Penske truck is the best part. When they see it coming, they know; it represents Christmas," she said. "It's like when you see Santa's sleigh; you know a lot of work has gone into bringing so much joy."
For more information about SMS visit SupportMilitarySpouses.org.
By Bernie Mixon