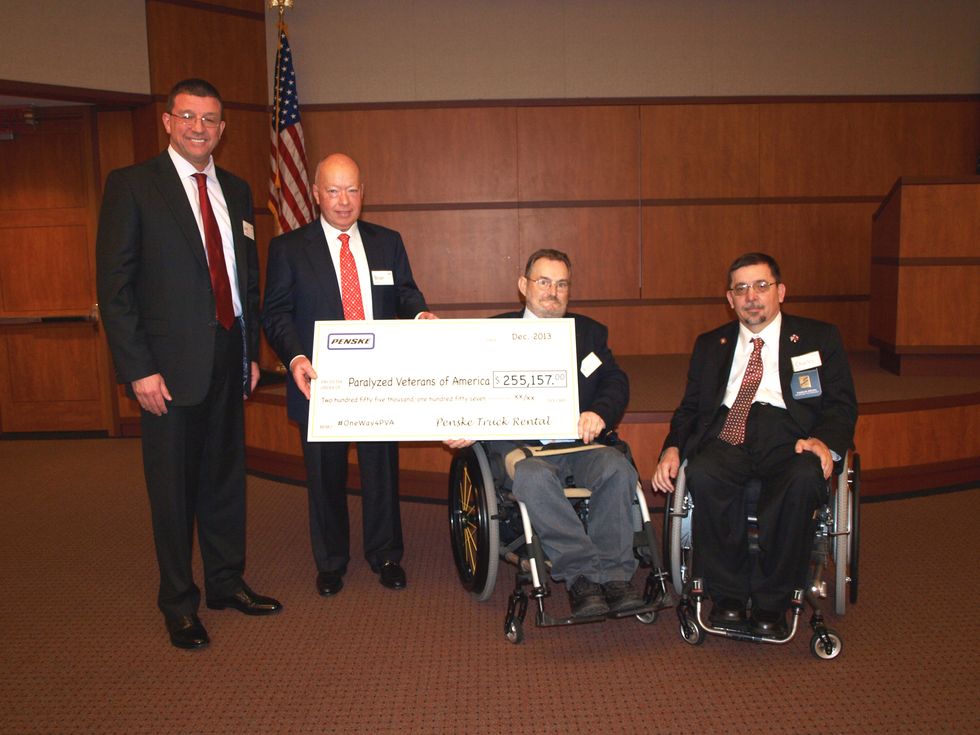 Penske Donation Brightens Holidays for Paralyzed Veterans of America
Today, Penske Truck Rental donated $255,157 to the Paralyzed Veterans of America (PVA). The donation benefits PVA's Mission: ABLE campaign. This mid-campaign donation is part of Penske's year-long fundraising effort for the Paralyzed Veterans of America called #OneWay4PVA, which began Memorial Day 2013 and continues through Memorial Day 2014. Penske Truck Rental is a business unit of Reading, Pa.-based Penske Truck Leasing.
---
"The PVA provides an incredible level of services to help our heroes," said Penske Truck Leasing President and CEO Brian Hard. "We sincerely thank our customers for their generosity and for joining us in support of the work PVA does to help veterans."
PVA's Mission: ABLE campaign was designed to enlist Americans – citizens, communities and corporations – to help ensure our paralyzed heroes are provided the physical care needed to live a healthy life; receive the benefits they've earned through military service; and obtain job training and employment opportunities for new and fulfilling careers.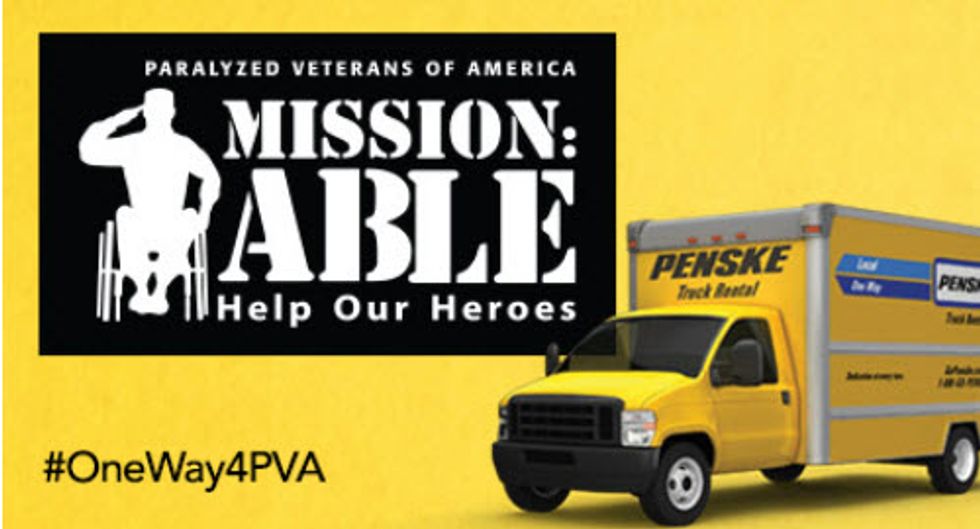 "We thank Penske for their support of the work we do on behalf of veterans," said Bill Lawson, national president of Paralyzed Veterans of America. "This generous donation will allow us to continue serving all veterans and providing them with free programs and services to help them live full and productive lives, regardless of injury."
Paralyzed Veterans of America is a congressionally chartered national nonprofit organization founded in the mid-1940s by a group of spinal cord injured American heroes of World War II. The organization provides its programs and services to all veterans free-of-charge, including benefits assistance, employment services and adaptive sporting opportunities.
Visit Penske Truck Rental online to learn more about #OneWay4PVA or to make a contribution to the Paralyzed Veterans of America.
By Randy Ryerson