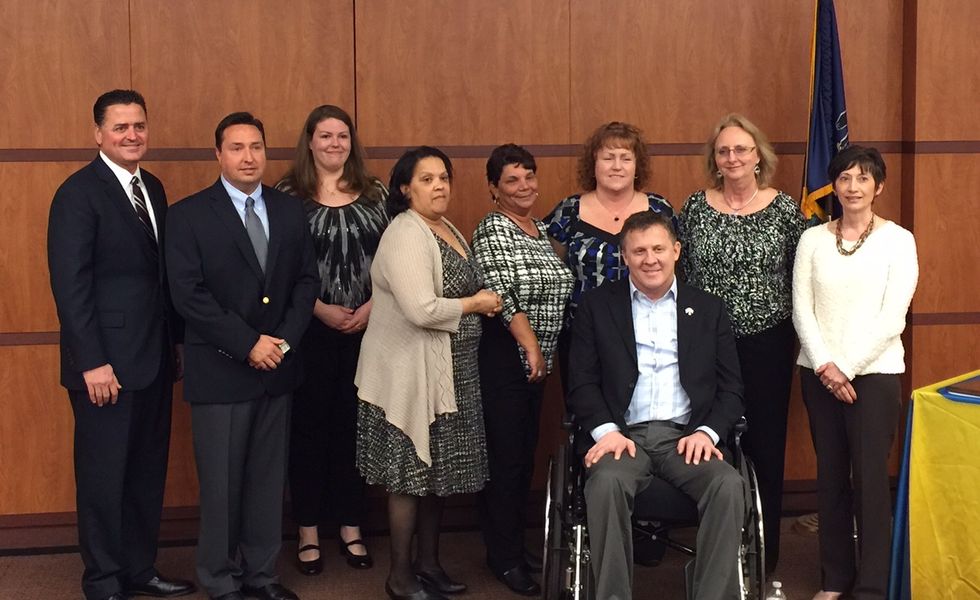 Penske Associates Recognized by PVA
TheParalyzed Veterans of America (PVA) recently recognized six Central Reservations associates at an awards ceremony for being the highest fundraisers through Penske Truck Rental's #OneWay4PVA fundraising effort to benefit PVA's Mission: ABLE campaign.
---
Through #OneWay4PVA, Central Reservations associates offer Penske's one-way moving customers the opportunity to donate a dollar to PVA on their truck rental bills. Penske Truck Rental then matches that dollar.
"Today, we're recognizing associates for their outstanding efforts to help support PVA," said Randy Ryerson, Penske's director of corporate communications. "As we head into moving season, please remember this program and the good people who deserve it."
PVA president Al Kovach presented plaques to the following Penske associates: Dannette D'Agostino, Jacqueline Eaddy, Darlene Jackson, Susan Koskey, Becky Radomski and Jennifer Sallada.
"It's from donations like yours that we are able to help others, and we're here to thank you," Kovach said. "The only way PVA can do the things that they do is through donations."
Before he presented the awards, Kovach shared his personal connection to PVA. He suffered a spinal cord injury following a parachuting accident as a Navy Seal. PVA offered him several grants and other benefits.
"PVA came to the rescue after my spinal cord injury," he shared. "All I had to do was call PVA, and my problems would be fixed. I wanted to give back to PVA and serve as president. I don't think there is a bigger honor than representing 20,000 veterans."
Central Reservation associates feel honored to support PVA's mission.
"Raising funds for PVA has been important to me because I truly feel they deserve every penny," said Becky Radomski, a sales representative. "My favorite part of my job is connecting with these customers because each one has a different story with a different outlook."
Jennifer Madrzykowski, the assistant manager of Central Reservations, added, "It is important to recognize these associates because they have helped our heroes live the lives they deserve. It's a privilege to be part of such an extraordinary accomplishment."
Penske has donated more than $720,000 to PVA since #OneWay4PVA began on Memorial Day 2013.
Caption: PVA President Al Kovach (front) with Rental associates (from left) Don Mikes, Senior Vice President – Rental; Rick Slusser, Vice President – Rental; Telephone Sales Representatives Becky Radomski, Jacqueline Eaddy, Darlene Jackson, Jen Sallada and Susan Koskey; and Rosanne Stoffers, Manager – Central Reservations
By "Move Ahead" staff