Penske Associates Assist Young Cancer Survivor's Toy Drive
A cancer diagnosis a few weeks before Christmas last year threatened to dim the magic and wonder of the holiday season for 8-year-old Makenna Gochenour.
---
Battling the tumor meant undergoing two surgeries at Rady Children's Hospital in San Diego, California, requiring Makenna to spend most of her holiday recovering at the hospital. Yet, somehow, Santa Claus found her, bringing Christmas gifts to Makenna and other children battling life-threatening illnesses.
Now cancer-free, this year it was Makenna's turn. She became Santa's little helper, spearheading a toy drive at Fuerte Elementary School and Penske Truck Rental that would bring 133 toys and joy to the children at Rady. Rady Children's Hospital Foundation distributed the toys to the children.
"They have to spend their Christmas in the hospital and they can't go spend time with their families around a Christmas tree in their own house or see friends around Christmas time. I wanted to make them happy for Christmas," said Makenna, now 9, who attends the third grade at Fuerte.
The Power of a Toy
Rady Children's Hospital-San Diego is a 551-bed pediatric care facility providing the largest source of comprehensive pediatric medical services in the San Diego area. It is the only hospital in the San Diego area dedicated exclusively to pediatric healthcare and the region's only designated pediatric trauma center.
"There is a great need for diversion from the abnormal, demanding, and oftentimes scary situations our patients and their families face every day, and at Rady Children's we really strive to prioritize holistic healing by facilitating such diversion," said Christine Hamlin, administrative associate at Rady Children's Hospital Foundation, who also works in the Toy Room.
"It is even more meaningful when sweet acts of generosity come from someone being impacted by what we do here – whether it be a compassionate response from community members, an expression of gratitude from parents, or the share in optimism that Makenna set out to bring to her fellow fighters here at Rady Children's," Hamlin said. "The power one toy has to bring much-needed levity and comfort into a family's challenging experience becomes so evident."
Driving Holiday Cheer
A few weeks ago, Makenna wrote a letter to her principal about conducting the toy drive at Fuerte. Soon, word spread at Penske Truck Rental where her father, Joe Gochenour, is the branch service manager.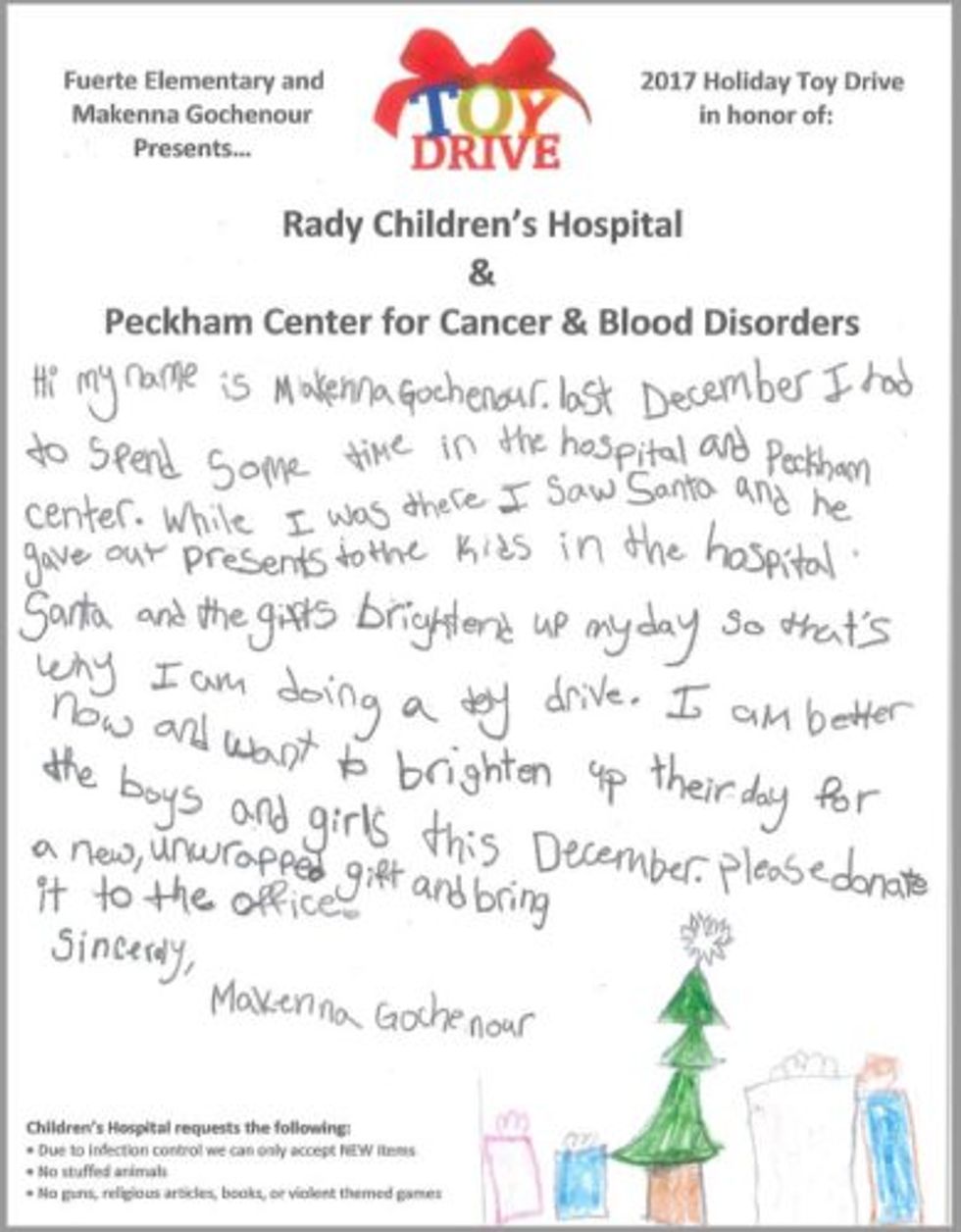 Gochenour shared the letter with Garrett Alpine, district service manager, and soon word spread to other area Penske locations, which began collecting gifts to benefit Makenna's toy drive.
"Just the whole team in San Diego – they were just all so giving. All the shops, rental and management, they were the ones who made things happen," Gochenour said. "We were just able to be the lucky ones who got to give the stuff away. I think it is a great thing."
The generosity of Penske, and his fellow associates comes as no surprise to Gochenour.
"When we had to go through her treatment, just the amount of understanding that we received – everyone was very thoughtful. They allowed me to take the time I needed to be at all of her treatment appointments," Gochenour said. "It felt like a family moment even at work when we were going through all this."
The Rady Children's Hospital Foundation praised the effort of Penske associates to bring joy to the children during the holidays.
"Penske employees' generosity brings joy and comfort to children who are in the hospital during the holidays," said Steve Jennings, executive director of Rady Children's Hospital Foundation. "I wish each of you could be in the room when we deliver the toys – for a moment, the delight in their faces overshadows any other pain they may be experiencing – and they are able to feel like a regular kid. Thank you for your part in creating that magic."
And, it was just that feeling that motivated Makenna to want to give back.
"A lot of it was about how she felt when she was at the hospital," Gochenour said. "That made that kind of impression about how important things like that mean."
On the day Makenna delivered the toys to Rady, she received a gift of her own: a clean bill of health.
"If the tumor was going to come back, it would be in the first year," said Gochenour. "We were just over the 12 months when she had her last scan, which happened to be last Friday when we were delivering the toys. We had a meeting with the oncologist and everything came out clean."
It wouldn't be a holiday story without a happy ending.
By Bernie Mixon