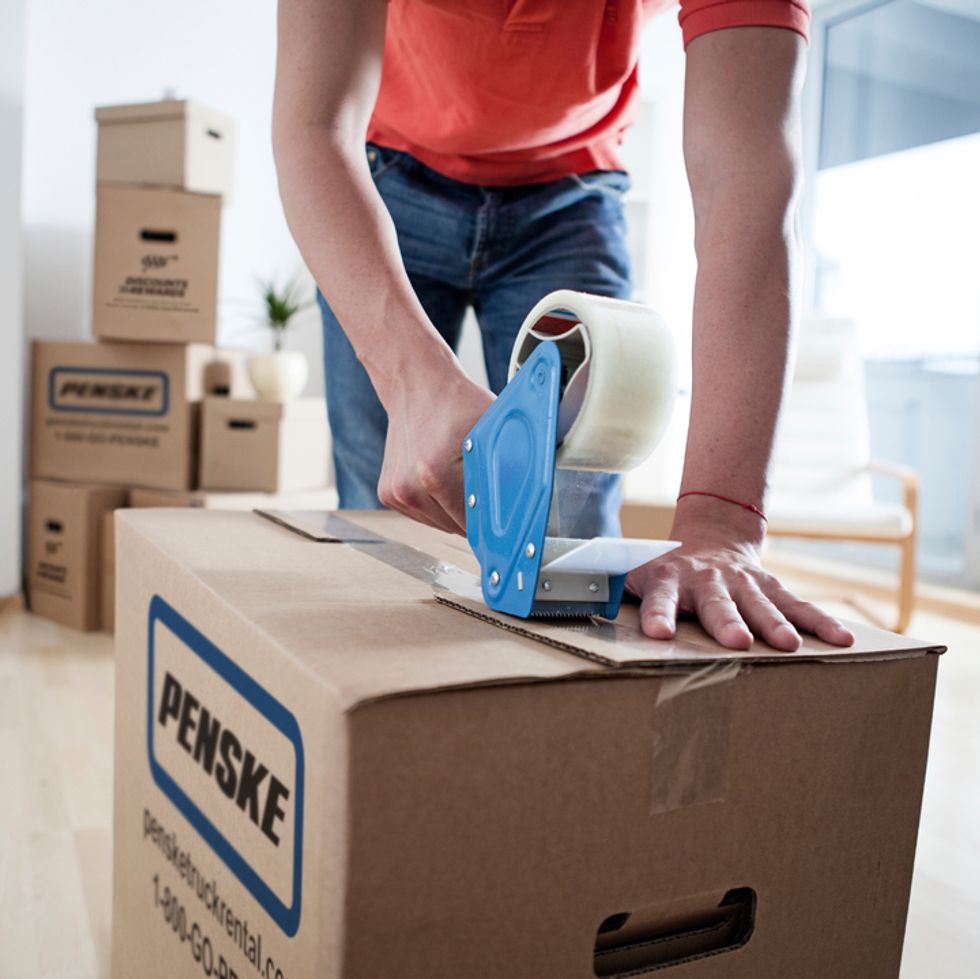 Let Penske Help You Think "Inside" the Box
Boxes are piling up in your living room. You're ready for them to be packed into your Penske truck rental for your move into your new home, but you don't know where to begin.
---
Your box of jewelry, your refrigerator, sofa and dozens of other things all have to fit into your Penske truck rental. What should you do?
Nathalie Adams, a moving advisor with Penske's central reservations team, emphasizes that organization is key to packing your items and boxes into the truck successfully.
"Be careful, you need to take all the precautions that you can," said Adams. "Mark the boxes and handle them with care."
Properly marking your boxes with their contents is a smart way to know ahead of time where each box should be stored on the moving truck. The last thing you want to do is break open a sealed box of items to double-check its contents to determine where it should rest in the truck.
Whether it's your fine china or glass ornaments, don't forget to protect your fragile belongings with bubble wrap, lots and lots of bubble wrap. Don't mix fragile items with bulky items in the same box.
How to Properly Load Your Truck
Jeff Werner, director of Penske's rental contact center, offers his advice as to where movers should load certain items onto the truck.
"Anything closer to the axle will get more of a bump when the truck is moving," said Werner. "Place heavy items toward the front of the box of the truck, just behind the cab. As for fragile items, make sure you pack them carefully, so they don't break. For belongings you need right away, pack them in the rear of the truck bed for easy access."
To help with this process, Werner points customers to Penske's online Truck Wizard for an infographic that gives customers a visual of where certain objects should be placed on the truck bed.
"It will also recommend the truck size you will need," said Werner. "No one really knows what a 16-ft. truck is."
The online Truck Wizard recommends movers load their heaviest possessions in an "I-formation." For example, an appliance, like a refrigerator, should be placed as close to the cab as possible.
Following your largest objects should be desks and dining room tables. Place them toward the middle of the truck bed, with heavy boxes resting underneath them. Place any small boxes containing bed sheets or clothing toward the back of the truck bed to complete the "I-formation."
For a visual of the "I-formation" and how it can work for you in your next move, check out our website.
Need Storage? SpareFoot is There to Help
Werner highlights one of our preferred moving vendors that can help make all your storage hassles go away.
"We work with SpareFoot, an online marketplace for self-storage, and we can identify at pick-up or at drop-off the appropriate storage facility for our customers," said Werner. "We can also make the reservation for them when they're on the phone to make it a one-stop shop for the customer."
Web editor at SpareFoot, Al Harris, says the website's unique service makes it fast and easy for their customers to find the nearest storage unit and see what sizes are offered.
"Instead of doing all the research and going through each facility one by one, you can get all your options in one place," said Harris. "We can also help you find moving labor, moving supplies and moving trucks. All those options are available."
By Chris Abruzzo