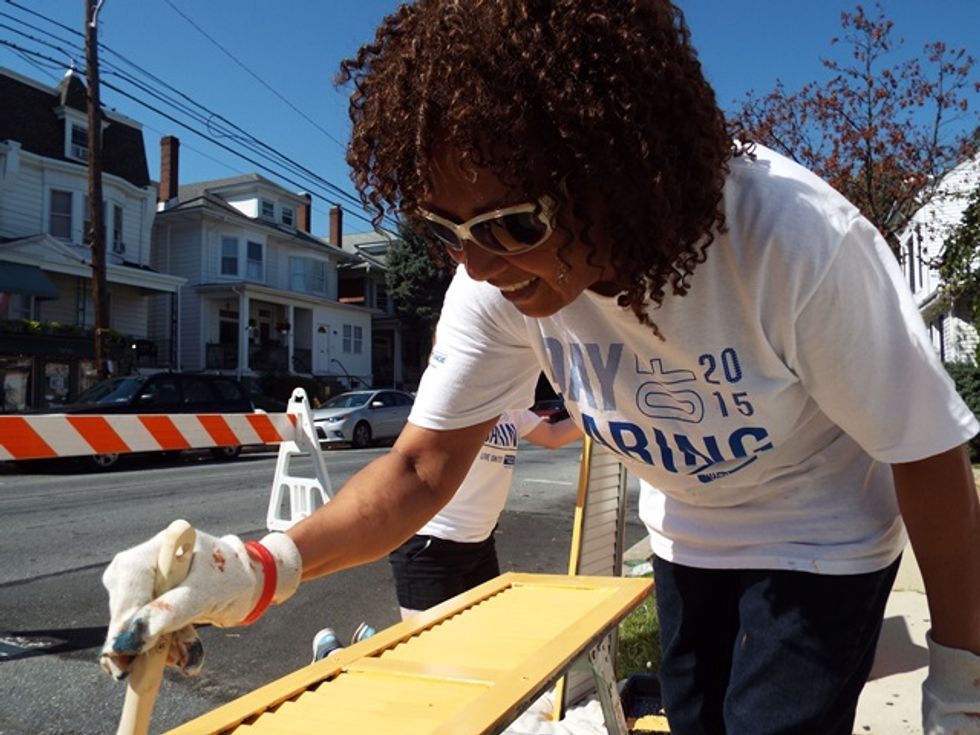 Penske Associates Give Back on Day of Caring
Penske Truck Leasing's Wanda Brown, a financial analyst, took part in the United Way of Berks County's annual Day of Caring event.
---
Under a warm September sun, Penske associates joined hundreds of volunteers from across Berks County donating sweat equity -- pulling weeds, sweeping floors, painting walls -- in a labor of love to benefit community organizations.
The volunteer effort was part of the United Way of Berks County's annual Day of Caring event, which drew more than 400 people from across the region to participate in 30 community service projects.
Penske's United Way at Work Committee (UWAW) organized the associates' participation, splitting them into two groups with 10 people working at the Olivet Boys and Girls Club on Clinton Street in Reading, Pennsylvania, and eight more painting houses in West Reading, Pennsylvania.
Community service is a key component of the Penske brand and something encouraged among associates. "We want our associates to be involved in the community so we are giving them an opportunity to come out on a work day and do great work," said Michael Duff, senior vice-president, government relations and chief compliance officer for Penske.
"This is an example of the great people we have, that they want to do things to help make this community a better place to live and work and raise families," he said. "We want our people to help people move ahead whether that is our customers, associates, or the people and organizations in our community that help others."
To a person, the ability to give back was the overwhelming motivation for associates to take time away from their normal duties and donate time to the community.
Gripping a pair of shears, Karyn Troxell attacked an overgrown bush on the perimeter of a playground at Olivet Boys and Girls Club, removing the unruly leaves and exposing the bush's true beauty.
"I think any time you can break away from your routine and volunteer your time for services that don't typically get a whole lot of attention is great," said Troxell, corporate HR manager, who said the event provided her with an opportunity to see where her United Way donations were going.
Christy Resh, also battling back an unruly bush, said the opportunity to do for others "keeps you grounded."
"For those of us who have lived our entire lives in the suburbs, we don't come into the city often, so an opportunity to see kids who need help and to help them is very rewarding," said Resh, an internal audit manager.
As projects went on around her, Kristin Eck, executive assistant, Olivet Boys and Girls Club of Reading and Berks, appreciated all the hard work. "The community is giving back in so many ways. We could never do this without them," she said.
While work was ongoing at the boys and girls club, Julia Shaw and Wanda Brown were busy bringing a pair of shutters back to life with a cheerful coat of yellow paint. The work was part of a neighborhood beautification project funded by the Elm Street Program in West Reading.
Making her way down the length of the shutter, carefully applying the paint, Brown, a financial analyst and member of the UWAW Committee, said her heart was full.
"It brings me joy to help others and be a part of a caring group that works to bring benefits to the community," Brown said. "As I stroke, I pray over the house, as well for the people in it."
Shaw, coordinator of the UWAW Committee, said the sheer number of Penske volunteers is recognition by associates of the need for volunteers in the community.
"Volunteerism has been encouraged at Penske, but we are seeing a surge in it right now," said Shaw a compliance representative. "I think people are becoming more aware of the need, more aware of the opportunities out there to volunteer, and they are appreciative of Penske's ability to sponsor them."
By Bernie Mixon