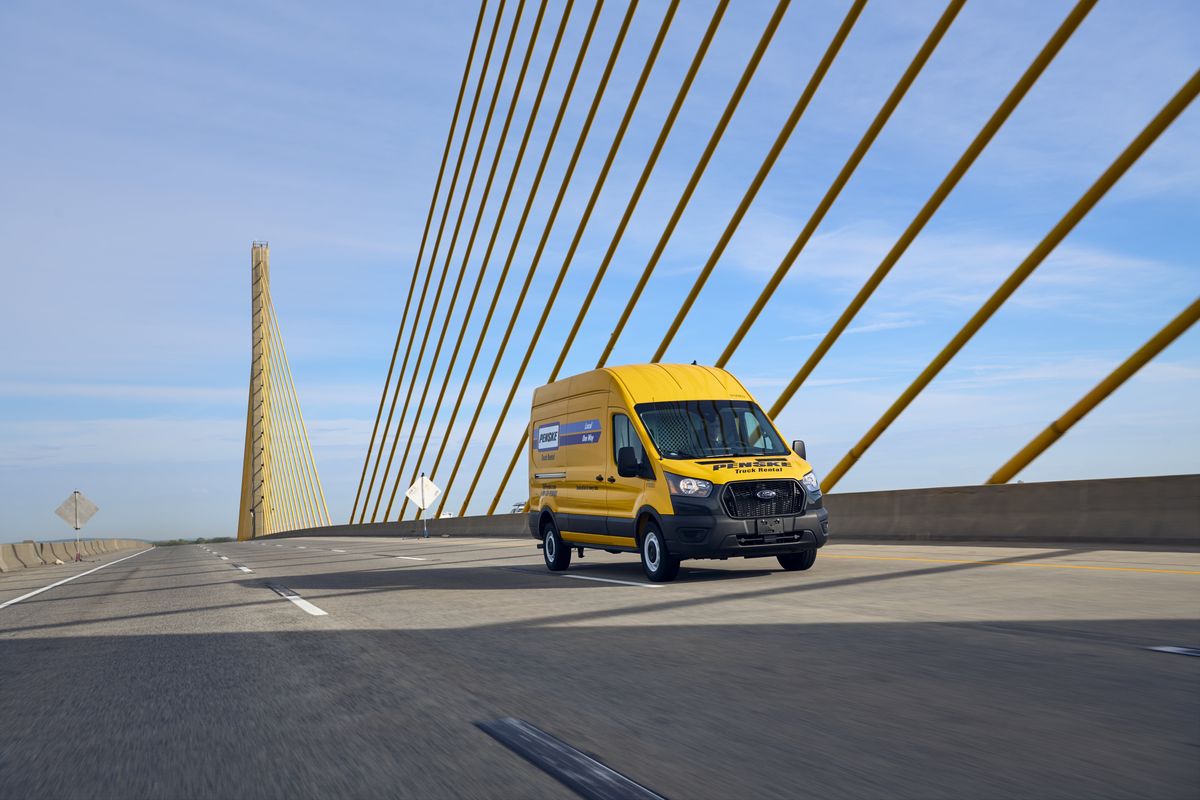 Solving the Last Mile Problem
Why understanding the last mile can help you find a solution
Though it's often the shortest distance in a package's journey, the last mile is one of the most complex supply chain issues today. Having access to the right tools can help, so the experts at Penske have put together information to help your business manage and improve its last mile delivery struggles.
Understanding the Last Mile
Last mile delivery is the final journey of the delivery process. Whether that's from a warehouse shelf to the customer's doorstep or from a transportation hub to any final delivery destination, the last mile is one of the most important parts of the supply chain lifecycle. The goal is to deliver an item as quickly and as inexpensively as possible, ensuring happy customers and on-time deliveries.
Complexity within the final mile has increased as e-commerce has grown. E-commerce grew by 10% in 2021 to $871 billion — 13% of all U.S. retail sales, according to the 2022 State of Logistics Report®, which was published by the Council of Supply Chain Management Professionals (CSCMP) and presented by Penske Logistics. This phenomenal growth — accelerated by pandemic-related shifts in consumer behavior — fueled the continued expansion of the parcel sector.
Parcel currently represents a $121 billion market, which is likely poised for continued expansion; by 2026, annual volume is expected to double to 39 billion parcels. The same-day segment of the delivery market is primed for an even steeper lift-off; in 2021, it grew to $8.7 billion and is expected to grow to $15.6 billion by 2025, according to the report.
While e-commerce is slowing some, most anticipate the increases in e-commerce and working from home will persist at substantially higher levels than before the pandemic.
Customers are eager to receive online purchases as quickly as possible, so optimizing the last mile by identifying and solving final-mile problems has never been more important.
What Is the Last Mile Problem?
According to the 2022 CSCMP report, growth of this magnitude has profoundly stressed the last mile delivery system due to insufficient labor supply and overburdened infrastructure. This has resulted in price spikes, capacity shortages and some acute logistical challenges.
The last mile is the most expensive and time-consuming part of the delivery process. It is also the last touchpoint for customers and directly connects to customer satisfaction. Customers want free and fast shipping, and businesses want to satisfy their customers.
With e-commerce giants offering same-day and next-day delivery options, smaller businesses must stay competitive while maintaining efficiency and cost-effectiveness. Operations of all sizes are navigating rising fuel prices, labor costs and the general complexities of the last mile. Specifically, we've looked at three of the biggest last mile problems affecting businesses today.
Last Mile Delivery Costs
Last mile delivery comprises over half of overall shipping costs. On average, smaller packages during the last mile cost slightly over $10 each to deliver, with only about $8 of that being charged to the customer, according to market and consumer data provider Statista. That leaves about $2 left over for businesses to absorb if they want to stay competitive and meet customer demands. Add the additional costs of driver salary, fuel, failed deliveries, idling time that accompanies stop-and-go delivery routes, and warehousing and maintenance costs quickly add up. As a result, a driver must deliver multiple packages an hour to stay profitable.
Last Mile Delivery Interruptions
Whether they're caused by unexpected weather, traffic delays, incorrect addresses or something else, delivery interruptions are bad for business and can lead to unhappy customers. These types of delays may negatively impact your bottom line due to order cancellations, product returns or low repeat purchase rates.
Outdated Last Mile Technology
Having the right technology can help avoid traffic delays, predict potential hurdles and provide real-time delivery tracking options for customers. The latest GPS systems can even provide proactive strategies for dealing with these hiccups. However, utilizing outdated technology provides none of these benefits and can instead wreak havoc on the efficiency and timeliness of your last mile delivery route.

Last Mile Delivery Solutions
The key to solving last mile issues and lowering overall cost lies in optimizing your delivery process. This includes creating efficient delivery routes, utilizing technology and tracking systems, and creating customer communications. Let's look at these individually to break down their benefits.
Optimizing Routes
Route optimization creates the fastest, most efficient plan, reducing out-of-route miles and saving time. When optimizing a delivery route, many variables are taken into consideration, including delivery windows, driver schedules, vehicle load capacity, driver proximity to the warehouse or hub, traffic congestion and accidents, stop locations, parking availability and more. Though this can be done manually, utilizing software to organize the many moving pieces and creating an optimized delivery plan enables routes to be updated in real time to avoid last-minute traffic delays, road closures or weather-related issues.
Investing in Technology to Improve Last Mile Logistics
Advanced technology analyzes real-time information while integrating with onboard technology, creating benefits that range from planning and optimizing driving routes to ensuring order accuracy, streamlining operations and more, reducing the risk of last mile problems.
Implementing a Real-Time Delivery Tracking System to Improve Customer Communications
Customers want shipping details for packages, often down to the minute. By investing in a real-time delivery tracking system that communicates directly with customers and provides access to up-to-the-minute package monitoring abilities, a business can maintain transparency and communications while providing an enhanced customer experience and reducing any last mile delivery problems.

How Penske Takes Care of Challenges Within the Last Mile
Whether you're an independent contractor or the manager of a small fleet, we know how important the last mile is for your business. Because of that, we work hard to provide commercial truck rental solutions that will meet your last mile supply chain needs. To learn more about how you can rely on Penske's expertise to improve scalability, flexibility, dependability and accountability within your last mile, check out our article "Last Mile Delivery Solutions."
The Future of Last Mile Delivery
Last mile delivery will likely continue to be the most complex, time-consuming and expensive step of the supply chain process. But with optimized routes, top-notch technology, delivery tracking transparency, consistent customer communication and Penske as a partner, you'll be able to stay ahead in a rapidly changing landscape while keeping customers happy and efficiently delivering your last mile.
Last Mile FAQs
What Is Meant by the Last Mile?
In supply chain management, the last mile is the last leg of the shipping process where a product is transported and delivered to its final destination.
What Is Last Mile Optimization?
Optimization is the process of making something as effective as possible. Optimizing the last mile refers to building the best delivery operations and experience to meet customer expectations. It's designed to help you build your brand, get more repeat customers and boost sales.
Why Is Last Mile Delivery Difficult?
Last mile delivery is expensive and accounts for more than half of a business's overall delivery operational costs. This high cost along with delivery delays, outdated technology, unoptimized delivery routes, rising fuel costs, and the stop-and-go nature of the last mile create the last mile problem. Many supply chains are also currently trying to manage the complexity and increasing cost of moving goods while meeting the growing demand for faster deliveries and tighter delivery windows.
Why Is the Last Mile So Inefficient?
The last mile refers to the final leg of a shipment, which typically involves multiple stops at various locations. This type of delivery route involves many unknowns. Does the customer need to sign for the package? Will the customer be at home? Could traffic or construction cause delays? How close are the delivery stops to one another? All of these can add to the inefficiency of a last mile delivery route.
What Is the Last Mile Problem in Communications?
Communication continues to be one of the problems with the last mile. Customers want consistent and up-to-date information, often down to the minute, about when their shipment will arrive. However, delays in a delivery route paired with out-of-date technology can lead to a slowdown in notifications going out to the customer. This delay in communication has an impact on the experience and satisfaction of a customer.
What Is Last Mile Delivery Software?
Last mile delivery software helps avoid problems while ensuring seamless delivery services. It improves the process by assisting in the optimization of route planning and shipment tracking while working hand in hand with communication to keep customers happy.
What Percentage of Delivery Costs Are Last Mile?
Last mile delivery costs account for approximately 53% of a business' overall delivery costs according to research firm, Insider Intelligence. Though it continues to be one of the shortest legs of a shipment's journey, it is also one of, if not the most, expensive.
How Do You Solve the Last Mile Problem?
You can solve the last mile problem by optimizing delivery routes, updating technology, investing in a quality real-time delivery tracking system, and ensuring transparency by maintaining consistent customer communications.
What Is the Last Mile Solution?
Solutions for last mile delivery problems can vary depending on the needs of a specific business or supply chain. As mentioned above, technology, route optimization and customer communications are among the first solutions to try if you're attempting to solve a last mile problem.
What Is the Last Mile Strategy?
Strategy is very important to a successful last mile delivery operation and can take many forms. However, the most important aspect of a strategy is the research upon which it's based and whether it can meet goals and avoid or resolve the last mile problems of a supply chain.
What Is the Most Challenging Part of Managing Last Mile Operations?
Managing costs is the most challenging part of last mile delivery operations.
Why Is Last Mile Delivery Important?
Though it is the most costly and time-consuming element in the shipping process, the last mile is also the most important part of the operation as it directly impacts a customer's experience with a business.
How Can I Improve My Last Mile Delivery?
E-commerce will continue to grow, so there is no sidestepping the unique challenges it presents, according to the State of Logistics Report. Shippers must have strategies to keep pace with the rapidly evolving parcel and last-mile marketplace.
Optimizing your last mile delivery route can help to improve the last mile experience for both you and your customer. Optimization includes analyzing data to resolve delivery route problems or delays, utilizing updated technology to ensure accuracy, managing third-party drivers, tracking inventory, maintaining customer communications and more.
How Can I Ensure Access to Commercial Rental Trucks When I Need Them?
Penske wants your last mile to run smoothly, so we offer solutions to help you get ahead. For more information on how commercial truck rental can help improve the scalability, flexibility, dependability and accountability of your supply chain, read our "Last Mile Delivery Solutions" article. Or, if you're ready to make a reservation, get a commercial truck rental quote today.