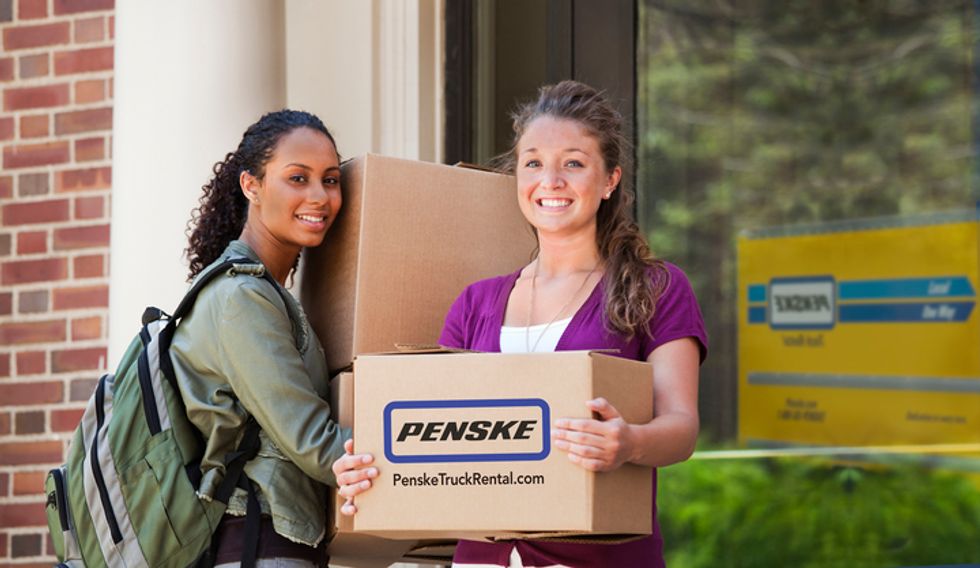 Ten Tips for College Grads Moving Off Campus…Permanently!
After final exams are completed and degrees are in hand, the next test many college graduates face is how to get all their stuff off campus and on to their next home.
---
Whether you're going back to your parents' place, your new grad school housing or a place of your own, Penske Truck Rental has some tips that will help you ace this assignment:
Order the right truck in advance. For most students, a 12- or 16-foot truck will do. Try to reserve the truck and any accessories—boxes, packing tape, moving blankets, hand trucks and so on—at least two weeks in advance.
Plan out how long it will take you to get where you're going. Take into account the time of day, traffic patterns and stops. Consider that the truck is probably taller, wider and heavier than what you're used to driving so you may have to drive more slowly.
Familiarize yourself with the truck. Learn what all the switches and gauges do. Adjust the seat and side mirrors. Be aware that trucks have oversized blind spots and are tougher to turn than a car. They're also a lot taller, so watch for signs about the height of bridges and overpasses so you avoid a dangerous and embarrassing accident that might go viral.
Read the rental agreement – yes, there's required reading even after college! Note that the U.S. Department of Transportation prohibits "carrying or hauling of explosives and other dangerous articles." You can't pack paint, chemicals and cleaning materials, flammable solvents, propane, gasoline and the like.
Insure yourself. Most insurance and credit card companies don't cover truck rentals. Consider additional coverage.
Pack a separate bag to keep in the cab, with things you may need while driving: paperwork, a change of clothes, medicine, drinks and snacks for the road.
Pack properly. Put the heaviest items on the truck first. Lift with your legs, not your back.
Find a travel companion. Sharing the ride can help with the costs, the driving and the packing.
Use discounts. Penske Truck Rental offers college students 10% off on all truck rentals; you'll need to show a valid college ID when you pick up the truck. Plus you can save an additional 10% if you book a one-way rental online.
Stay safe. Park in well-lit areas and keep a padlock on the rear cargo door. In an emergency, you can call Penske for roadside assistance at any time, day or night.
Penske Truck Rental congratulates you on graduating from college, and we're ready to help you get started on your next adventure!