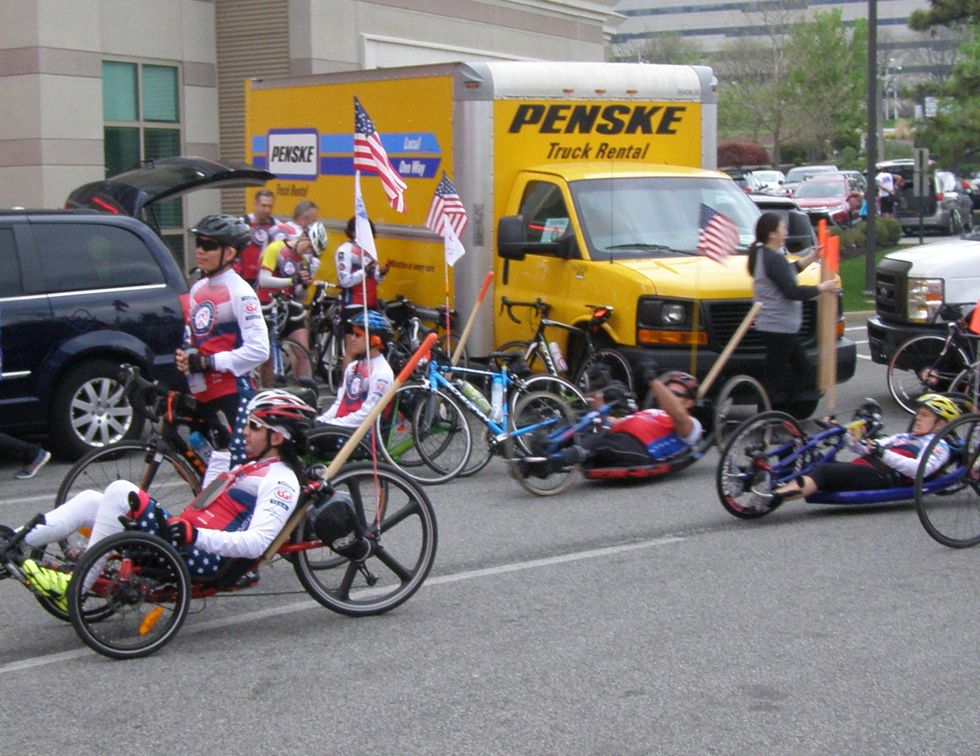 Face of America Ride Changes Lives through Bicycling
Pedaling under a mammoth American flag hung from a Gettysburg Fire Department ladder truck and two crossed U.S. Marine Corps 105mm howitzer guns, among cheering friends, family and colleagues, 600 cyclists roll to a finish, completing the two-day Face of America, which honors military veterans who have been injured or disabled in their service to their country.
---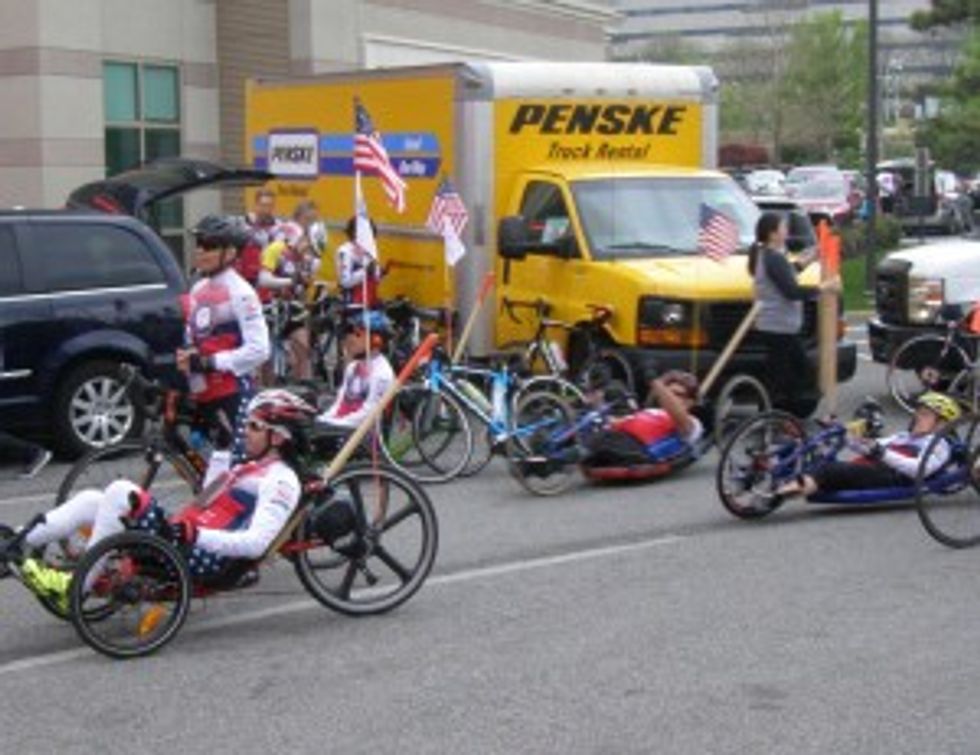 Riders gather at the Valley Forge Casino Resort for the start of the Face of America. Photograph by Richard Rhinehart.
From national non-profit World T.E.A.M. Sports, the annual bicycle and hand cycle ride held in April is one of the largest non-competitive cycling events in the mid-Atlantic region. Athletes from across the United States, Puerto Rico, Canada and Western Europe cycle two routes -- a 110-mile journey from the Pentagon in Arlington, Virginia and a 120-mile journey from historic Valley Forge, Pennsylvania. The two routes merge in downtown Gettysburg, and then riders pedal together through the solemn Civil War battlefields to the finish at the AllStar Expo Complex.
With generous sponsorship support -- including box trucks from Penske Truck Rental for transporting rest stop materials, bikes and rider luggage -- the Face of America offers more than 130 injured veterans an opportunity to ride with civilian, active-duty military and retired military athletes. Participating wounded veterans come from all service branches and live with paralysis, amputations, Post-Traumatic Stress, Traumatic Brain Injuries, blindness and other conditions. By riding with others, veterans gain physical fitness and build helpful informal support networks that last well beyond the ride's two days.
An Organization Created to Bring Together Disabled and Able-Bodied Athletes
Based in Holbrook, New York, non-profit World T.E.A.M. Sports has been creating inclusive sporting events since 1987. These events include a world bicycle ride; two climbs of Africa's Kilimanjaro; a series of team outdoor sporting challenges in Colorado, North Carolina and New York; a Canada-United States ride with veterans; a cross-country bicycle ride; and a sea kayak event along the Long Island coast. The Face of America was first run in 2000 as a cross-country bicycle ride, with participants from both coasts meeting under the St. Louis Arch. It served as the official September 11 commemorative ride in 2002 and 2003, with thousands riding from New York to the Pentagon.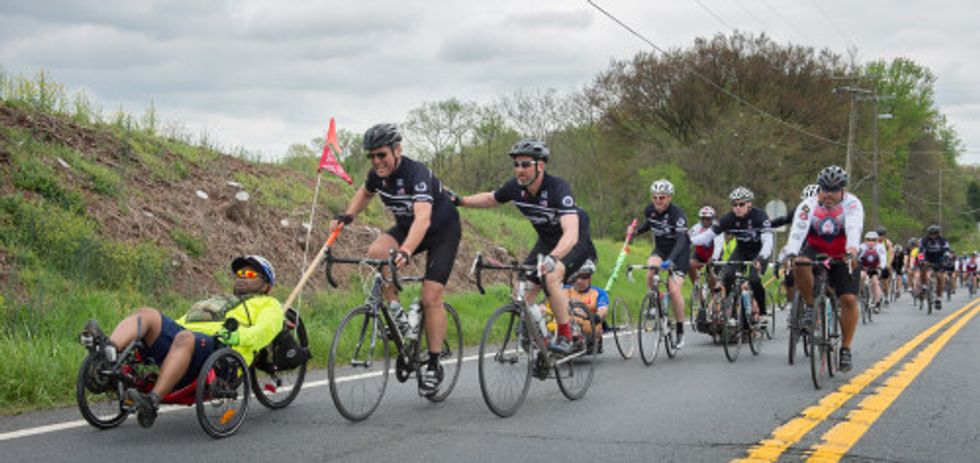 Able-bodied riders often offer assistance to adaptive veterans in hand cycles on steep hills. Photograph by Tony Granata.
World T.E.A.M. Sports events always include athletes with and without disabilities, participating together in a cooperative team effort. For most able-bodied athletes, riding, climbing mountains and rafting with individuals with disabilities is an inspiring, life-changing experience. By seeing others overcome disabilities and living their lives to the fullest through outdoor sports, the able-bodied understand that adaptive athletes must be included and not excluded.
Changing Lives through Cycling
At the AllStar Expo Complex near the Eisenhower Hotel in Gettysburg, adaptive and able-bodied Face of America athletes relax and enjoy their outdoor lunches of barbecue beef, beans and beverages. A large dessert table stacked high by local residents tempts riders who burned calories the last two days through cycling. During their journeys, they've ridden through cities and small communities, rolling countryside and surprisingly steep hills both uphill and downhill. Saturday morning rain showers chilled all, but sunny, warm conditions on Sunday are a reminder that spring has arrived. Soon, they'll board the waiting buses for transport back to their respective starts, and their trips home.
Many veterans will return in 2017, but each year about 50 percent are first-time riders. World T.E.A.M. Sports manages applicants for the event categories so that a mixture of athletes will experience a long ride together. The addition of the Valley Forge route this year will allow growth in 2017 and beyond, with riders anticipated to eventually grow to 1,000.
Riders will take pride in that they completed a long bicycle journey and more importantly, helped change lives through teamwork. They'll not be the same after Face of America: they'll be better informed, understanding that cooperation and teamwork really do matter in life.
About Face of America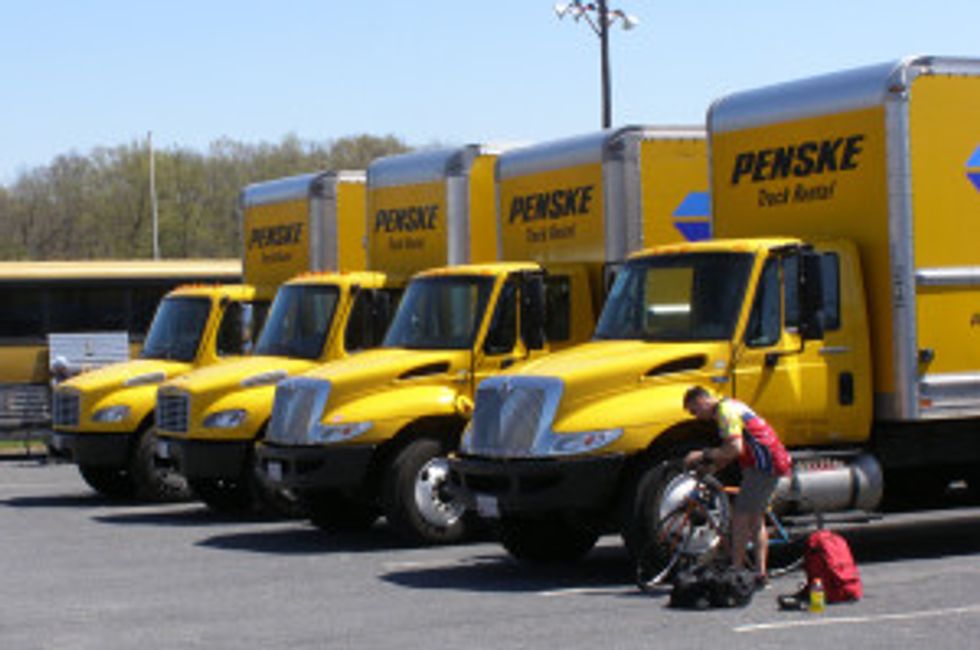 A rider packs gear in front of the line of Penske trucks at Gettysburg. Photograph by Richard Rhinehart.
Presented by Capital One Bank, Face of America is supported through sponsorship from American Portfolios Financial Services, Boost Oxygen, Booz Allen Hamilton, Benson Botsford LLC, Brioni, Devens Recycling Center, Freshbikes, Penske Truck Rental, Punch'd Energy, Sila Solutions Group, SUBWAY of the Walter Reed National Military Medical Center, The Melting Pot of Wilmington DE, Three Wire Systems, Vedder Price, and Veteran Corps of America. Funds raised through Face of America pay for the costs of the event and supports participation of the disabled athletes, and helps pay for other World T.E.A.M. Sports events.
This guest blog post was contributed by Richard Rhinehart, who serves as the Director of Communications for national non-profit World T.E.A.M. Sports. A journalism graduate of the University of Colorado, he lives in western Colorado near the site of the organization's annual Adventure Team Challenge. His father is a Navy veteran, and his uncle is an Air Force veteran.