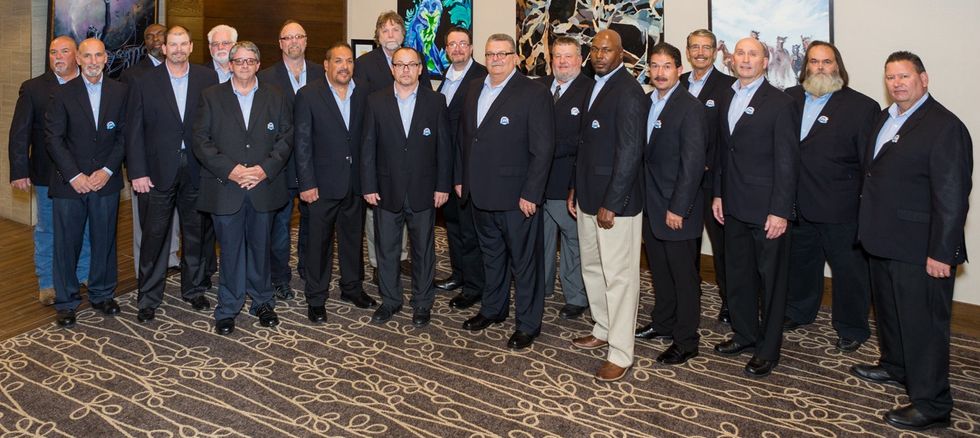 Penske Logistics Honors Elite Professional Truck Drivers
Growing up in Arkansas, a 10-year-old Louis Patton III would be mesmerized as he watched professional truck drivers navigate tractor-trailers on the open road.
---
"I would watch them drive on the interstate. It was really exciting," said Patton. "I always thought you had to be a special person to drive one."
Years later as a Penske Logistics driver, it was Patton's turn to be celebrated as he and 25 of the company's elite professional truck drivers were honored at the company's headquarters in Reading, Pennsylvania, for achieving 20 consecutive years of accident-free driving.
The recognition was part of the company's Premier Driver Recognition Program, created to recognize the company's elite professional truck drivers and celebrate their safety milestones.
"You are the best of the best, and we couldn't operate our business without you," said Marc Althen, President of Penske Logistics.
Safe driving is not only a key component to the success of Penske Logistics, but it ensures the safety of other drivers as well as the company's nearly 4,500 professional drivers.
Members of this unique group have demonstrated the safest operation of Penske vehicles while operating in the challenges of everyday driving.
This was the inaugural year for the recognition program, which celebrated the Diamond class of drivers, those with 20 or more consecutive years of accident-and injury-free driving.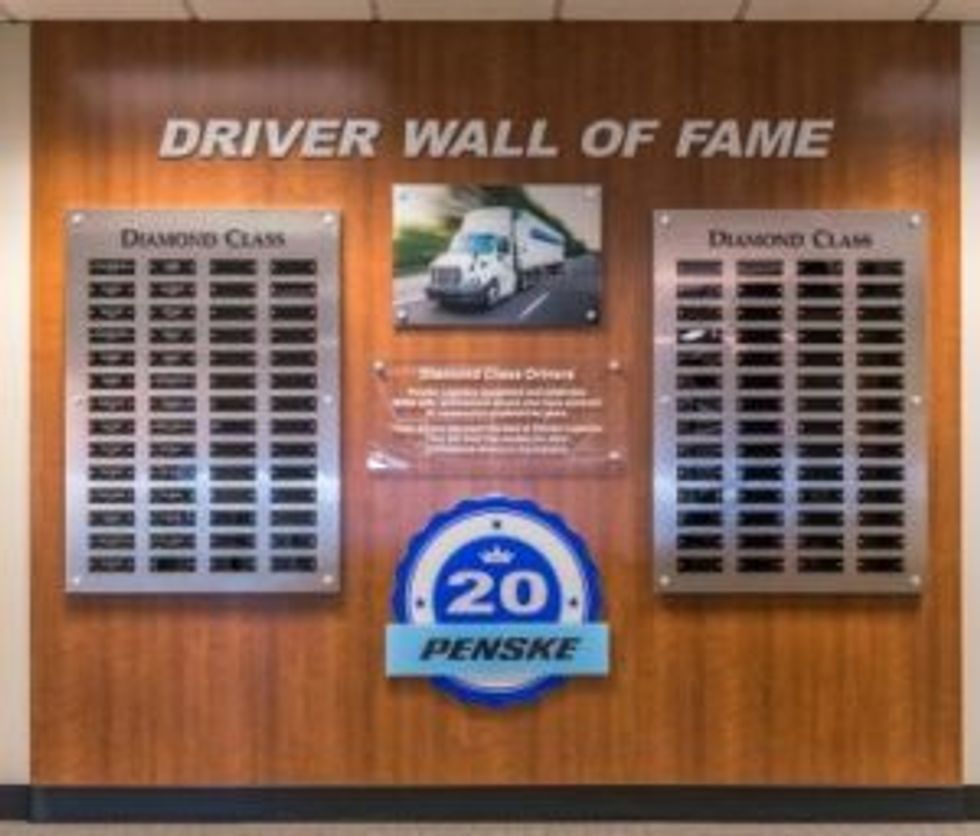 The Driver Wall of Fame recognizes drivers with 20 or more consecutive years of accident-free driving.
It also marked the dedication of the "Driver Wall of Fame," which is inscribed with the name of each member of the Diamond class as a permanent tribute to the extraordinary safety achievement of each driver.
The wall is located at Penske Logistics' corporate headquarters, allowing passers-by, including associates and customers, to view the drivers' achievements. As part of the dedication, each driver was invited to view his name on the wall.
John Haworth, a driver for more than 28 years, spotted his name – just eight or nine down on the left. As he made his way from the wall to reception area for drivers and guests, Haworth said he felt very blessed. "It is a real achievement," he said.
The wall dedication was followed by a recognition dinner a few hours later at the DoubleTree By Hilton Hotel Reading, where the names and safety milestones of each driver were celebrated.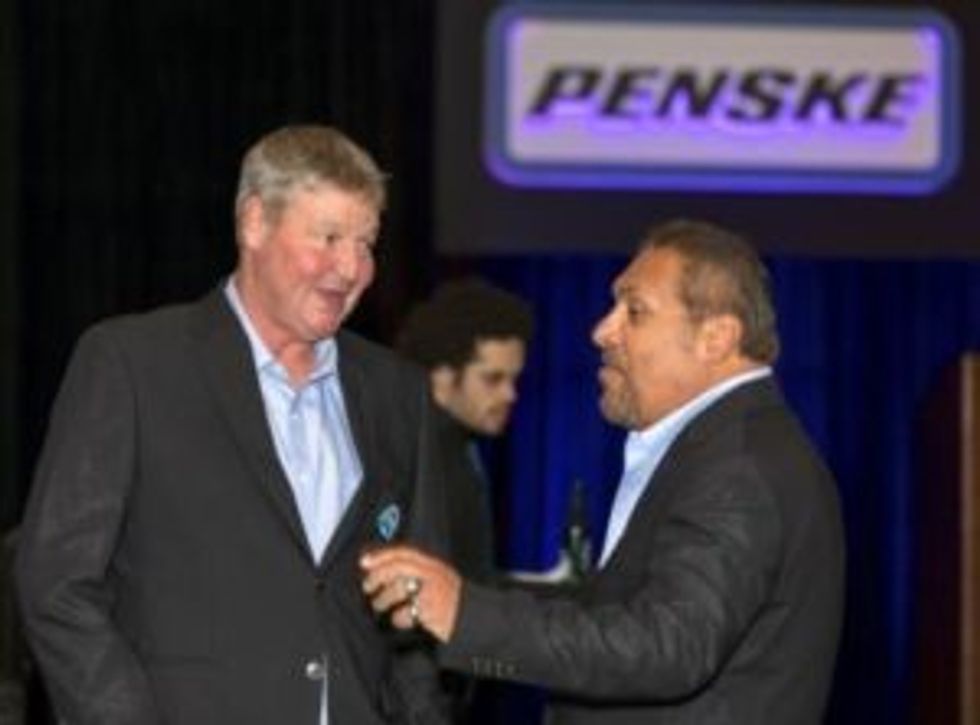 Drivers Gary Graf (left) and Jaime Rios chat at evening recognition event.
"What is certain is luck did not get you here," said Jeff Stoicheff, senior vice president of Human Resources for Penske Logistics. "It requires preparation. It requires situational awareness. It requires focus. It takes the desire to be the best."
The following drivers were inducted into the 2017 Diamond class:
Steven Bowman, Michigan
Ernest Cobb, Michigan
Steven Cole, Ohio
Raymond Coletta, Michigan
Pete Dahmer, Ontario, Canada
Rene Garcia, Florida
Humberto Garza, Texas
Gary Graf, Michigan
Tim Hauck. Michigan
John Haworth, Ohio
Kevin Johnson, Florida
Greg Kent, Ontario, Canada
Mike Kinnard, Missouri
John Merritts, Ohio
Joe Miller, Pennsylvania
Louis Patton III, Kansas
Allen Pingel, Michigan
Bob Poore, Indiana
Jaime Rios, Florida
Pat Schott, Missouri
Donald Shuster, Michigan
Ted Welbaum, Ohio
Larry Woodruff, Ohio
Dan Worden, Michigan
Brad Wright, Ohio
Don Yonkman, Michigan
"You are the beginning of the experience with the Diamond class. No one will ever be able to take away from the fact that you were the first," said Dennis Abruzzi, senior vice president of enterprise solutions for Penske Logistics, and a former professional truck driver. "Understand that this is the beginning of what Penske will continue to do to recognize the best of the best."
In addition recognizing a new Diamond class of drivers, the program will expand in 2018 to include the Gold and Platinum classes – drivers achieving 10 and 15 years consecutive years of accident-and injury-free performance, respectively.
Pictured (left to right): John Haworth, Raymond Coletta, Ernest Cobb, Steven Bowman, Brad Wright, Kevin Johnson, Tim Hauck, Jaime Rios, Pat Schott, Allen Pingel, Donald Shuster, Steven Cole, Mike Kinnard, Louis Patton III, Humberto Garza, John Merritts, Greg Kent, Dan Worden and Peter Dahmer.
Not Pictured: Rene Garcia, Gary Graf, Joe Miller, Bob Poore, Ted Welbaum, Larry Woodruff and Don Yonkman.
Interested in a driving career with Penske? Visit gopenske.com/drivers for employment opportunities. The company offers competitive wages and a wide range ofbenefits. Penske is an Equal Opportunity Employer.
By Bernie Mixon