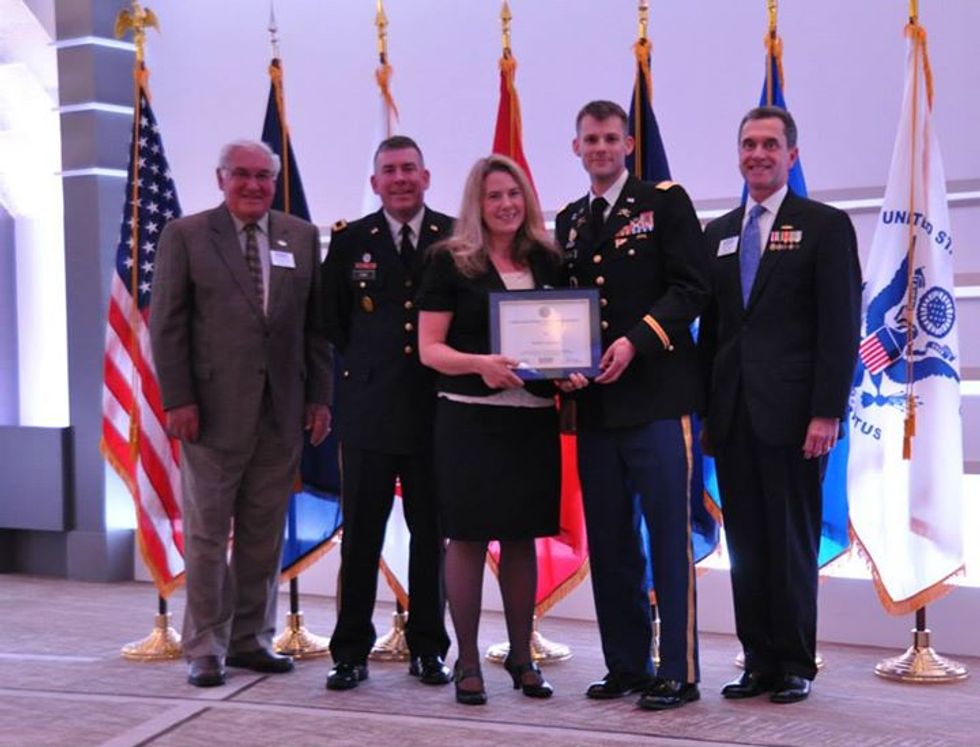 Penske Logistics Honored by U.S. Military Guard and Reserve
Penske Logistics is a winner of the 2013 Above and Beyond award from the Michigan Committee for Employer Support of the Guard and Reserve (ESGR), an agency of the U.S. Department of the Defense, for its support of company employees that serve in the military.
---
According to the ESGR, the honor is bestowed to companies "who provide exceptional support to their Guard and Reserve employees."
Penske was nominated by one of its associates, Ian Mitchell, a senior logistics analyst working on the company's Ford Motor Company account in Dearborn, Mich.
Among the Penske veteran benefits that were cited by the ESGR at an awards dinner in East Lansing, Mich.:
Penske providing four weeks of pay differential and continued insurance coverage (for the associate and their families)
Routine sending of care packages overseas to deployed associates
Maintaining a strong line of communication with a service member's family during time of deployment
Mitchell, a former active duty U.S. Army staff sergeant, is now a captain in the Army National Guard. He has served in the Michigan National Guard since 2006. Since joining Penske, he has been deployed to both Iraq and Afghanistan.
Mitchell said of his employer: "It's very family oriented and supportive. I believe that Penske looks out for the best interest of its associates. I feel extremely fortunate to have a management team that is so supportive of my service. Their support is an enabler for my continued service."
Jill Ohlman, Penske manager senior LLP stated: "We are honored to receive this award from the ESGR. It was wonderful to be recognized by Ian for the support that our company provides. We appreciate the service that Ian and other veterans provide to our country."
Penske Truck Leasing and its subsidiary Penske Logistics are among the transportation industry's most progressive companies in regards to veterans and their families.
Penske is on the current G.I. Jobs magazine Top 100 Military-Friendly Employers® list. It regularly participates in virtual and in-person career fairs across the U.S., hiring active duty veterans, guard/reservists and military spouses. Penske signed up for the Vet Friendly Challenge, pledging to join other companies in an effort to hire 50,000 veterans and their spouses by 2018.
Last year nearly 19 percent of Penske's new hires were veterans. To search and apply for a career with Penske, visit the company's military careers page.
By Alen Beljin
Photo Identification from left: Brig. Gen. (Retired) Stanley Wilk, chair emeritus, Mich. Committee for ESGR; Brig. Gen. Michael Stone, Asst. Adj. Gen. for Michigan – Installations; Penske associates Jill Ohlman and Ian Mitchell; and Capt. (Retired) Paul Ryan, State Chair, Mich. Committee for ESGR. Ryan is a retired Navy Captain, which carries the same rank as a Colonel in the Army.