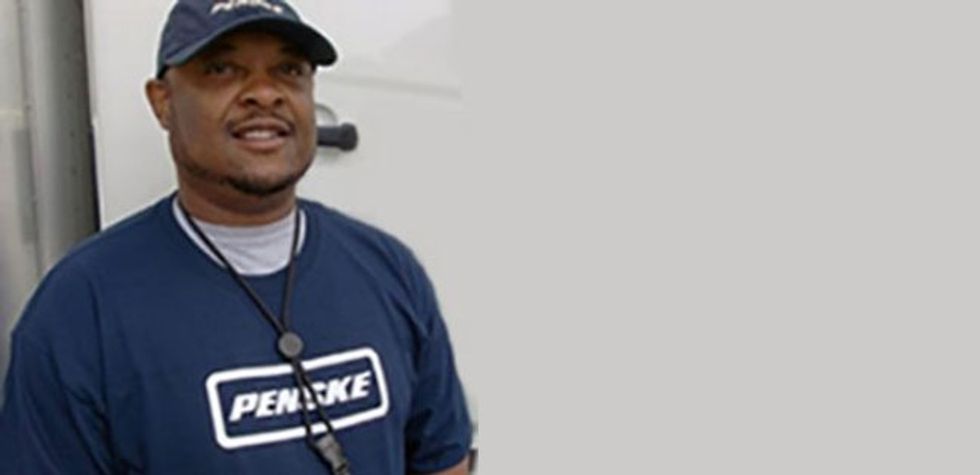 Healthy Drivers Key Component to Safe Driving
Each morning, before his alarm clock has a chance to sound, Earl Taylor is coaxed into greeting a new day by the sound of his little dog Skyy, a Staffordshire bull terrier.
---
At just three and a half years old, Skyy looks forward to their morning routine – a brisk walk with Taylor and his wife – before Taylor starts his day as a Penske Logistics driver.
It is this morning ritual of exercise followed by a good breakfast – part of his commitment to a healthy lifestyle – that Taylor, a Smith System instructor, says is important to help keep drivers safe on the road
"Driving is an activity," said Taylor, pictured right, who has been a truck driver for more than 25 years. "If you are prepared for that kind of thing by exercising, eating right – especially getting enough sleep before your shift – these simple things will give you energy and focus for the day."
Concerns about the health of professional drivers were discussed in 2015 at the Federal Motor Carrier Safety Administration's Motor Carrier Safety Advisory Committee and Medical Review Board meeting, where Brian Morris, associate corporate medical director at AllOne Health, outlined some key statistics.
Professional drivers are less healthy than the average person, Morris said, with 61 percent having two or more risk factors for cardiovascular disease, such as high blood pressure, obesity, high cholesterol or a lack of physical activity. He went on to say that only 8 percent of drivers exercise regularly and 80 percent have poor eating habits.
While the majority of Penske's drivers are not over-the-road drivers, the concerns about driver fitness and nutrition, as well as its impact to overall safety, are no less great.
"Both proper fitness and nutrition are a key component of performing one's day-to-day tasks in a safe and professional manner on behalf of our customers," said Dennis Abruzzi, Senior Vice President- Safety, PL "Like the athlete preparing for their next game, fitness and nutrition provide the balance and energy to perform safely each and every day."
Penske encourages drivers to take steps to protect their health.
"Proper fitness includes getting the proper rest, using paid time off to recharge and making sure that exercise is a key part of each day," Abruzzi said. "Proper nutrition begins with ensuring that a balanced diet is followed, meals are taken at regularly scheduled intervals and energy levels are monitored."
For Taylor, himself a Type II diabetic, proper fitness and nutrition is not a luxury but a necessity.
"It's your responsibility to take care of your health. It is part of your responsibility as a truck driver because being out on the road means you need to be at your best," Taylor said. "It's not just my job. I want to be able to come home every day and that is my main motivation."
Equally as important to him is the impact his commitment has on the people around him.
"You have to realize that you carry more than just yourself in the vehicle," Taylor said. "You take your co-workers. You take the people who work at other locations and the brand with you every time that you go out on the road."
Interested in a driving career with Penske? Visit gopenske.com/drivers for employment opportunities. The company offers competitive wages and a wide range ofbenefits. Penske is an Equal Opportunity Employer.
By Bernie Mixon