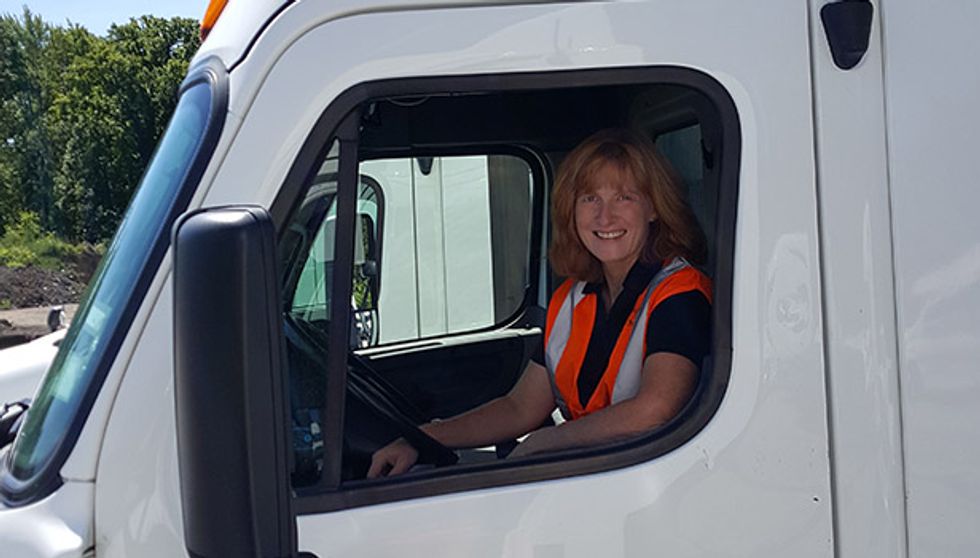 Enjoying Life on the Open Road
For Tracy Swinea, driving has been a way of life for as long as she can remember.
---
Growing up on a horse ranch, she didn't care about the age of the vehicle, the size of the vehicle, the transmission type, the length of the trailer – if it needed to be driven somewhere, she got in and drove it.
She found herself drawn to jobs that put her behind the wheel. In college, she drove a school bus. Soon after, she drove firefighters to combat forest fires. Drawing from these experiences, as well as her love for the open road, she knew she wanted to be a professional driver.
"Sitting at a desk really isn't my style," said Swinea.
Her prior job as a professional driver was at a small company, but she became frustrated by its laid-back approach to vehicle maintenance as well as lack of employee commitment. She knew she wanted more for her career, and that's when she found Penske.
Now a driver with Penske Logistics for just over two years, Swinea is doing what she loves on a daily basis. As a lead driver based out of Dearborn, Michigan, she says she has the "best job in the world."
"I love getting out and enjoying the sights while I drive," Swinea said. "And I love the hands-on part of my job – from completing pre-trip inspections to securing a load. Doing a job safely and correctly is very satisfying."
Swinea also trains new Penske drivers. She conducts a three-day class that focuses on safety and reinforcing good habits.
"I think it is extremely important for drivers to have the best, on-going training, because driving an 80,000 lb. vehicle is something that shouldn't be taken lightly," Swinea said. "As much as we think we know, we can always learn something new."
And when it comes to safety, Swinea feels that it's an aspect that cannot be taken for granted.
"Professional drivers are not just driving very heavy trucks, but we are driving for every vehicle on the road," Swinea explained. "We have to watch, prepare, anticipate and react to everything every other driver is doing."
As she reflects on her life on the road, Swinea is proud of what she has achieved and is humbled by the great people she works with day in and day out.
"Drivers have an amazing set of skills and experiences that serve them well in a multitude of circumstances," Swinea said. "If you ever have the chance to sit down and talk with a driver for a while, you might be surprised to learn how many exciting and interesting stories they will share."
Interested in a driving career with Penske? Visit gopenske.com/drivers for employment opportunities. The company offers competitive wages and a wide range ofbenefits. Penske is an Equal Opportunity Employer.
By Tony Kozuch