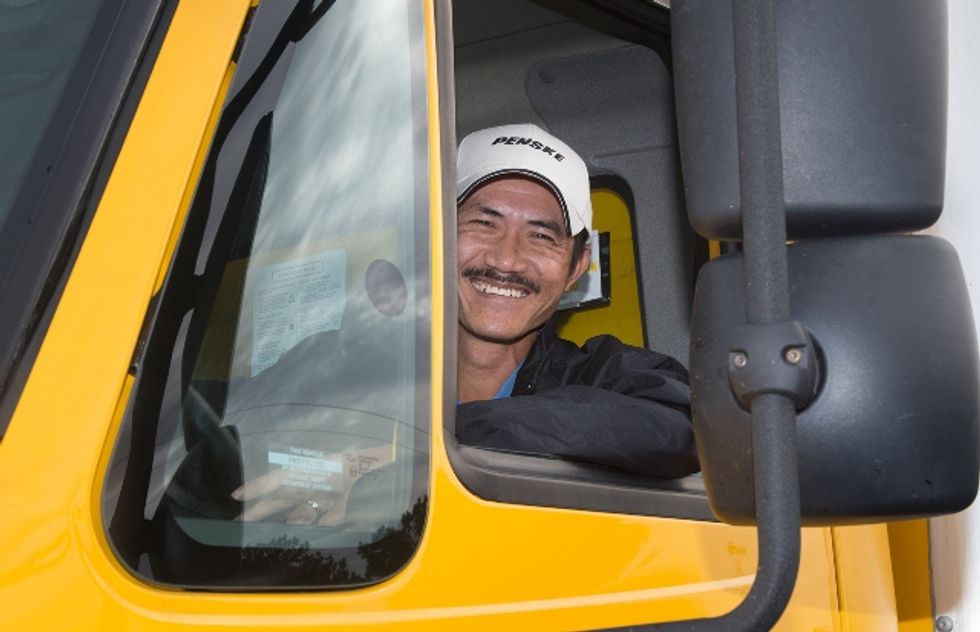 Drive Like a Champion with Penske
Penske Logistics truck drivers drive like a champion hauling freight for some of the world's best companies. Penske is looking for experienced professionals to join its winning driving team to help deliver products safely, efficiently and on time.
---
Why Join Penske?
With an 80 percent retention rate compared to 10 percent industrywide, Penske Logistics offers great pay and excellent benefits. Plus, 85 percent of Penske Logistics drivers are home daily.
"With Penske, we can have good benefits, good money and be home every night," said Penske Logistics driver Minor Blanco. "Family means a lot to me."
Professionals drive newer equipment with state-the-art features, including LED lights, automated transmissions, advanced aerodynamic systems and collision avoidance systems.
"Our goal is to provide drivers with the safest, most efficient and reliable equipment on the road, so you can do your job in the most effective and efficient way," said Marc Althen, Penske Logistics president.
Penske Logistics drivers appreciate management's support for their vital contributions to the success of the company and its customers.
"Management and the people I've dealt with in management are the best I've ever dealt with in my professional driving career," said Penske Logistics driver George Mandyk, who has been driving professionally for nearly three decades. "Penske Logistics is the best company I ever worked for."
Truck Driver Shortage Continues
The United States is in the midst of a truck driver shortage. A few years ago during the recession, fewer truck drivers were needed at a time when the trucking volume had decreased. Today, as the economy continues to recover, the trucking volume has grown, increasing the demand for professional drivers. The American Trucking Associations (ATA) estimates that the nation is short about 30,000 truck drivers.
Penske is celebrating its dedicated drivers throughout National Truck Driver Appreciation Week Sept. 14-20, sponsored by the ATA to applaud America's 3.2 million professional truck drivers.
Penske is hiring truck drivers nationwide to keep this country moving forward. Interested in joining our team? Visit GoPenske.com/drivers to apply today. The company offers competitive wages and a wide range of benefits. Penske is an Equal Opportunity Employer.
By Kandace Wertz