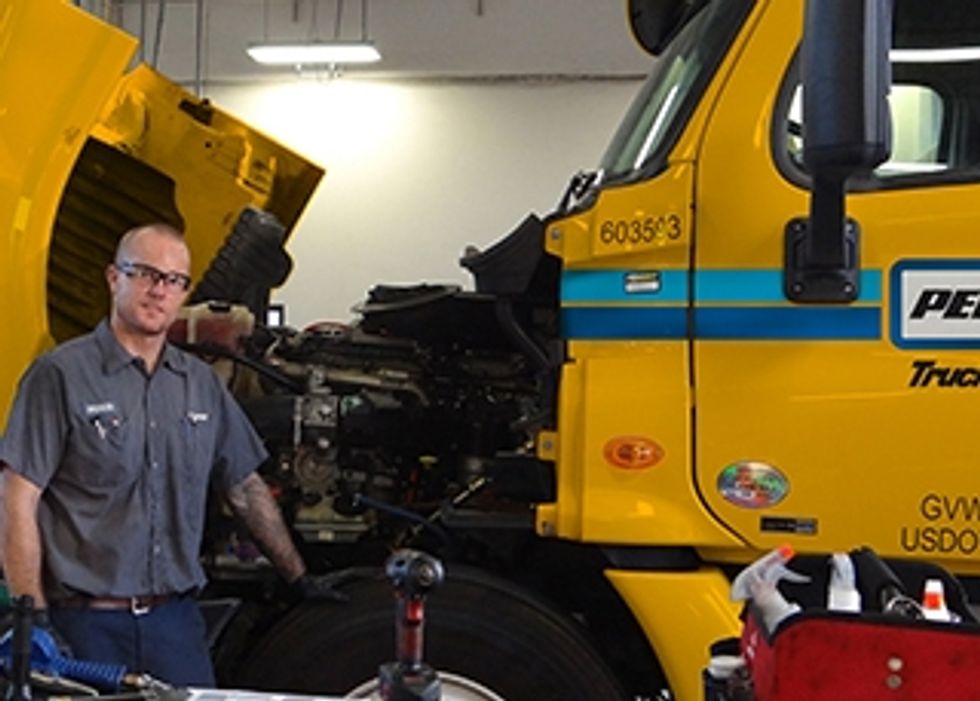 UTI Grads Find Career Success at Penske
After 10 years as a high school history and government teacher, Brendan Cotter (photo right) decided it was time for a change. While he enjoyed teaching, he was far less enamored with the politics that accompanied it. It was time to shake things up. So, Cotter enrolled atUniversal Technical Institute in Los Angeles, to become a diesel truck maintenance technician.
---
Cotter is now in his first year at the technician III level, a rising star at Penske's San Marcos, Calif., location.
James Guy took the more traditional route to being a technician III for Penske. A Minnesota native, Guy enrolled at UTI's Chicago campus out of high school. He completed the two-year program in less than a year, and was hired by the company in May 2011.
He's now thriving as a technician in Penske's Eagan, Minn., facility, not far from his childhood home.
Turning a Hobby Into a Career
Brendan Cotter is unique among Penske techs; he holds a bachelor's degree in history and social studies, and a graduate degree in education, both from the University of California, Santa Barbara.
Even while teaching, Cotter always found time to indulge in his true passion of working on engines and other mechanical pursuits.
On weekends he worked on, and raced off-road motorcycles. He also really enjoyed driving a Ford F-250 pickup truck.
The decision to switch careers was not an easy one.
"Teaching is consistent work and you don't find that in many other forms of work," Cotter recounted. "It was extremely scary to give that up."
He jumped in with two feet, working full time as a mechanic for a small racing firm, and attending UTI full time, also graduating ahead of schedule.
Cotter found the "content invigorating" and "knew right away that he was doing the right thing." His time as a teacher allowed him to absorb the UTI curriculum quickly, and even lead study groups for his electrical work classes.
Cotter is proud of his perfect attendance as a UTI honors student, and he was a Roger Penske Outstanding Student award recipient.
Cotter has completed the company's technician certification program to ascend from a customer service representative post to his current tech III position, and he is halfway through the TCP tech II program.
Cotter regards Penske's training program as top notch. He has two goals: to be a tech I in the next five years, and down the line, to work in management.
"It's going great," Cotter explained. "Everyone is extremely helpful and I am in the ideal environment for growth. I do a lot of listening and learning. I am extremely grateful for the opportunities I have here."
Minnesota Tech Challenge Winner Leaves Early Impression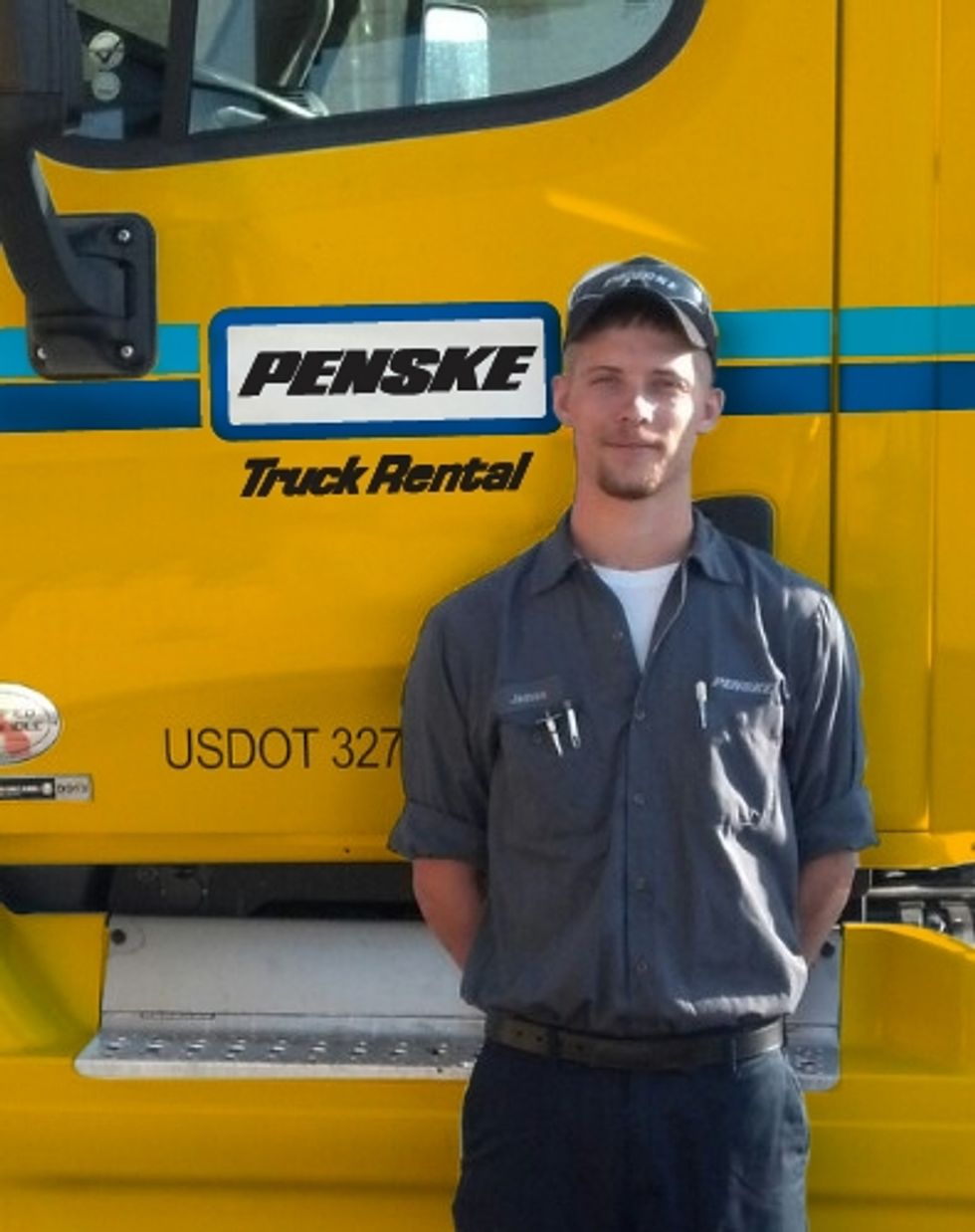 James Guy (photo right) joined the company in June 2011 and it didn't take long to make a name for himself and his mechanical skills.
Penske has revived its National Technical Challenge, which tests a technician's ability to best perform their duties.
Guy entered the competition and was named the Minnesota state champion this summer, advancing to the area competition in Milwaukee this month, where he placed third.
Guy enjoyed his time as a UTI student. He took courses in truck refrigeration, hydraulics, brakes, chassis, drivetrain, diesel fuel systems and diesel electronics, among others.
As he tells it, Guy's time on his family's Minnesota farm made this line of work a natural choice. "My dad was always working on heavy machinery for corn and beans," he recalled.
Guy first got to work on engines around the age of 12 or 14, helping his dad to keep the farm's machinery running smoothly. "This is the way I wanted to go, and I feel like I have a passion for it. I like working with my hands and taking stuff apart. I like to look at it, and figure out how it works."
Guy enrolled this summer in Penske's TCP program, to work on rising up to a tech II job.
Like Cotter, he aspires to a management post. "Penske is a good company – it has good benefits and pay, and I work with good guys in a good environment."
Technician Career Opportunities
Penske is currently hiring truck technicians across North America. For more information, visit the Penske careers page. To learn more about the company's TCP program, certified by the National Institute of Automotive Service Excellence (ASE), click here.
From the Penske blog: meet a pair of talented truck maintenance techs who got their start at @UTITweet http://t.co/lTwcPOCe

— Penske U.S. Jobs (@Penske U.S. Jobs) 1350911906
By Alen Beljin