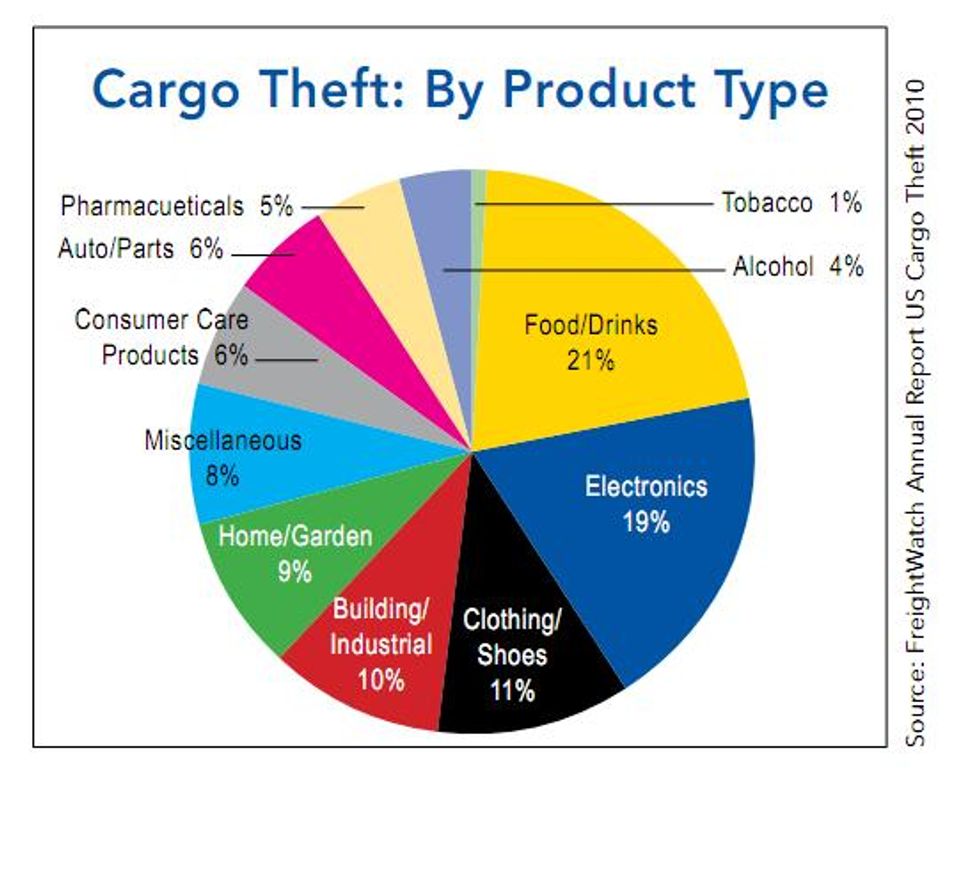 Risk of Cargo Theft Rising
Cargo theft has been steadily increasing since 2008 and is on track to rise again in 2011. Thieves are becoming more selective and organized, which is adding to the increase.
---
FreightWatch International, which collects data on thefts, reported that cargo theft rose by 4.1 percent in 2010, to 899 recorded theft incidents, the highest on record. Dan Burges, FreightWatch director, said the total number of thefts this year is on track with 2010 and will likely have a slight uptick by the end of 2011.
While there isn't a national repository of theft data, several groups collect and share information on cargo theft. During the third quarter, the Supply Chain Information Sharing and Analysis Center's (SC-ISAC) recorded 203 incidents, up from the 150 reported incidents in the same quarter last year. Like FreightWatch, SC-ISAC reported that there is an upward trend in the first three quarters for 2011.
Burges said food and beverages and electronics are among the top items thieves are targeting and they typically steal the entire tractor and trailer. While thefts can occur anywhere, the SC-ISAC reports that in 2011, parking in unsecured lots and carrier facilities remain the high-theft areas. Theft rates vary by state - New Jersey, Texas and California are among the states with the highest number of cargo thefts.
Theft rates also vary by the day of the week. FreightWatch reports that 64 percent of cargo is stolen over the weekend and most often discovered missing when drivers return on Sunday or Monday to continue their route.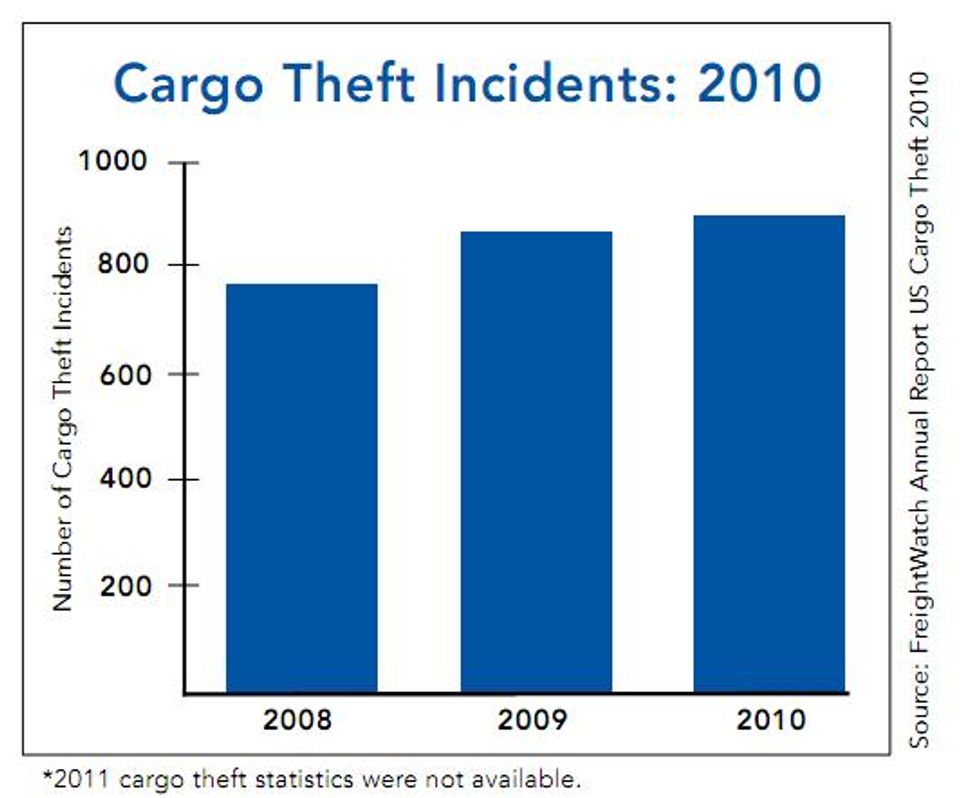 What's more, cargo theft rates increase an average of 28 percent over long weekends and holidays, which can cause long delays for drivers attempting to deliver loads. Carriers should be especially vigilant over the Thanksgiving holiday, which typically has a high theft rate, Burges said.
Carriers should also work with shippers to ensure drivers aren't sitting with loads over long weekends if it isn't necessary. Drivers should also try to park in well-lit areas and back up to barriers so thieves cannot access the cargo.
To help minimize cargo theft, the Penske security department has implemented a "Cargo Security Requirements" policy. It requires the use of padlocks and King Pin locks. Padlocks are required on all straight trucks containing cargo during a day route, line hall or multi-day runs. King Pin locks are to be affixed to all trailers containing cargo when they are not tethered to a tractor and parked in a non-secure lot.
For more information on how to avoid cargo theft, contact your local Penske representative.
By "Move Ahead" Staff