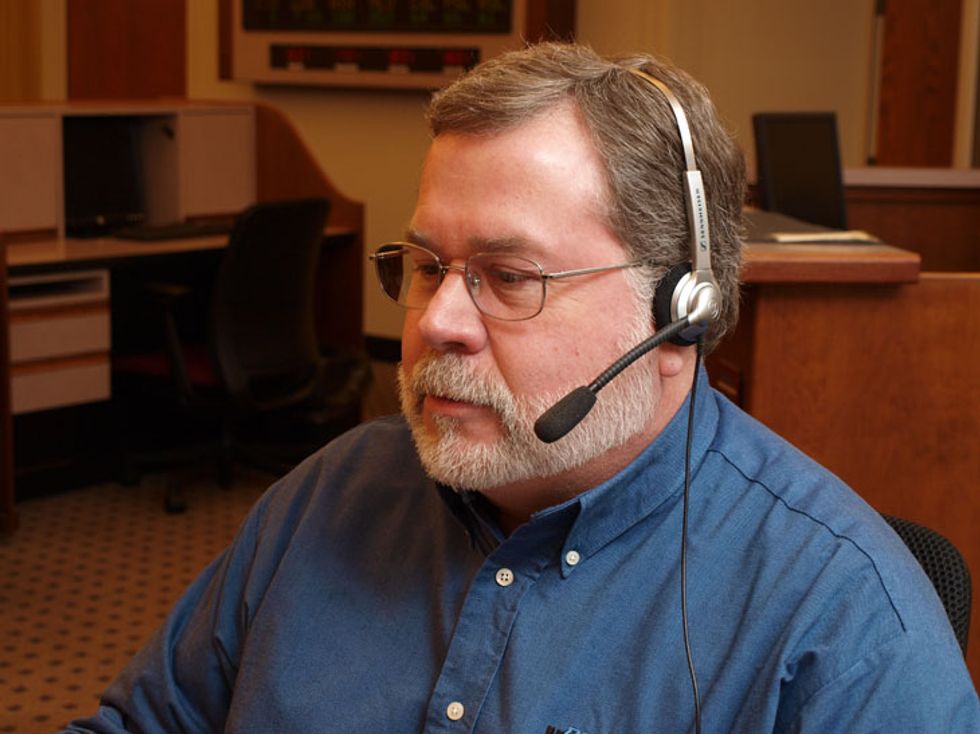 Penske's Over-the-Road Coordinators Keep Truck Fleets Rolling 24/7
This is part two of a series. Pleaseclick here to read part one, an in-depth look at the Penske emergency roadside assistance center.
---
Although Penske Truck Leasing's over-the-road (OTR) coordinator Scott Brightbill was hundreds – even thousands – of miles from some of this winter's worst storms, he clearly felt their impact in Reading, Pa.
For Brightbill and his colleagues, a snow or ice storm in any part of the United States or Canada has a significant effect on their jobs at Penske's 24/7 emergency roadside assistance center based at the company's global headquarters in southeastern Pennsylvania. They provide around-the-clock support for customers of Penske Truck Leasing and Penske Truck Rental, as well as the truck drivers of its subsidiary Penske Logistics.
"My job is dictated by the weather," said Brightbill of Mountville, Pa. "When we get the first cold snap in the fall, we know we're heading into the months when road assists will be higher. We know it'll be a busy night when areas of the country are getting snow or ice."
Wintery conditions from November through March set the pace in Penske's emergency roadside assistance center. The center logged over 16,000 road reports for winter weather-related repairs in January 2011 and nearly 15,000 road reports in December 2010; compared with nearly 11,500 – the average number of road reports for these same types of repairs from April through October 2010.
OTR coordinators rely on local Penske locations and thousands of roadside service vendors to assist drivers in emergency situations. According to Brightbill, OTR coordinators often use similar tactics to resolve recurring issues, but inclement weather and a deep freeze presents new challenges, including vehicles becoming stuck in ice or snow, damaged wiper blades from ice build-up, malfunctioning heat, fuel gelling, malfunctioning lift gates and frozen air brake systems.
"Winter-related situations require you to think outside-the-box," said Brightbill, a 15-year Penske employee. "Regardless of the problem, the safety and comfort of our drivers is our No. 1 concern. Then, our goal is to get the drivers moving again to ensure they, or their deliveries, get where they need to be."
Brightbill works the nightshift when many of Penske's commercial customers are making critical deliveries that need to arrive by morning. In bad weather, truck drivers often face unplowed streets and parking lots. Snow and ice can trigger problems with lift gates, making the delivery process even more difficult.
Brightbill's diverse background – truck mechanic, service station owner, truck driver, service manager and service writer – makes him well-equipped to handle customers' mechanical problems.
"I always come up with one or two solutions and a back-up plan that is best for each driver," Brightbill said. "Gaining the customer's confidence is important. Depending on the situation, I follow-up with drivers to make sure they have peace of mind, especially when weather is a factor."
Brightbill says that this high level of customer service, in addition to vast mechanical knowledge, is key to being a successful OTR coordinator.
"Excellent customer service is part of the whole service package that Penske delivers," Brightbill said. "When customers need our help, we're here for them. Customers come to Penske because they know we're able to keep them moving in any weather – day or night."
By Kandace Wertz