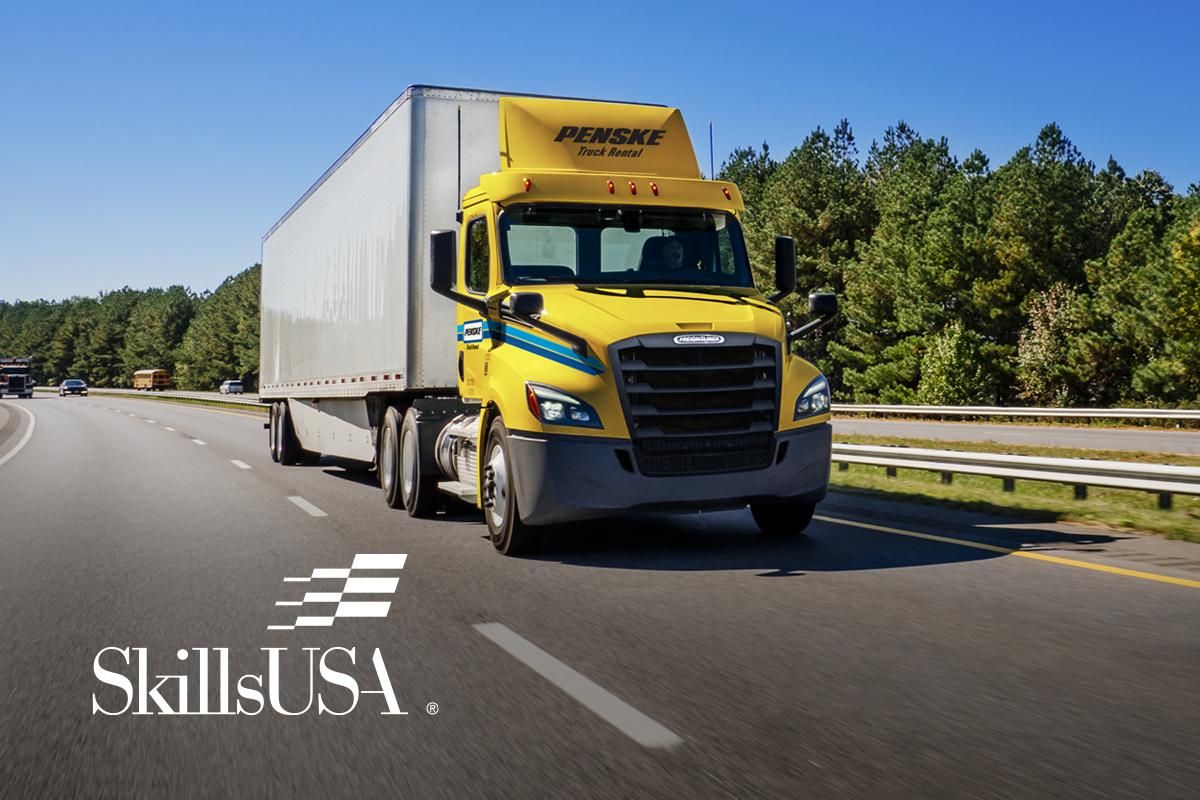 Penske Truck Donation Helps SkillsUSA Navigate Georgia Move
With the SkillsUSA Championships moving to Atlanta in 2022, this summer was the perfect time for the organization to pack up its competition warehouse and head to Georgia.
---
Like most organizations planning a move, the relocation took careful coordination to safely transport contents from the warehouse, including equipment donated by businesses over the years for use in the annual SkillsUSA Championships.
When it came time for the big move in July, Penske, a SkillsUSA partner, donated equipment –three tandem axle day cab tractors, six trailers and two 26-foot flatbed trucks to help with transport.
"The support Penske provided in July was incredible and invaluable to our SkillsUSA warehouse move," said Darren Gibson, the program director for SkillsUSA Career Competition Events.
The competition warehouse contained dozens of refrigerators and metal worktables for the culinary contests, hand tools and power tools for construction trades, hospital beds for medical competitions, welding equipment, mirrored workspaces for cosmetology students and an airplane engine for the aviation maintenance competition.
"We appreciate Penske's ongoing support of SkillsUSA as an Official Partner, and we are particularly grateful for this effort to help us move a large volume of freight quickly as we prepare for our largest conference yet," Gibson said.
The move from the Kentucky Expo in Louisville to the Georgia World Congress Center in Atlanta was the first city-to-city move for SkillsUSA since 2015 when the non-profit moved from Kansas City, Missouri, to Louisville.
Championing a Skilled Workforce
Founded in 1965, SkillsUSA works in partnership with students, teachers and industry to help ensure America has a skilled workforce.
As a non-profit educational association, SkillsUSA helps middle school, high school and college/postsecondary students prepare for careers in trade, technical and skilled service occupations.
"We are in the business of making sure the next generation of skilled workers is career-ready, and what we mean by that is they don't just have the technical skills they need to do the job, but they have the personal and workplace skills they need to be good employees and positive, contributing members of the community," said Tom Kercheval, director of the Office of Communications for SkillsUSA.
Part of that preparation is hosting the SkillsUSA Championships, a series of career competition events showcasing the best career and technical education students. Contests begin locally and continue through the state and national levels.
Last year's event was cancelled due to the pandemic, while this year's Championships were held virtually. Organizers expect the 2022 event – the first in the non-profit's new space in Atlanta – will be an in-person event and attract even more participants than in past years.
Penske Partnership
SkillsUSA partners – like Penske – play a significant role in the overall success of SkillsUSA.
"Our partnership with Penske – and all our partners who support us – is crucial to what we do," Kercheval said. "We can't accomplish our mission without it."
Penske has attended the national competition for the past seven years, and two years ago the company became an official SkillsUSA national partner.
The SkillsUSA mission aligns with Penske's view of the important role skilled labor plays in our economy and the transportation industry.
By partnering with SkillsUSA, the company hopes to attract entry-level candidates to fill much-needed maintenance, technician and CSR roles throughout the company.
"When you look at the declining numbers of people who enter the diesel technician field, and the shortage of diesel technicians that exist in the industry today, it is a top challenge for our industry and company to identify the next generation of technicians," said Brad Taylor, North Florida district manager.
The partnership with SkillsUSA provides an opportunity for Penske to build brand awareness among students now to encourage them to consider Penske as their employer of choice in the future.
"SkillsUSA represents that opportunity for us to begin to build our brand within the mindset of these young technicians while they are working through high school and post-secondary education before they graduate and become future technicians not only for us but for the industry as a whole," Taylor said.
Providing SkillsUSA with equipment to assist with the move to Atlanta was a perfect fit for both organizations.
"This donation is a great beginning to our partnering with SkillsUSA on a national level," Taylor said.
The 2022 SkillsUSA National Leadership and Skills Conference and the SkillsUSA Championships will be held June 20-24 at the Georgia World Congress Center in Atlanta.
By Bernie Mixon