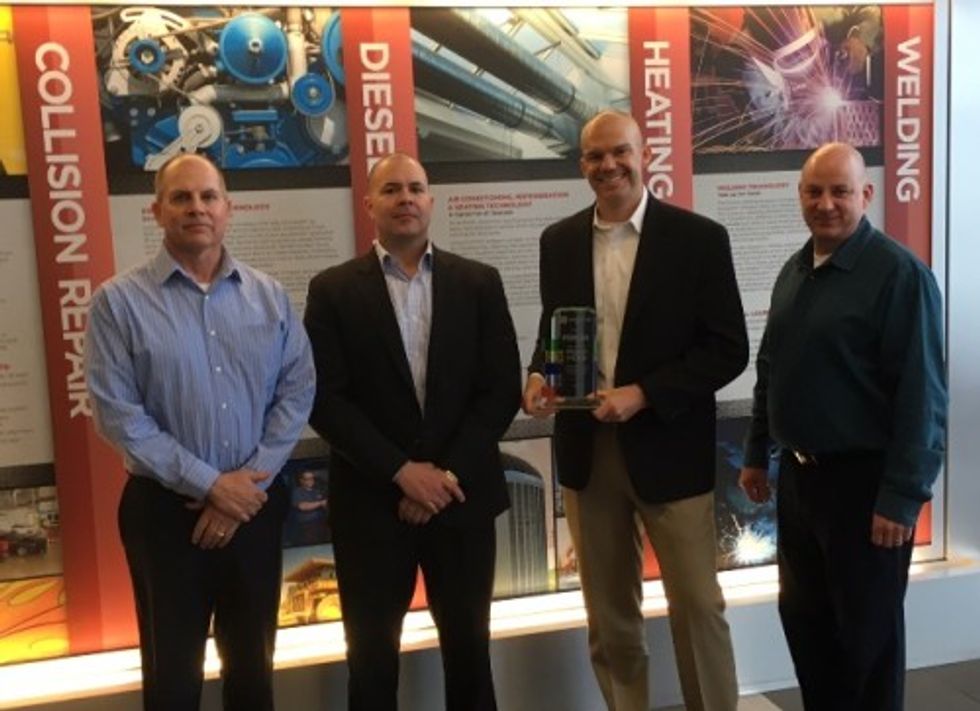 Penske Recognized by Lincoln Technical College
Penske Truck Leasing in Denver received the Employer of the Year award from Lincoln Technical College. Accepting the award are associates (from left) Monty Younce, area maintenance manager; Zach Endicott, district manager; Cecil Reed, district service manager; and Michael Campbell, area human resources manager.
---
Penske Truck Leasing in Denver recently received the Employer of the Year Award from Lincoln Technical College.
The award is given to outstanding employers that demonstrate a long-term commitment to the school and their graduates by offering internships and employment, and developing unique relationships with students.
Zachary Endicott, Penske's district manager at the Denver location, says that his team is honored to receive this award for the first time.
"Over the past 12 months, we have developed a deep relationship with Lincoln Tech," Endicott said. "We're providing VIP tours for graduating classes, so they can see what it will be like to actually work in the diesel industry after graduation."
Because of this budding relationship, several Lincoln Tech graduates already work as full-time associates at the Denver location, along with a few current students on a part-time basis.
"I think it's really important to have a relationship with a community organization like Lincoln Tech because it gives us a constant feeder pipeline of top-quality, entry-level students," said Endicott. "We also get our name in front of students every day, so they know that we are the employer of choice once they do graduate."
Endicott believes the relationship between Penske and the school has been positive.
"The relationship between Penske and Lincoln Tech has been beneficial all-around, and we are so thankful for this award," said Endicott.
Interested in a rewarding career as a diesel technician or another area of fleet maintenance at Penske Truck Leasing? Apply at GoPenske.com/careers today.
By Tony Kozuch