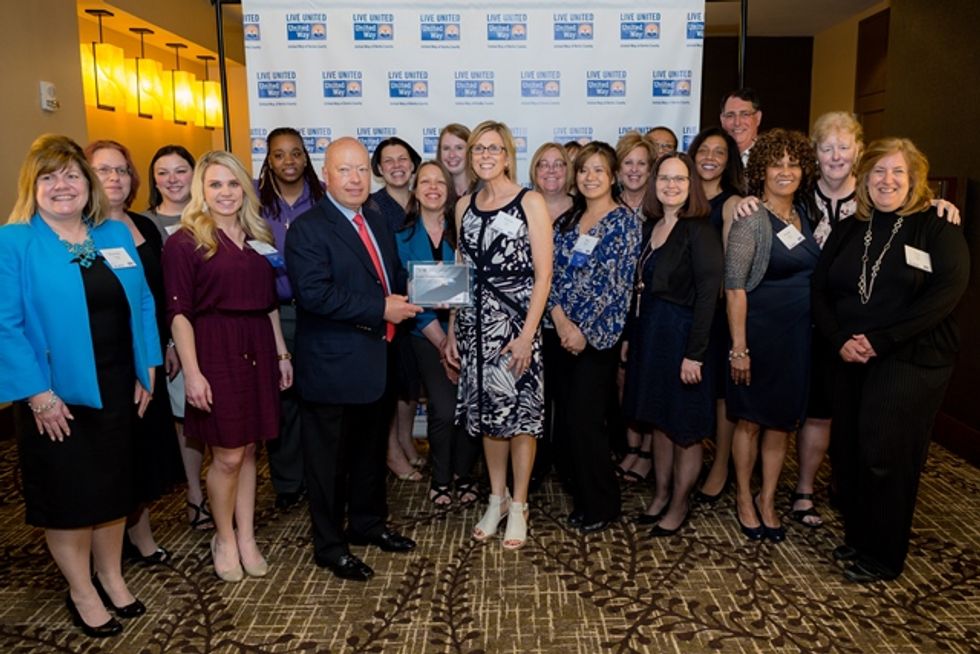 Penske Presented with United Way Eagle Award
The United Way of Berks County recently recognized Penske and its associates with an Eagle Award for the company's support of the non-profit agency's 2016 fundraising campaign.
---
It was the second award Penske received this year from the United Way for its 2016 fundraising efforts. In March, the company was presented with its Presidential Award, given each year to the United Way's Top 10 supporters.
Associates from the company's United Way at Work Committee and Brian Hard, president and CEO of Penske Truck Leasing, accepted the Eagle Award at the United Way's 54th Annual Dinner and Awards held at the DoubleTree by Hilton Hotel in Reading, Pennsylvania.
Penske was the United Way's top contributor for the third year in a row, raising $1,247,010 for the charitable organization. It was the second consecutive campaign where Penske and its associates raised more than $1 million.
Hard said the honors were a testament to the fundraising efforts of the United Way at Work Committee and the generosity of the company's associates.
"Our associates understand the important role that the United Way plays in our community," Hard said. "It is reflected in their generosity of both their time and money to support an organization like the United Way."
Katrina Wills, co-coordinator of Penske's United Way at Work Committee, said Penske's associates are generous with their time and resources because they understand the needs of the community.
"For some, they have experienced the need first-hand. For others, they have family members, friends and neighbors who have benefitted from the services the United Way provides," said Wills. "Penske associates are simply generous individuals who want to help others, and what better way than to support the many different services available through the United Way of Berks County. "
Eagle Award recipients are selected based on criteria such as: CEO endorsement of the workplace campaign; support of key programs, such as the Loaned Campaign Specialist and Loaned Campaign Accountant Programs; participation in the annual Campaign Planning Workshop; encouraging year-round communication and engagement activities within the workplace; and support of sponsorships and events.
The 2016 United Way Campaign raised $10.2 million, which exceeded the campaign's $10 million goal.
Funds raised during the United Way's campaign are earmarked to support a variety of health and human services, which are provided to thousands of residents throughout Berks County.
By Bernie Mixon