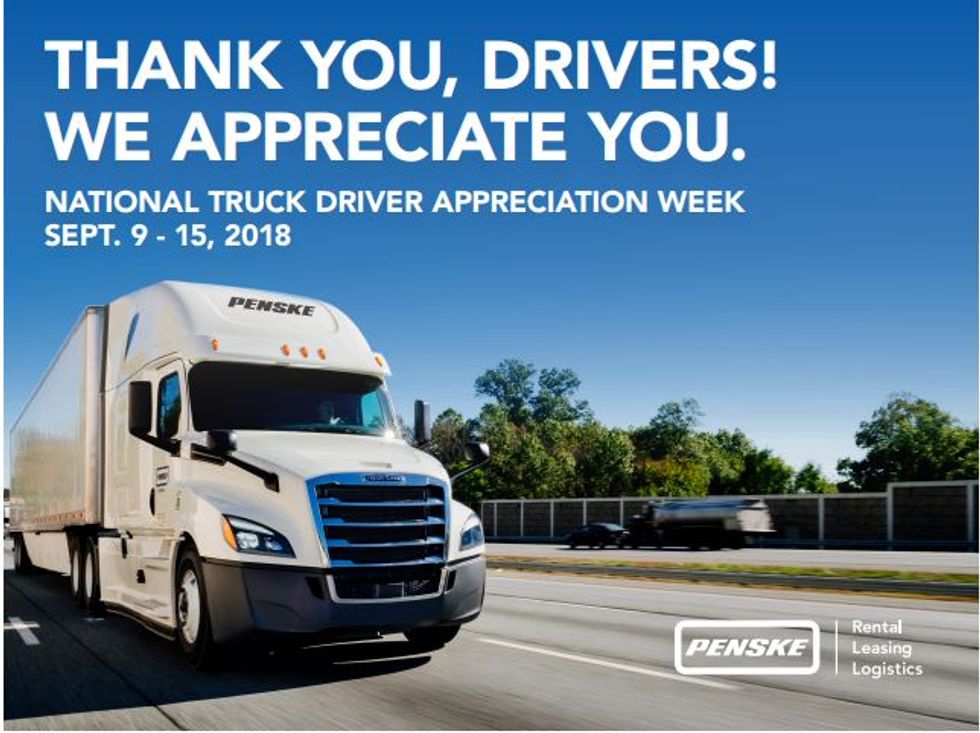 Penske Logistics Honors Drivers During National Truck Driver Appreciation Week
Professional truck drivers do more than shepherd deliveries on the open road. They are the face of the trucking industry, making an impression at every stage of their day.
---
Penske Logistics' nearly 5,000 professional truck drivers in the U.S. and Canada are at the heart of the company's success, providing brand reinforcement through a public presence that extends beyond customer relationship-building.
The transportation industry will pause this week, during National Truck Driver Appreciation Week (NTDAW), to recognize the contributions of the nation's 3.5 million professional truck drivers who keep the trucking industry strong.
"On behalf of Penske Logistics, I want to thank you, our dedicated professional truck drivers, during National Truck Driver Appreciation Week, and every day for your hard work and dedication," said Marc Althen, President of Penske Logistics.
The celebration, sponsored by the American Trucking Associations (ATA), began on Sunday and continues through Saturday, Sept. 15. Last week, National Trucking Week, a similar recognition, was held in Canada, sponsored by the Canadian Trucking Alliance (CTA).
The ATA, the largest national trade association for the trucking industry, hosts NTDAW each year to remind the public of the important role professional truck drivers play in our lives.
Penske Logistics appreciates the extraordinary contribution of its drivers who help keep the world moving forward.
"We strongly believe that our success as a company begins with you, our safe professional drivers," Althen said. "We join with you in celebrating National Truck Driver Appreciation Week. Once again, thank you for helping to move the world forward, one delivery at a time."
By Bernie Mixon