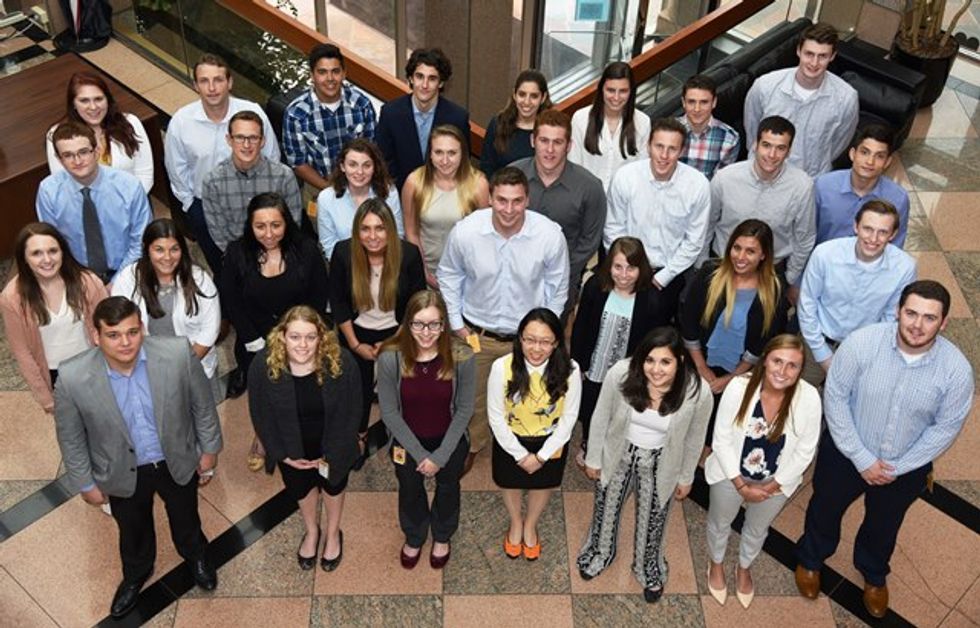 Penske Intern Program Offers College Students Real-World Experience
More than 30 college students will have the opportunity to put their classroom knowledge into practice as part of the Penske Summer Internship Program held at the company's corporate headquarters in Reading, Pennsylvania.
---
The students will be assigned to 16 key departments across the company, working alongside experienced associates and assisting with a variety of projects like helping with a network build-out, performing analysis, building metrics and updating training materials.
"The Internship Program provides college students with hands-on, real-world experience in their field of study while also serving as a valuable recruiting tool for our corporate departments," said Karyn Troxell, director of corporate HR and organizational effectiveness.
In addition, Penske gains development opportunities for future supervisors as they manage interns, enjoys extra department resources and reaps the benefit of increased brand recognition through partnerships with various universities, Troxell said.
In order to qualify for the internship program, applicants must be full-time college students pursing bachelor's degrees (with some internships requiring specific areas of study), possess a GPA of 3.0 or higher, be entering their junior or senior years and have completed some of their core curriculum classes.
The 34 students who make up the 2017 internship class were selected from the following schools:
Georgia:University of Georgia
Pennsylvania:Albright College, Alvernia University, Bloomsburg University, Bucknell University,Carnegie Mellon University, Clarion University, Gettysburg College, Kutztown University, Lebanon Valley College, Millersville University, The Pennsylvania State University – Berks and University Park campuses, Shippensburg University, University of Pittsburgh, Villanova University,West Chester University and York College of Pennsylvania
New York: Rochester Institute of Technology
The interns will be assigned to work in the following Penske departments:
Environmental
Finance
Fleet Management
Fuel and Facility Services
HR
Insurance Risk Management
IT and MIS
Legal
Marketing
Operational Excellence
Real Estate
Rental
Safety
Sales
Sourcing
Vehicle Remarketing
Vehicle Supply and Planning
"This isn't just an ordinary "summer job" for interns. As a group, they are provided with well-rounded opportunities to participate in community service projects, network with key leaders at Penske, participate in professional learning and development classes, and attend several teambuilding activities," Troxell said.
The intern program also assists the company with its ongoing recruitment efforts.
"Many of our Interns have such a positive work experience that they will continue to maintain a relationship with their hiring manager through graduation and then be considered for full-time job opportunities," Troxell said. "We have many current associates who started their career with Penske in the internship program."
Being a part of Penske's internship program will pay dividends for the college students after graduation.
"Throughout all of the experiences that they have, individually and as a group, they are immersed in the Penske culture and exposed to many parts of the operation. This becomes invaluable when provided with a future job opportunity," Troxell said. "Additionally, our associates who were former interns continue to serve as an excellent network for each other."
Kenidy Kubitz, a senior marketing major at York College of Pennsylvania, said she wanted to intern with Penske because of the company's brand recognition and position as a leader in the transportation industry.
Kubitz was also looking for an internship experience where she could put the marketing principles she learned in class into practice in a work setting.
"I am at this spot where we keep memorizing things and repeating it on paper at school. You have to get your foot in somewhere to utilize what you have learned," she said. "That is what I was looking for going into this summer. I was looking for someone to teach me how to apply what I have learned."
For students wondering if an internship experience at Penske would be beneficial to them, Kubitz offered some advice.
"You need experience coming out of college in order to get a position," she said. "For me, an internship was necessary."
Interested in an internship with Penske in 2018? Visit GoPenske.com/careers to apply for the internship of your choice. Applications will be accepted beginning in February 2018.
By Bernie Mixon