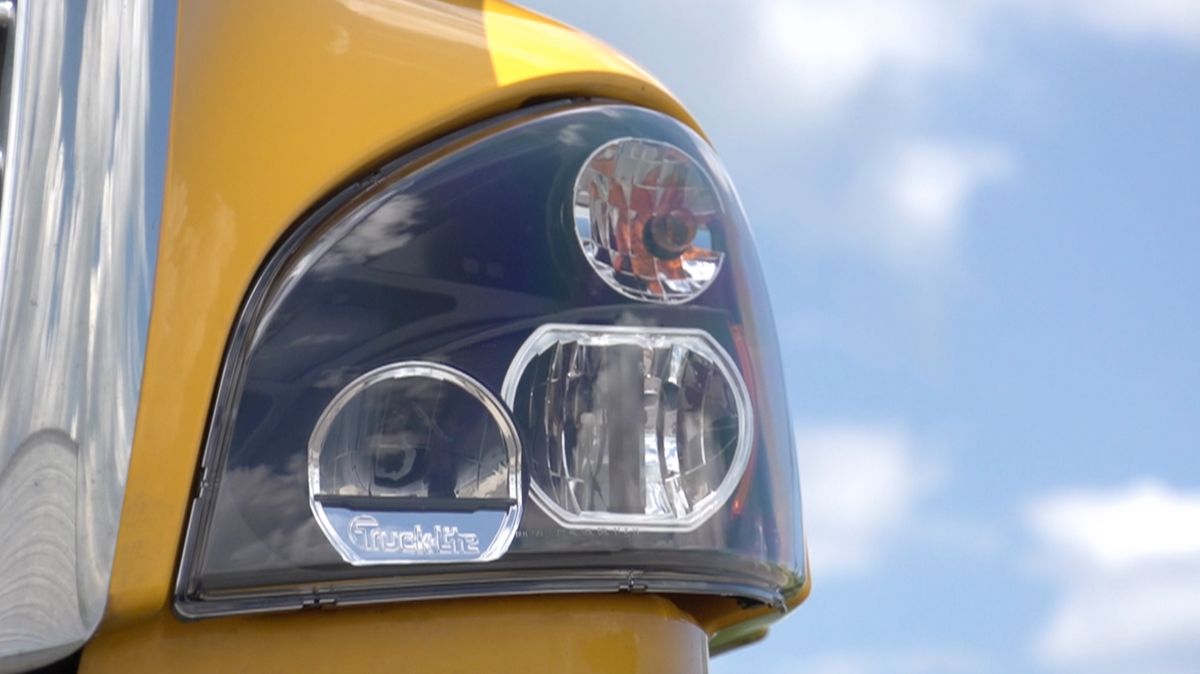 Penske Installing Truck-Lite LED headlights on 5,000 Rental Semi-Trucks
Penske Truck Leasing is retrofitting 5,000 of its 2012 and 2013 semi-tractors currently within its commercial truck rental fleet with new, cutting-edge LED headlights from Truck-Lite. Penske is the first and only commercial truck rental operation to currently offer thisinnovative headlamp option within its fleet.
---
The retrofitting will take place over the next 12 months. Penske plans to make these LED lights part of its core standard specifications for all the semi-tractors in its commercial truck rental fleet.
"We've field tested these new lights," said Art Vallely, executive vice president of operations for Penske Truck Leasing. "They provide greater nighttime visibility compared with traditional headlights, which enhances safety for commercial truck drivers operating our equipment. The high durability of these lights also provides a significant cost-savings from a maintenance standpoint."
Incredible Durability
The new Truck-Lite custom LED headlamps were initially developed for military use and offer increased durability, visibility and safety. Manufactured in the U.S., Truck-Lite's forward lighting technology is battlefield tough and tested on vehicles serving in the Iraqi and Afghan theater since 2007.
"Our LED forward lighting capabilities and product line has continued to strengthen and grow," stated Beth English, vice president of marketing for Truck-Lite. "The overwhelming response from the military and commercial vehicle markets has allowed us to push forward and move the technology toward the custom heavy-duty market and our fleet partners. As a direct replacement to current headlamps, retrofit is easy, taking only minutes."
English continued, "Our new LED headlamp offering really speaks to high performance, durability and increased visibility for forward lighting applications. Offering longer life than comparable incandescent lamps, these LED headlamp products are worth the upfront investment, saving the time and expense of replacing lamps multiple times while offering increased safety for the driver."
A "Better Kind of Light" for Truck Drivers and Fleet Managers
Truck-Lite's custom LED forward lighting headlamps offer improved driver visibility through its more natural light spectrum, leading to improved object recognition at night. Truck-Lite's LED beam pattern also reduces eye-strain for drivers and reduces harsh headlight glare to oncoming traffic. An additional benefit is a significant reduction in amperage draw on the vehicle's electrical system, freeing up power for other uses and resulting in a 50-times longer lighting system life than conventional halogen technology.
Clear Benefits Over-the-Road for Truckers and Fleets Driving at Night
Meets DOT Specifications
2.9A Low-Beam | 4A High Beam @12.8V
Rated at Over 30,000 Hours
Special New Lens Coating Combats Hazing, Crazing and Yellowing
Quick Aim
Plug and Play Installation
Sunlight Color Temperature Provides Excellent Light Color and Intensity
Better Overall Visibility for Truck Drivers
Less Maintenance
Uses Less Energy than Halogen Headlights
Added Durability Helps Reduce Waste Stream of Discarded Traditional Halogen Bulbs
Request More Information for Your Trucks or Truck Fleet
To request more information about using or installing these custom LED headlights in your truck fleet please contact Penske here.
By "Move Ahead" Staff