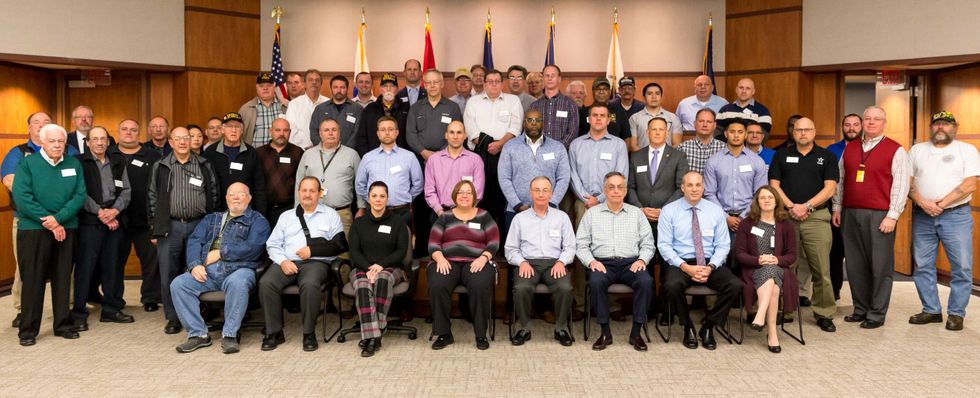 Penske Honors Veterans for Service and Sacrifice
Gratitude comes in many forms, and for veterans like Penske associate Juan DeJesus, each one – from a simple thank you to a warm cup of coffee – is heartfelt.
---
"Sometimes, we think our job doesn't matter," said DeJesus, a Penske brokerage account representative and Army veteran. "But then, someone says, 'Thank you very much for your service.' It means a lot to me."
It was the first of many 'thank you's' as Penske hosted its Fifth Annual Veterans Day Recognition Program, held at the company's headquarters in Reading, Pennsylvania, to honor the company's more than 1,500 military veterans.
"From the Vietnam War to the Global War on Terrorism, these veterans have served on the frontlines to some of the most significant changes in world history," said Mike Duff, senior vice president of government relations. "With gratitude and honor, I say thank you for your service and sacrifice."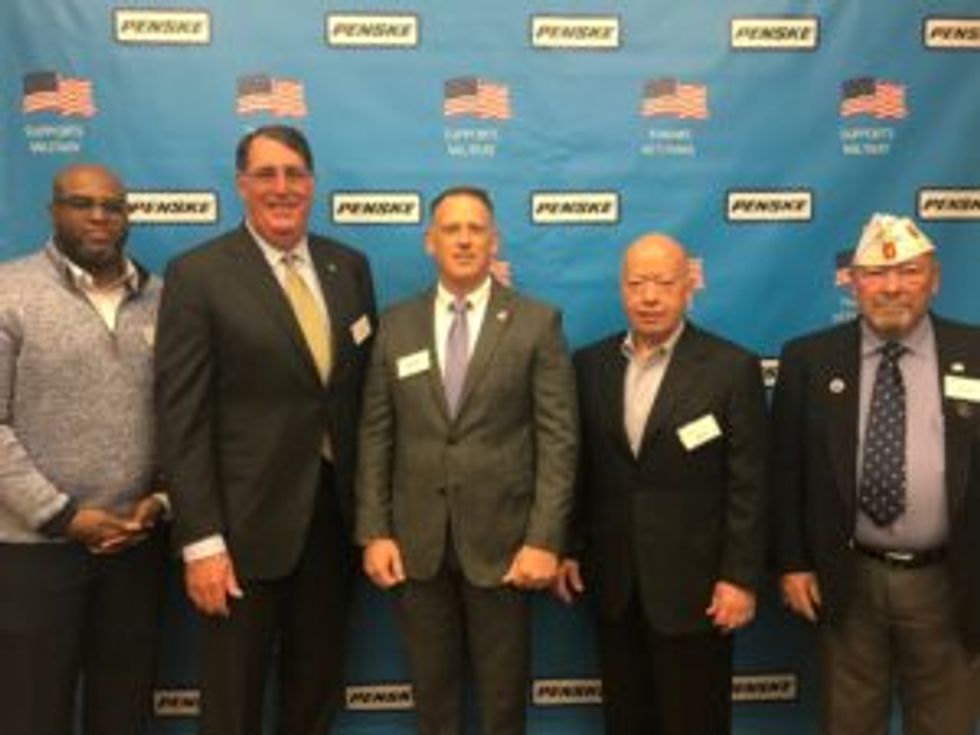 The recognition event capped off a week set aside by the company to thank the more than 20 million U.S. veterans for their service and sacrifice, chief among them their own military veterans who play a vital role in the success of the company.
Over the past three years, veterans represented nine percent of all new Penske Truck Leasing and Penske Logistics new hires, said Brian Hard, President and CEO of Penske Truck Leasing.
"We will continue our commitment and our efforts in hiring veterans," Hard said. "We appreciate the values you bring, your work ethic and your leadership. Those qualities alone, along with your attention to detail and big-picture view, make you an excellent fit for our organization."
Both Penske Truck Leasing and Penske Logistics were named 2019 Military-Friendly Employers by VIQTORY Media, the publisher of G.I. Jobs and Military Spouses magazines. The honor goes to military-friendly companies that demonstrate a commitment to recruiting America's veterans.
Next week, Penske will receive the National ESGR Eagle Head Plaque in recognition of its support of associates serving in the National Guard and Reserves.
Having that support is important to associates, like DeJesus, who are active in the reserves.
In addition, Penske partners and supports military-friendly organizations, including The Paralyzed Veterans of America's Mission: ABLE campaign, Support Military Spouses, World T.E.A.M. Sports and Toys for Tots.
"Today's Reserve and National Guard are doing as many as 10 drills a month and two weeks in the summer. If they are not deployed, they're getting ready to deploy. If they are not getting ready to deploy, they are recovering from being deployed," said Bruce Foster, program manager, Department Services Officer Program, Pennsylvania American Legion, who served as the keynote speaker for the event.
"What stands out to me is your dedication to recognizing the sacrifices of service while understanding that veterans make great employees, and what a smart choice that is," Foster said.
Penske Truck Leasing and Penske Logistics offer a range of career opportunities, including truck fleet maintenance technicians, truck drivers, fleet maintenance supervisors, operations management roles, logistics and supply chain operations roles and many others. Visit www.GoPenske.com/careers/veterans for more information on career opportunities.
By Bernie Mixon