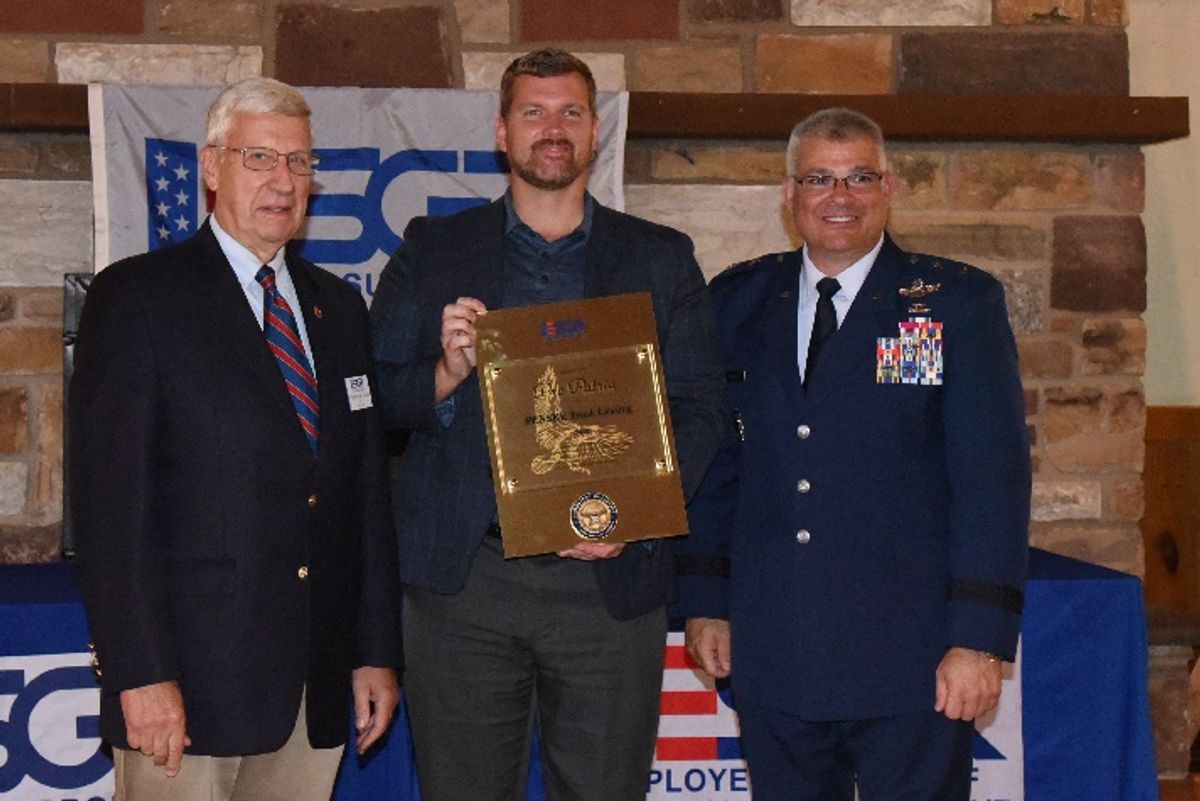 Penske Honored with Pro Patria Award for Support of Guard and Reserves
Each year at a moment's notice, thousands in the National Guard and Reserves answer the call to serve on the frontlines in conflict zones abroad as well as in times of state and national emergencies at home.
---
Chief among the arsenal of support for these citizen warriors is that of employers, who pave the way for their employees' military service by adopting policies that support training and deployment.
The Pennsylvania committee of the Employer Support of the Guard and Reserve (ESGR) recently presented Penske Truck Leasing with the Pro Patria Award for the company's support of the Guard and Reserves. The Pro Patria Award is the highest committee award.
"Penske goes above and beyond and that is the reason for this award," said Maj. Gen. (Ret.) Wesley Craig, chairman of the Pennsylvania ESGR. "You recognize the value that the military service member gets from his or her military training and can bring that to the workplace."
Both Penske Truck Leasing and Penske Logistics are proud supporters of the military, said Jennifer Sockel, Penske's senior vice president of human resources.
"We are deeply grateful for the service and sacrifice of our servicemen and women and their commitment to protecting our freedom," Sockel said. "We are honored by the ESGR's recognition of our support of the Guard and Reserves."
Penske received the award at the Pennsylvania ESGR's Employer Awards Luncheon at the Keystone Conference Center at Fort Indiantown Gap in Annville, Pennsylvania.
Representatives from 35 companies were on hand to receive awards based on nominations from their employees in the Guard and Reserve. Sean Wilkins, Penske's manager of military recruiting, accepted the award on Penske's behalf.
"Penske has a great track record of recognition for supporting veterans, National Guard, and Reserve associates," Wilkins said. "We look forward to building on these achievements and working hard to be the military employer of choice for those who have served or continue to serve our great nation."
Citizen Warriors Answering the Call
The support from employers is even more important as the role of the nation's Guard and Reserves continues to expand.
"With the decrease of the active components and the increase of the security environment around the world, the reserve components have become so much more important to the defense of this nation," said Maj. Gen. Anthony J. Carrelli, the Adjutant General of Pennsylvania, who served as the keynote speaker at the luncheon.
In his role, Gen. Carrelli is responsible for the command, control and supervision of National Guard units, both Army and Air, allocated to the Commonwealth of Pennsylvania. The Pennsylvania National Guard is the second largest in the country.
"Every time we call, you end up with an empty spot at your businesses the next day," Gen. Carrelli said. "I am here to tell you we need every single one of them. It is phenomenal work they are doing for us."
He called on businesses to continue to support servicemen and women in the Guard and Reserves.
"I am asking for you to do whatever you can to support them so they can have a successful military career," Gen. Carrelli said.
Serving Those Who Serve
The Pro Patria Award is presented to employers who have demonstrated the greatest support to Guard and Reserve employees through their leadership and practices, including adopting personnel policies that make it easier for employees to participate in the Guard and Reserves, according to the ESGR.
The award is presented by each state committee to one large, one small and one public sector employer. Penske was the sole company to receive the award, Craig said.
Penske was also a Pennsylvania nominee for the Secretary of Defense Employer Support Freedom Award, the highest recognition to employers for their outstanding support of employees serving in the Guard and Reserve.
John Adams, an IT engineering manager, who serves in the Pennsylvania Air National Guard, nominated Penske for the Freedom Award. Penske's Pro Patria Award came as a result of Adams' nomination.
In order to be eligible for the Pro Patria Award, the recipient must first have previously been awarded the Above and Beyond Award, had at least one supervisor presented with a Patriot Award and be an employer that has signed a Statement of Support for the Guard and Reserve.
Both Penske Truck Leasing and Penske Logistics are committed to hiring veterans and were named 2019 Military-Friendly Employers by Victory Media, the publisher of G.I. Jobs magazine. During the past three years, veterans have represented 9% of all new hires.
In addition, Penske partners and supports military-friendly organizations, including the Paralyzed Veterans of America's Mission: ABLE campaign, Support Military Spouses and World T.E.A.M. Sports.
For associates who need to be away for training or deployment, Penske takes great care to put them at ease long before they go out on military leave. In 2018, nearly 100 Penske associates were on leave to serve in the Guard and Reserves.
In his nomination. Adams wrote of the support he received during a recent deployment.
"While I was deployed, I received emails and letters from numerous individuals and my manager on a regular basis to check on me and inquire if I need anything," Adams wrote. "During deployments, I received care packages on a monthly basis from my department as well as from Penske's corporate departments."
"In my nearly 20 years with Penske, I never felt that I was not supported," he said. "Penske management always had my back, regardless of the situation, circumstance or time."
Penske Truck Leasing and Penske Logistics offer a range of career opportunities, including truck fleet maintenance technicians, truck drivers, fleet maintenance supervisors, operations management roles, logistics and supply chain operations roles and many others. Visit www.GoPenske.com/careers/veterans for more information on career opportunities.
By Bernie Mixon