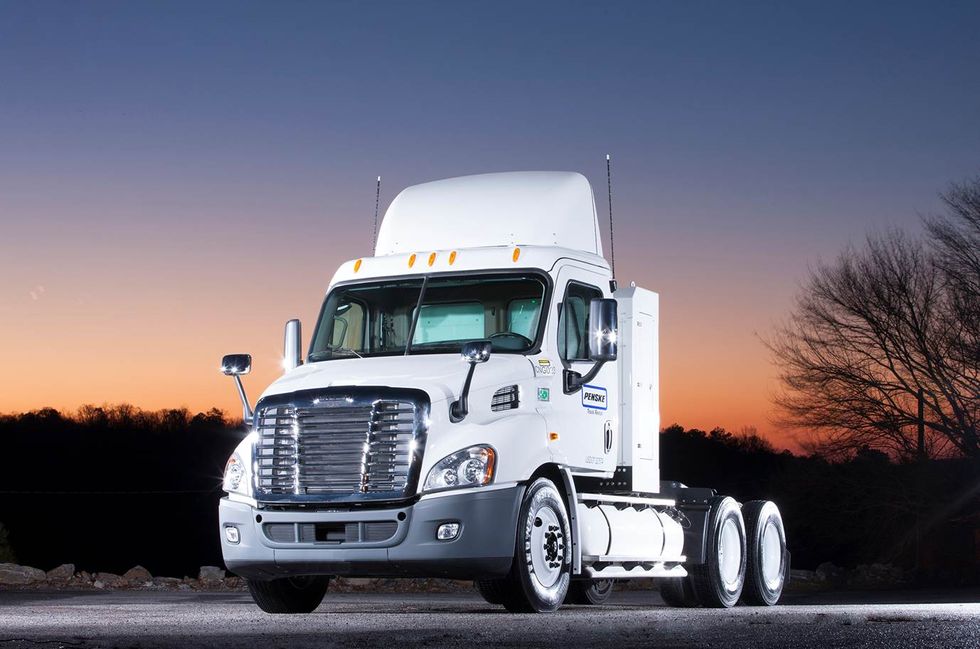 Penske Collects 5th Straight EPA SmartWay Affiliate Challenge Award
Penske Truck Leasing has, for the fifth straight year, been given the SmartWay Affiliate Challenge Award by the U.S. Environmental Protection Agency (EPA). Penske is one of nine organizations to receive this honor.
---
"Being recognized as a five-time honoree is quite an accomplishment," stated Drew Cullen, Penske Truck Leasing senior vice president of fuels and facility services. "We appreciate the opportunity to consistently provide our customers with the means to enhance, or to create, quality sustainability programs that support their business models."
The SmartWay Affiliate Challenge is a national challenge developed by the EPA to acknowledge organizations that are contributing to a clean energy economy by reaching out to inform and educate businesses, their communities, truck drivers and other stakeholders about steps they can take to reduce freight emissions and their other environmental impacts.
"EPA commends the SmartWay Affiliate Challenge honorees for their extraordinary level of commitment and enthusiasm in supporting more efficient and sustainable business practices in moving goods," said Christopher Grundler, director of the EPA's Office of Transportation and Air Quality. "These organizations represent diverse industry sectors and stakeholders who believe that American prosperity can be preserved while protecting the environment."
These are some ways that Penske promoted the SmartWay Transport Partnership:
Assisting customers with modeling and completion of the program's tools and helping them to establish fuel economy and emissions benchmarking that correlate with SmartWay Carrier Performance Rankings
Ongoing education and introduction of customers to join SmartWay, both in the U.S. and Canada
Devising and implementing new strategies to educate Penske associates and customers
Attending and presenting at sustainability conferences and other transportation industry events
The EPA launched SmartWay in collaboration with business stakeholders to strengthen competitiveness and energy efficiency while contributing to cleaner air. Since 2004, over 3,500 companies have relied upon SmartWay data and assistance to lean their supply chains while shrinking their environmental footprints. Collectively, SmartWay partners have saved $27.8 billion in fuel costs, while cutting over 1.7 million tons of NOx, 70 thousand tons of PM2.5 and 84 million metric tons of carbon from our nation's freight transportation networks. More information on SmartWay: http://www.epa.gov/smartway/
Penske Truck Leasing is a transportation industry leader in the areas of spec'ing, operating and maintaining fleets of traditionally-fueled vehicles as well as alternative-fueled vehicles that includes natural gas, propane, electric and diesel-electric hybrids. Pictured above is a Penske Truck Rental compressed natural gas (CNG) tractor.
Penske Truck Leasing is an affiliate partner in the U.S. EPA SmartWay program and Penske Logistics is a partner in the trucking carrier and logistics categories. Penske Truck Leasing is also an affiliate partner in the Canada SmartWay Transport Partnership, which is administered by Natural Resources Canada.
By "Move Ahead" Staff