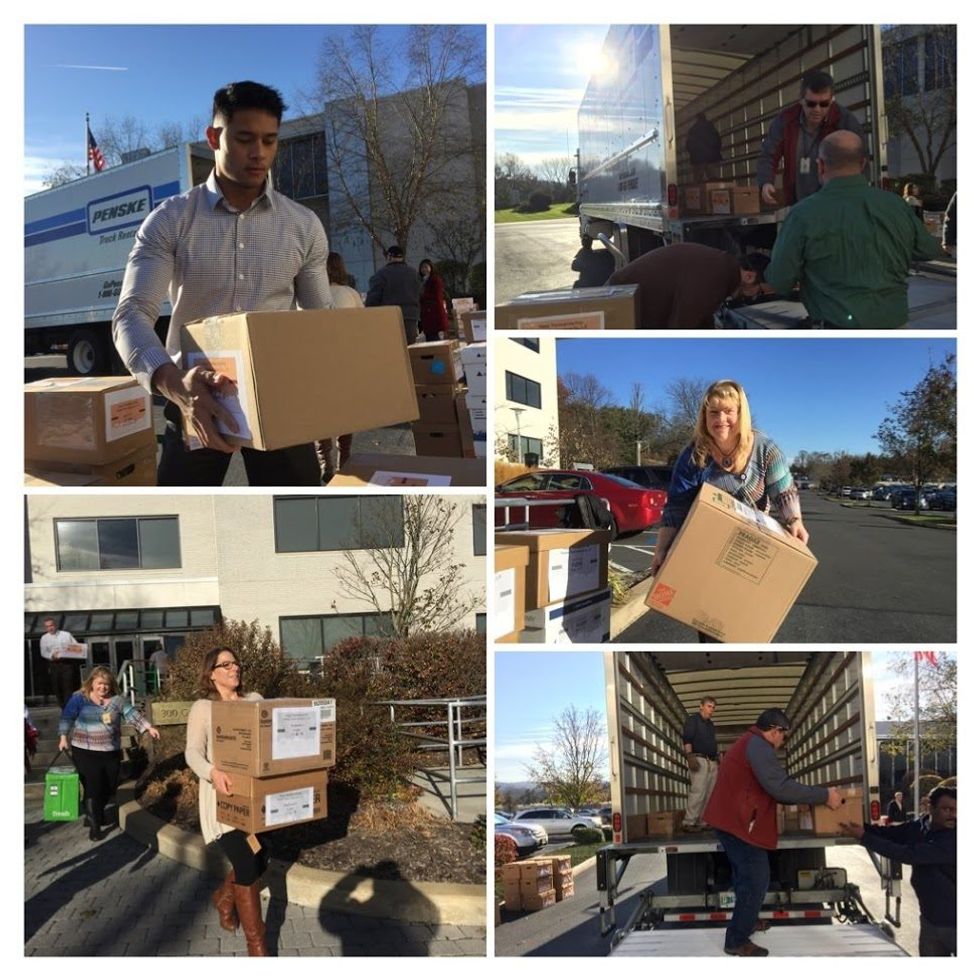 Penske Associates Provide Thanksgiving Meals for Area Families
The portrait of Thanksgiving celebrations, complete with loved ones gathered around a bountiful, seasonal dinner table can prove to be elusive for families faced with food insecurities.
---
Families in need in Berks County, Pennsylvania often turn to charitable relief organizations like the Salvation Army of Reading to help them meet their food needs.
"The holidays – Thanksgiving and Christmas –are times when we all feel this cultural drive to celebrate, to be thankful," said Capt. Ted Tressler, commander of the Salvation Army of Reading. "In many cases, many of the families we see do not have a lot to be thankful for other than those general blessings we all have of life and freedom."
Recognizing the need, Penske associates joined together to provide Thanksgiving meals to the Salvation Army for distribution to 143 families as part of the company's annual Adopt-A-Family Thanksgiving Drive.
Penske's United Way at Work Committee, which provides charitable giving opportunities for Penske associates at the corporate headquarters in Reading, Pennsylvania, organized the drive, now in its 16th year.
"To be able to give someone a turkey and a box of food so they can celebrate with their family and enjoy a day when they don't have to be worried about where tomorrow's meal is coming from is significant," Tressler said.
Each year, the drive attracts more Penske Logistics and Penske Truck Leasing associates to participate. This year's, the associates' generous donations resulted in nearly 650 boxes of food being donated to the Salvation Army on behalf of the families.
"The associates are very generous. I have been doing this for the last 16 years and every year we are increasing more and more families to sponsor," said Dharma Sivasamy, organizer of Penske's Thanksgiving drive.
For the past three years, Elena Guatieri, a moving advisor in the Rental department has participated in the holiday drive. This year, the Rental department adopted 37 families.
"We get involved as a group because it is a good thing to do," Guatieri said. "Just to know that you feed that many families and especially children is so rewarding."
Equally as important is Penske's support of the associates' philanthropic efforts.
"It makes you feel grateful to work for such a great company," Guatieri said. "It is a beautiful thing. It makes me emotional because I love doing things for others."
The donations mean so much to the Salvation Army and the families they assist.
"I don't think anyone can overstate the magnitude of the assistance that is given and how important that it is," Tressler said. "The beauty of this community is those with have not forgotten about those without. A shared meal is important and this community gets it."
By Bernie Mixon