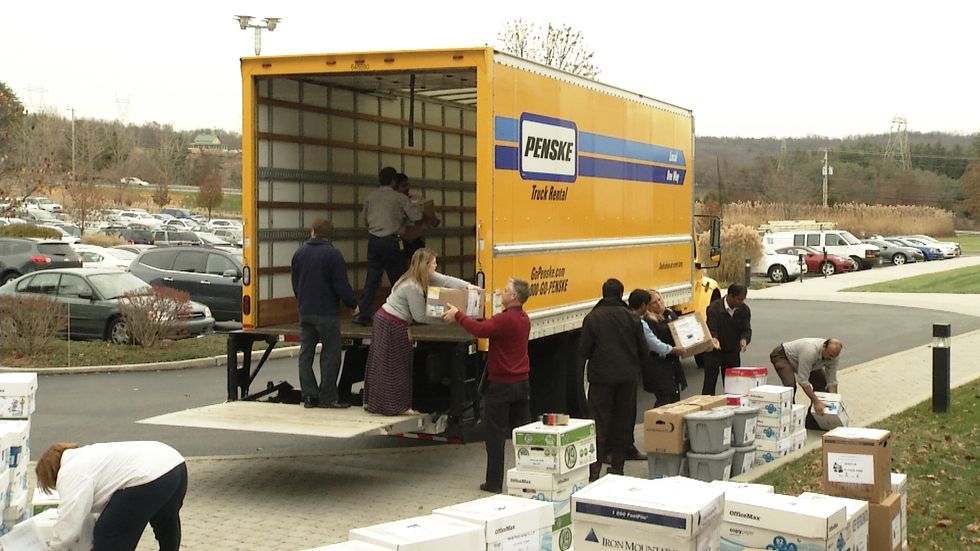 Penske Associates Help Families Enjoy Thanksgiving
andPenske Logistics associates banded together to donate hundreds of boxes of food to the Salvation Army of Reading that will benefit Berks County, Pa. families in need this Thanksgiving. In all, 105 families were provided with the makings of a traditional Thanksgiving meal from the turkey down to the dessert. Each family, on average, received four full boxes of donations, depending on the family size.
---
For nearly a decade, Penske's associates – with the support of both companies – have reached deep into their own pockets to provide food, diapers, formula, small toys, coloring books, and other items for families in need as identified by the local Salvation Army.
The effort was spearheaded by Penske's United Way at Work Committee, an organization made up of about 40 associates, who donate their time to charitable groups across the region.
"We're just fortunate to have generous coworkers who always come to the need of others," said Rosemary Schaffer, a United Way Committee Coordinator at Penske. "No matter what the circumstances, we can always count on our associates to be generous with their money and also their time."
The associates formed a human assembly line Tuesday morning, filling a yellow Penske rental truck, with box after box of donations for the families. The donations were driven to the Salvation Army in Reading, Pa. where the families will pick them up on Wednesday.
For nearly 130 years, the Salvation Army has been serving the needs of families and individuals in the city by providing emergency assistance, permanent housing and after-school programs. The non-profit agency expects to serve 1,200 local families during Thanksgiving with the growing need among working families.
With rising costs, families are struggling to make it month-to-month so efforts like these are a blessing, according to Mindy McCormick, director of development, at the Salvation Army.
"It becomes a feeling of defeat," McCormick said. "Our hope is this becomes a pathway of hope."
She applauded the efforts of Penske associates and their generous donations.
"It is a huge help," McCormick said. "This allows us to make sure they have something for Thanksgiving."
By Bernie Mixon