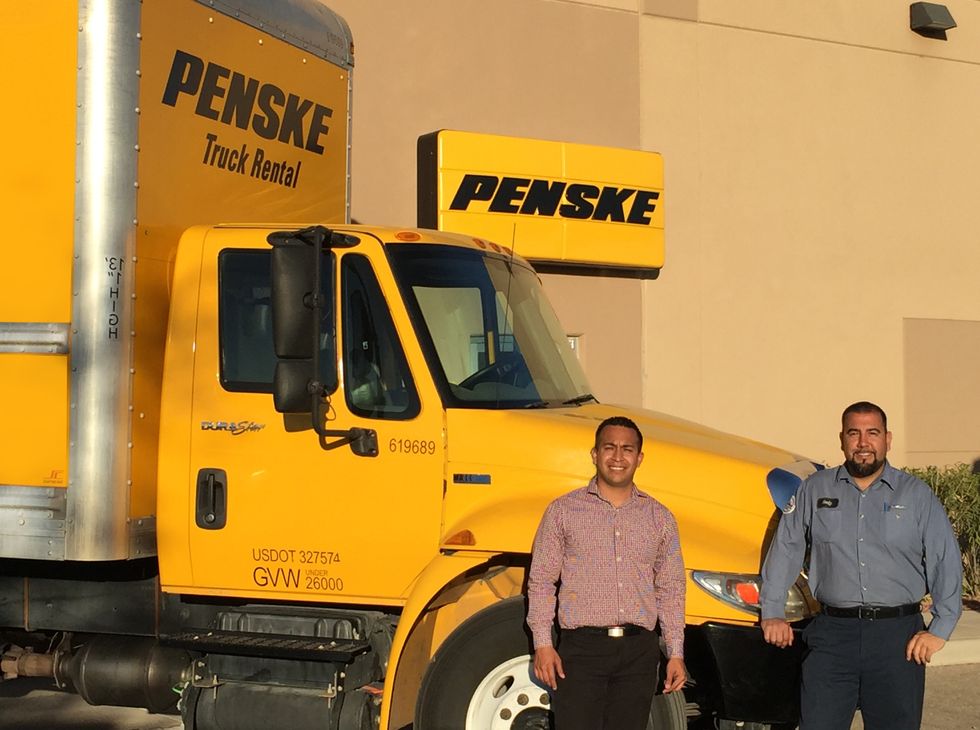 Penske Adds Rental, Leasing and Maintenance Facility in El Paso
The team at Penske's new El Paso location includes Branch Rental Manager Santiago Vasquez, left, and Branch Service Manager Monty Apodaca.
---
Penske Truck Leasing has opened an additional facility in El Paso, Texas, to provide greater convenience for truck rental, leasing and maintenance customers on the west side of El Paso and in southern New Mexico.
The facility at 4051 Doniphan Park Circle will offer truck leasing, consumer and commercial truck rental and contract truck fleet maintenance services.
Penske recently acquired and remodeled the 3,200-square-foot building, which features two service bays and a wash bay. The site is conveniently located just off Interstate 10.
"This additional site will provide greater convenience for customers in the west side of El Paso," said Penske District Manager Fred Haddad. The company's existing center is about 20 miles away on the eastern side of the city."
"In addition, this location will enable us to offer late-model trucks and state-of-the-art maintenance services to businesses and consumers in Las Cruces and the surrounding area in southern New Mexico," Haddad said. "We look forward to supporting the area's growing transportation needs, which are fueled by cross-border traffic and facilities such as a railroad and intermodal hub in nearby Santa Teresa, New Mexico."
Consumer and commercial truck rentals are available from the facility at 4051 Doniphan Park Circle Monday through Friday, 8 a.m. to 5 p.m., and Saturday, 8 a.m. to noon.
Maintenance services for vehicles under contract with Penske are available Monday through Friday, 9 a.m. to midnight, and Saturday, 10 a.m. to 6:30 p.m.
The phone number is 915-261-1113.