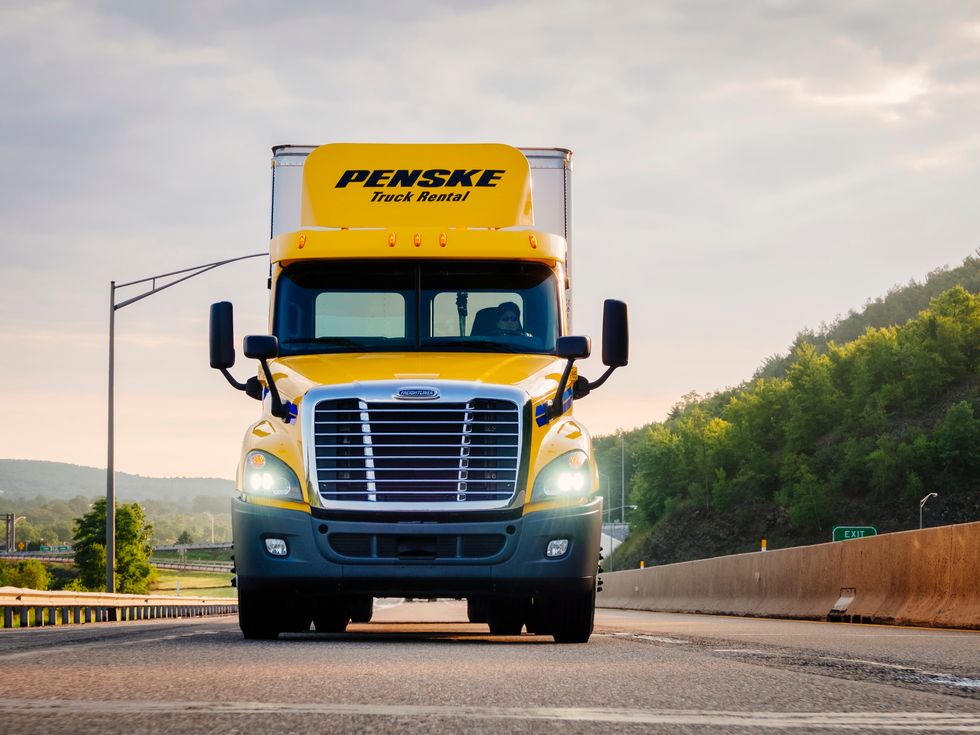 Passion for Driving Fuels Penske Career Path
Growing up, Dawn Stern would dream of the day that she could slip into the driver's seat – much like her father, a professional truck driver – and feel the sense of freedom that comes from driving on the open road.
---
Years later, as a mother of two, Stern would get her chance, first as a school bus driver and later as a hiker for Penske Truck Leasing, shepherding trucks across the Northeast.
"You know how some people say something makes them feel free like it's a breath of fresh air? That's how driving is for me," Stern said. "I was born to drive."
Now, Stern uses her wealth of driving experience in her current role as a vehicle sales coordinator in Penske Truck Leasing's vehicle Remarketing Department, assisting customers with used truck sales.
As part of Women's History Month, Penske is celebrating the contribution of women – professional truck drivers and those in other roles – who help to move the world forward.
When it became time for Stern to start her family, she made the conscious choice to become a stay-at-home mom after the birth of her second child.
"It was important for me to give them a great start so that they can become successful, mature, responsible adults," Stern said. "I felt that was my mission as a mom."
After her oldest child was in high school and her youngest was in middle school, Stern decided it was time to re-enter the workforce.
"A friend of mine suggested I consider school bus driving. It would offer the flexibility of being home with my daughters for sports and after-school activities as well as being out in the workforce," Stern said.
Stern started her professional driving career transporting special needs students in school vans while she sought her commercial driver's license. Once in hand, Stern began driving school buses, which she did for two years until she heard about an opportunity to become a hiker for Penske.
She was drawn to working for Penske because of the company's reputation as a transportation industry leader and the opportunity for advancement the company offers for associates.
"I didn't look anywhere else. Everything about the company attracted me," Stern said. "Hearing the Roger Penske story. He is amazing. It is a great company, and I think he is a great man and a great leader."
Stern was hired 2011 as a rental truck hiker for Penske's location in Reading, Pennsylvania. She started working a few nights a week and on weekends and during summers when she wasn't working for the school district.
"Most of the hikers at that time were retired truck drivers," Stern said. "I was the only woman."
Her CDL license, which Stern still holds, allowed her to drive all types of units without trailers, such as tractors and straight trucks.
Part of her job was to transport trucks to and from agent locations to ensure they were ready for customer pickup. Stern spent the other part of her time escorting trucks to Penske's collision repair facilities and returning the trucks to their original location after the work was finished.
For Stern, nothing could compare to the feeling of driving on the open road. "I loved it," she said. "I loved being out on the open road, the driving and the solitude of it."
Time moved quickly for Stern, and after three years as a hiker, she began to look for a new challenge. The Remarketing Department offered her the ability to utilize her driving experience and expand her skill set.
It is the first of many career moves she hopes to make with Penske, a company where she feels her work is appreciated and where she intends to remain until it is time to retire.
For anyone looking for career advancement, Stern has some advice.
"Don't sell yourself short. If you want something, don't let anyone tell you that you can't do it," she said. "Don't take no for an answer."
Interested in a driving career with Penske? Visit gopenske.com/drivers for employment opportunities. The company offers competitive wages and a wide range ofbenefits. Penske is an Equal Opportunity Employer.
Editor's Note: In recognition of Women's History Month, each #TruckerTuesday in March, the "Move Ahead" blog featured current and former female professional truck drivers who helped to move the world forward.
By Bernie Mixon