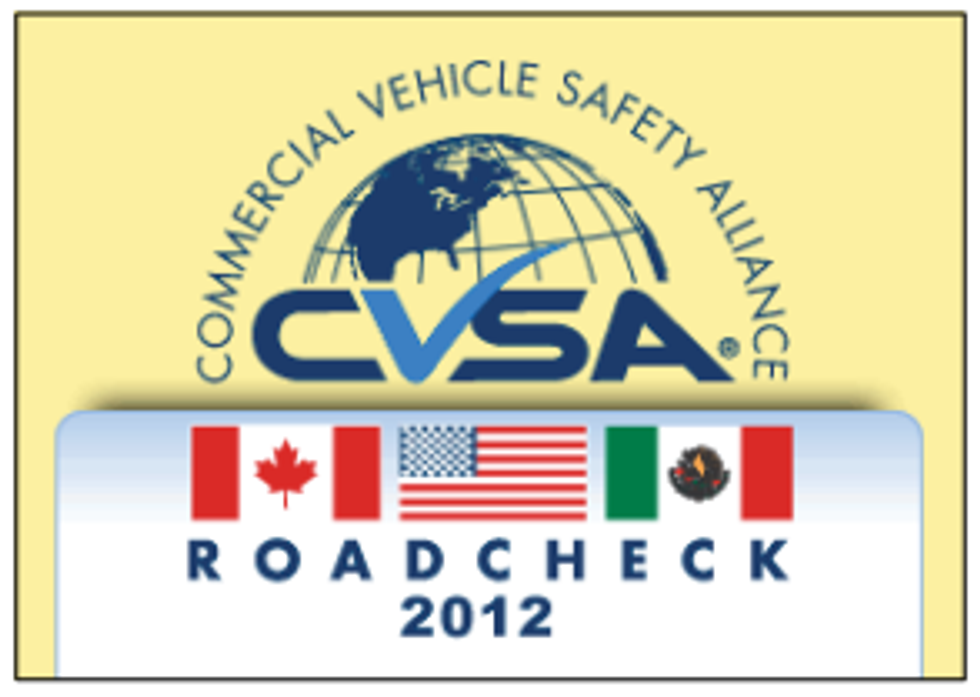 Inspectors Prepare For Roadcheck 2012, Set For June 5-7
Every June thousands of law enforcement officers partner together at 1,500 locations across North America to conduct a three-day, commercial vehicle safety enforcement and education campaign organized annually by the Commercial Vehicle Safety Alliance (CVSA).
---
Roadcheck is the largest targeted enforcement program on commercial vehicles in the world, with approximately 14 trucks or buses being inspected, on average, every minute. This year's event will take place June 5, 6 and 7.
During the event, approximately 10,000 CVSA-certified local, state, provincial and federal inspectors will conduct compliance, enforcement and educational initiatives targeted at various elements of motor carrier; vehicle; driver; and cargo safety and security.
Drivers are either pulled over or directed into weigh stations or other inspection locations and asked to show their commercial driver's license, medical examiner's certificate and record of duty status. Brakes, tires, lights and every major safety component of the truck or bus, plus proper load sacrament are also examined.
During Roadcheck 2011, inspectors at 2,550 locations across North America performed 70,712 truck and bus inspections in 72 hours. Inspectors focused on the North American Standard Level I inspection, motorcoach inspections, hours-of-service logbooks and household goods (HHG) carriers. CVSA reported that hours-of-service logbook violations were the highest percentage of all driver violations cited, making up 52.5 percent of all driver out-of-service violations. Drivers were surveyed on logbook type, with 86 percent of drivers using paper logbooks.
Last year, inspectors placed additional emphasis on identifying carriers of household goods using improperly marked rental vehicles and/or operating as a for-hire property carrier rather than household goods carrier. That focused activity identified 32 carriers that required enforcement action.
Since its inception in 1988, the roadside inspections conducted during Roadcheck have exceeded one million, which CVSA said results in more than 220 lives saved and 4,045 injuries avoided.
Penske Truck Leasing supports the CVSA in its efforts to increase fleet safety. For more information on Roadcheck 2012, visit cvsa.org.
Penske commercial transportation tidbit: inspectors prep for Roadcheck 2012, June 5-7 http://t.co/TeKGbBUu

— Penske Transportation Solutions (@Penske Transportation Solutions) 1338815183
By "Move Ahead" Staff