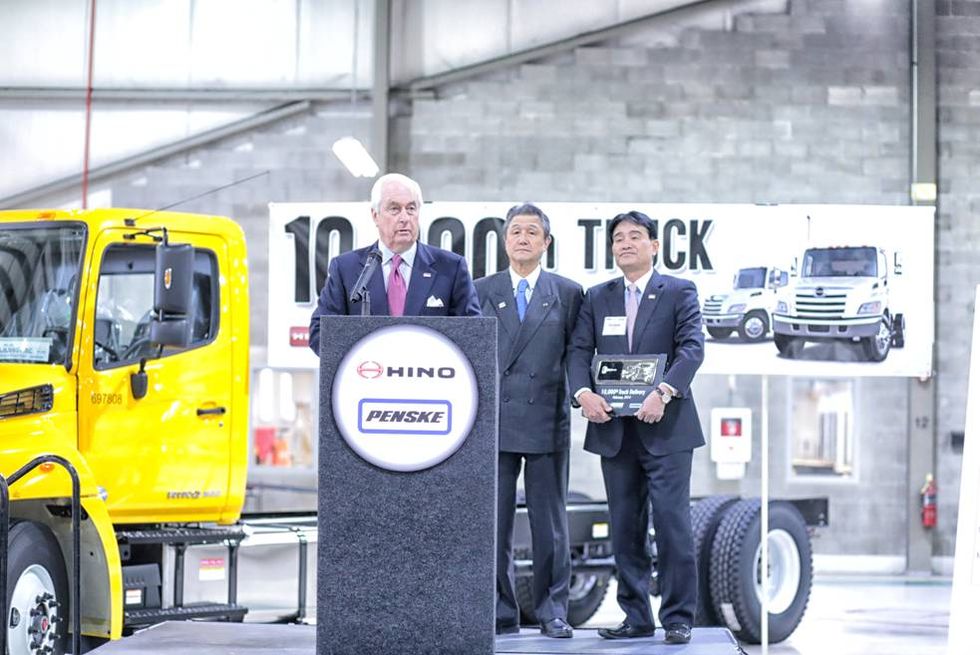 Hino Delivers 10,000th Truck to Penske
Hino Trucks recently held a ceremony to commemorate the delivery of its 10,000th truck to Penske Truck Leasing. The ceremony took place at Hino's plant in Williamstown, W. Va., in front of its assembly team members and top management from Hino and Penske Truck Leasing.
---
"We congratulate the entire team at Hino and Toyota on this significant milestone," said Roger Penske, chairman of Penske Truck Leasing. "Hino continues to be a trusted supplier of high-quality trucks within our truck leasing and truck rental fleets. We are pleased with the performance of these vehicles and the outstanding support Hino provides."
The 10,000th truck is a 2015 model 268A which is part of Hino's line-up of conventional trucks that have garnered an industry reputation for providing the lowest cost of ownership in its class. The 268A is part of Hino's class 6 and 7 conventional truck line up that is specifically well-suited for the lease and rental market segment where Hino has grown to 10 percent of the market. The 10,000th truck will become part of the Penske Truck Rental fleet.
"This major milestone began in 2004 when Penske Truck Leasing received its first Hino 268 truck. We are proud of our longstanding partnership with Penske and the delivery of our 10,000th Hino truck is a significant accomplishment for both companies. We are excited to mark this achievement and look forward to continuing to provide Penske with best-in-class trucks," said Yoshinori Noguchi, president & CEO for Hino Trucks.
Hino Trucks is a Toyota Group Company.
By "Move Ahead Staff"