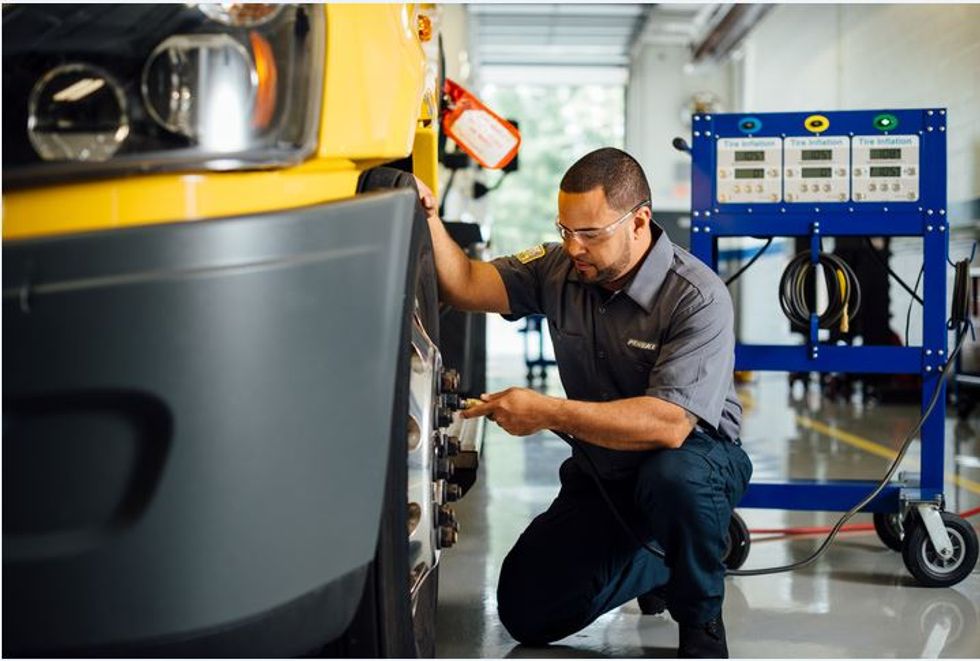 Help Your Fleet Beat the Heat
The heat and humidity that often accompany sun-kissed summer days can take a toll on all vehicles traveling on the nation's roadways, but none more so than on commercial vehicles.
---
Fleet managers, working together with professional drivers, are often charged with making sure that their fleet of commercial vehicles are able to stand up to the sometimes challenging seasonal elements.
Penske Truck Leasing's maintenance experts have put together some tips for fleet managers to help keep their fleets summer ready as we enter into the dog days of summer.
A good first step would be to understand how heat and humidity impact the systems in commercial trucks.
Newer engines found into today's commercial units, as well as after-treatment systems, generate a considerable amount of heat on their own. Couple that with the amount of heat that radiates off asphalt and roadways and that magnifies the amount of heat even more.
The heat can have an impact on cooling and air conditioning systems as well as on tires. The increased humidity in the air can have an impact on air brake systems, and the increased humidity in the air leads to more moisture in the system.
With that in mind, Penske's maintenance experts suggest the following steps to keep commercial units in top condition:
Professional truck drivers should preform pre- and post-trip inspections of the unit to detect any issues.
Check tire pressure more frequently. Use a gauge and check when the tires are cold.
Heat decreases the life span of accessory drive belts like fan belts, and systems that are belt-driven by the engine such as the AC compressor and alternator. Inspect belts for cracks and wear. Make sure they are adjusted at the correct tension specified by the manufacturer.
Maintaining your batteries is critical. With today's newer emission engines, the placement of battery boxes under the cab and all of the aerodynamic components - especially with sleepers - battery failure rates as are high or higher in the summer as they are in winter. This should be a maintenance item that receives attention all year long.
It is a good practice at all times – but especially in the summer – to make sure to pressure-wash the fins of radiators and air conditioning condensers to make sure you remove the bugs and grime. You want to make sure that the surface is clean to keep good air flow through it.
At the regularly scheduled maintenance, make sure to pressure-test the entire coolant system, to check for leaks and make sure to test the cap at the same time.
The key to keeping fleets in top condition year-round starts with a regimented preventive maintenance program based on time, miles and one that is specific to the type of vehicle and its usage.
Penske offers a variety of maintenance options to help keep your fleet and business moving. We can customize a contact maintenance program to meet your specific fleet needs. For more information, contact one of our helpful maintenance experts or call 1-844-376-4099 to learn how Penske can help you.
By Bernie Mixon