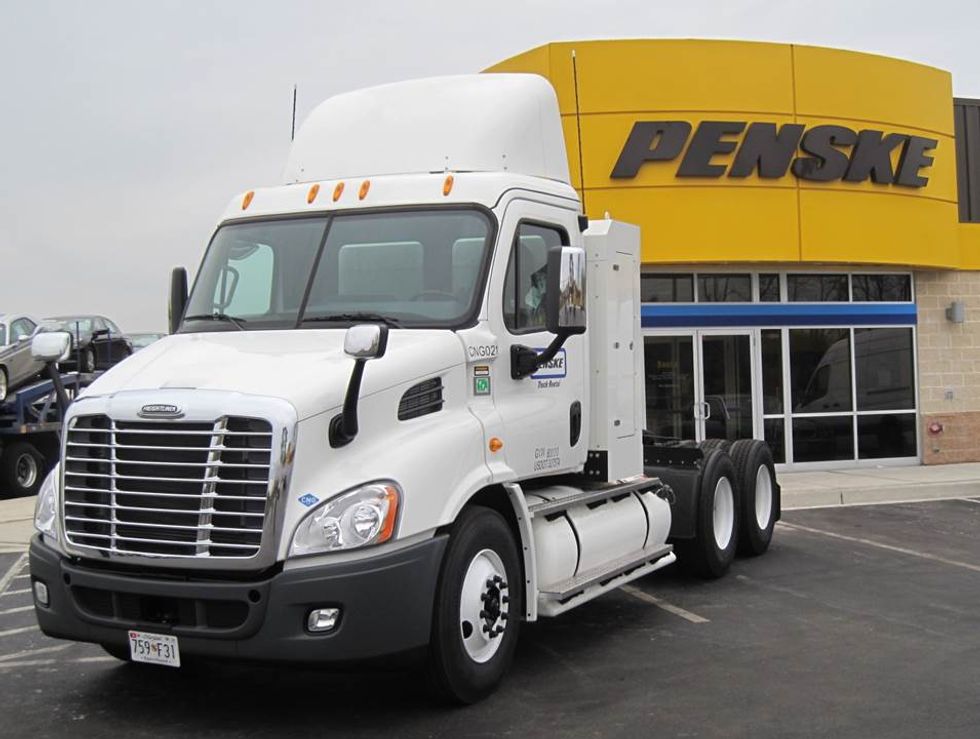 CNG Maintenance Differs from Diesel Maintenance
The number of motor carriers adopting compressed natural gas (CNG) vehicles is increasing, as is the number of fueling locations offering the fuel. However, when it comes to maintenance, the needs of CNG vehicles differ from those of their diesel counterparts.
---
Facilities that perform CNG maintenance must meet building safety standards provided by the National Fire Protection Association (NFPA). Those standards vary based on whether or not a location is considered a minor repair facility or a major repair facility, said Mike Hasinec, vice president of maintenance support at Penske Truck Leasing.
Different Types of Facilities
If a maintenance facility plans to do major work on a CNG tractor, which includes anything to do with the fuel system, the location needs to be modified for natural gas vehicle maintenance.
Depending on the number of vehicles supported, this modification may include one isolated bay or it may encompass the entire facility.
"You have to do some electrical and heating type work so you can't emit sparks and you have to have a methane detector," Hasinec said, adding that local municipalities can have requirements above the NFPA's standards.
As a best practice, Penske Truck Leasing has implemented a process whereby technicians isolate the fuel system from the rest of the vehicle when it is in a repair facility.
Locations that plan only to undertake minor repairs on CNG tractors do not need to utilize an isolated bay, Hasinec said, adding that Penske invests in a major repair facility when the number of existing or anticipated CNG trucks at the location warrant it.
Technician Training
Working on CNG vehicles requires some additional technician training and possible certifications because there are some new components on the vehicles. "You have filters on the fuel system side and then you have filters on the engine side. The natural gas engines sometimes need new spark plugs and sometimes we have to adjust the valves because they run hotter, but that is periodic," Hasinec said.
Hasinec said fleets can benefit from an inclusive maintenance program when investing in natural gas technology. "Almost anytime there is a new engine platform or new technology and it gets some real-world testing, you have some growing pains," he said, adding that it can take two to three years for manufacturers to improve the reliability of a new engine platform.

Penske Truck Leasing has opened a new maintenance facility for compressed natural gas vehicles in the Birmingham suburb of Alabaster, Alabama. The 8,480-square-foot facility also provides full-service truck leasing, consumer and commercial truck rental and contract truck fleet maintenance services.
The facility has two truck service bays and a wash bay, a single-lane commercial truck fuel island that also provides bulk diesel exhaust fluid dispensing, and wireless technology that can connect technicians to truck diagnostic and analytic software.
By "Move Ahead" Staff