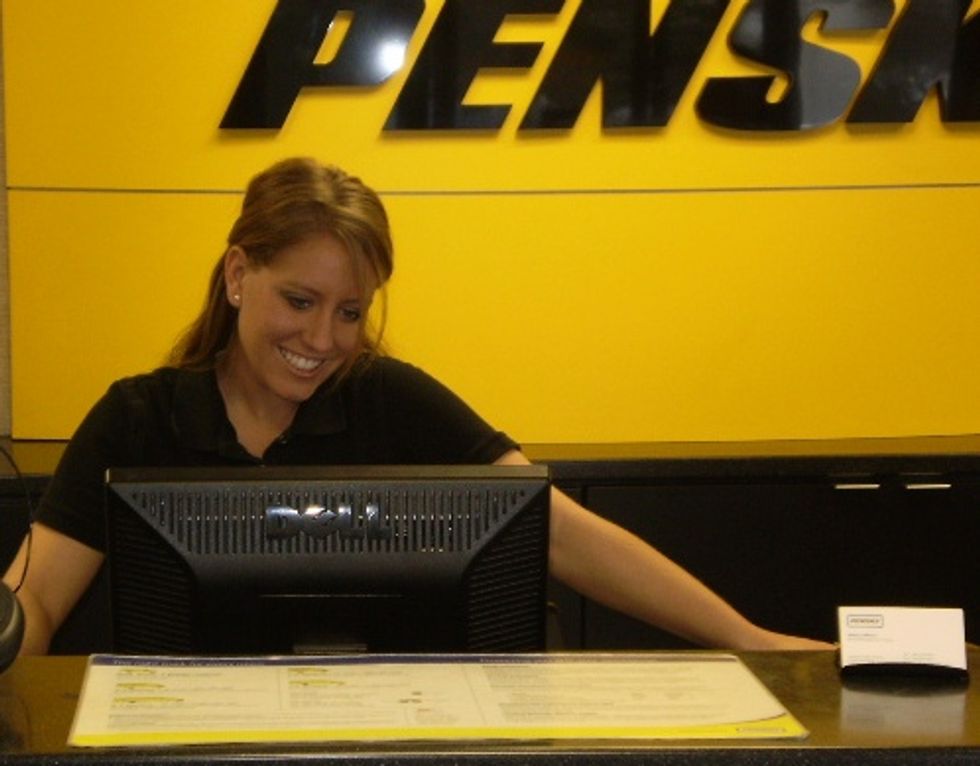 Being a Penske Truck Rental Representative May Accelerate Your Career
The position of rental representative at Penske Truck Leasing is an important job, for a number of reasons.
---
For starters, they're often the first point-of-contact for Penske's rental and lease customers. The job can also serve as a steppingstone within Penske, a global transportation company with over 19,000 associates.
And, best of all? Penske recruiters are hiring rental representatives this year, to gear up for the upcoming busy moving season.
Malissa Wilhelm (photo right), a May 2010 graduate of Kent State University (where she earned a bachelor's degree in managerial marketing), wanted a job free of roadblocks and full of opportunities. She's found that as a rental rep at a suburban Cleveland Penske location.
"It's never the same thing every day," said Wilhelm. "When I first started with Penske, I didn't know what to expect. I love meeting people and interacting with customers."
Wilhelm perhaps became a people person by necessity, as her father's service in the U.S. Marines saw her family spend time in Pennsylvania, North Carolina, Tennessee and Ohio. She was focused on her career early on, serving as a vice president in a national business fraternity chapter at Kent State, giving campus tours as an admissions guide and even working security at a concert venue.
Explained Penske district rental manager David Grobelny: "From the time she started with us as a part-time associate (she became full-time after graduation), Malissa's growth has been phenomenal."
Grobelny said several customers have e-mailed him, noting Wilhelm's great work.
"The company has identified the open doors for me," said Wilhelm. "I am very happy here and I would love to be a part of the growth of the company."
A visit to the Penske booth at a job fair left a positive impression on Kevin Norton when he was a student at Grand Valley State. "I interviewed with Penske and I loved everything about the company," he said.
Norton worked as a part-time associate for nearly a year, and became a full-time rental representative at Penske's Kentwood, Michigan location in December 2010 after earning a bachelor's degree in marketing, with a sales concentration. "Most of my friends have desk jobs, but that's not for me," he said. "This is a high-pace industry and there is something new every day."
Norton hopes to someday become an area vice president.
"The rental representative position is where our company develops our bench strength," said Don Mikes, vice president of rental for Penske. "Many of our company leaders have gotten their starts in rental."
If you are seeking a great career opportunity, please visit the Penske careers page. Penske is an Equal Opportunity Employer. Women and minorities are encouraged to apply.
By Alen Beljin