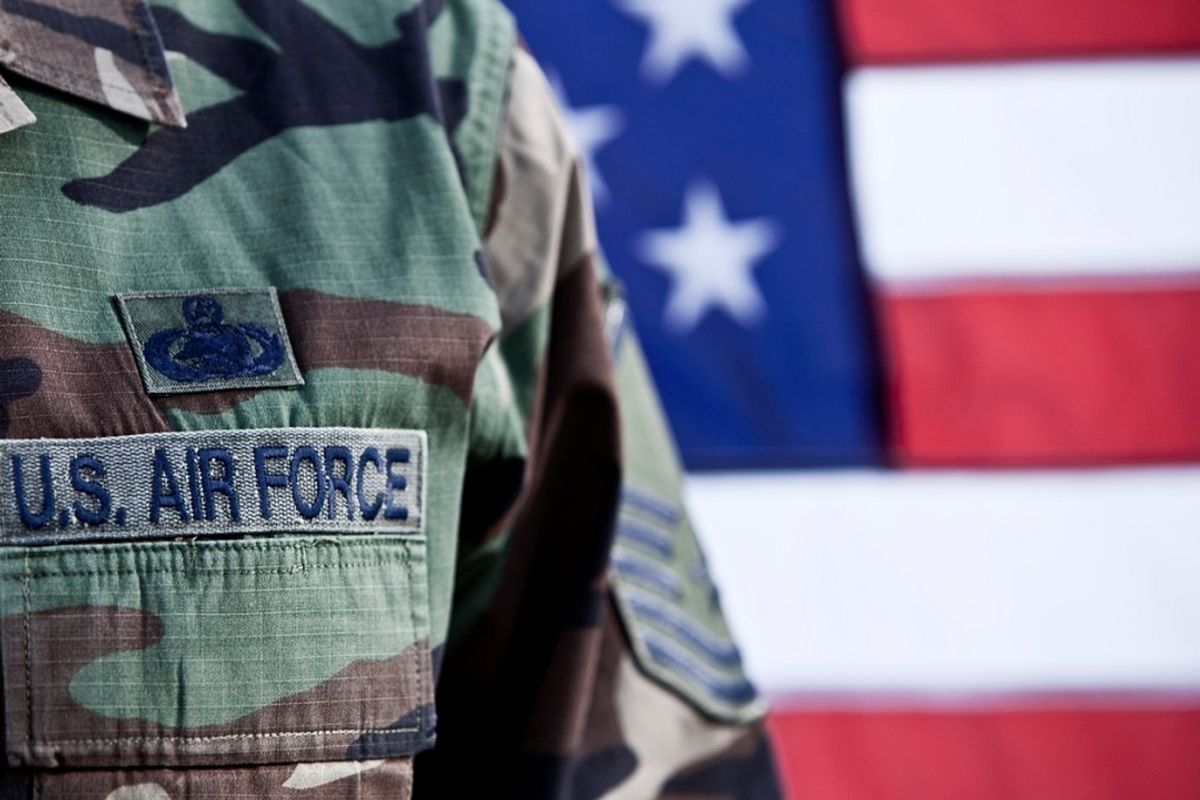 Associate's Military Career Began with a Call to Serve
With the threat hostile forces nearby, Autumn Barrett remained alert as she patrolled her U.S. Air Force base deep in the heart of Iraq.
---
In her role as a military police officer, it was her job to protect the base, its people and equipment from harm. It was a role she felt destined to play.
"You are given everything you need to protect everyone and help," said Barrett, now a coordinator in Penske's 24/7 Roadside Assistance center. "The reason I joined the Air Force Reserves as a military police officer was because I wanted to help people."
Far removed from her suburban Reading, Pennsylvania, hometown, the Middle East was a place Barrett never thought she would be, but at the same time, it felt so right.

As Penske pauses this week to thank U.S. veterans for their service and sacrifice, our associates are sharing recollections of their military service and what it means to be a veteran.
Honoring the Call to Serve
Growing up, Barrett heard retellings of her family's military service. Her grandfather served in the Air Force in the Korean War, and her great uncles all served in the military.
"My father had extreme love for his family and he always talked about his father and uncles," Barrett said. "When it came time to think about what I wanted to do, I wanted to be like my grandfather and great-uncles."
Barrett was working in the transportation industry in a role that left her unfilled. "I thought there was something more out there for me," she said.
After enlisting in the Air Force Reserves, Barrett was stationed at the former Naval Air Station Joint Reserve Base in Willow Grove, Pennsylvania. "I felt so honored to be able to serve my country," Barrett said.
She had just arrived in July 2001. It was just a few weeks before her birthday on Sept. 12, the day after the deadliest terrorist attack on U.S. soil.
Like many Americans, Barrett remembers exactly what she was doing in the morning of Sept. 11, 2001. She was in the lunchroom, enjoying a break at work, when she watched on television as the events of that day unfolded.
"I just stood there, and I thought 'My phone is going to ring.' And it did that night," Barrett said.
Later that night, Barrett reported to the base. "I stood guard all night long until the early morning, making sure no one entered our air space," she said.
"It became so real and a life-lesson in tragedy all at the same time. I remember the people who lost their lives and how it affected our country," she said. "The pride of being an American was definitely the biggest thing that kept me motivated."
Deployment to the Middle East
Barrett and her fellow reservists began a rotation of traveling to bases across the country to relieve other units.
A few years later, when she was stationed at Dover Air Force Base in Delaware, Barrett received her orders: She was deploying to the Middle East.
On her way to Kirkuk, Iraq, Barrett made a stop in Baghdad. Although her stay was just for a few hours, being boots on the ground in such a volatile place sent her emotions running high.
"That fear sets in because you already know what is going on in Baghdad," Barrett said. "That was when everything kicked in. The nerves and excitement hit you."
In Kirkuk, U.S. forces faced intense attacks.
"The base was getting mortared a lot, sometimes it was like three times a day," Barrett said. "There was sniper shooting. Many Army personnel were being ambushed. That was probably the scariest part of my life."
As much as the mission in Kirkuk was about safety, for Barrett and her colleagues, it was also rooted in compassion.
"We tried to help the people there. We brought school supplies in, and we were digging wells. We were trying to build that area up," Barrett said.
Just as quickly as it began, her deployment was over.
Returning to Civilian Life
After arriving back in the U.S., Barrett returned to Dover, where they put her in charge of the commercial truck area. It was her job to put the trucks in the bay area and inspect them to make sure they were not a threat.
She became a conductor with CSX Transportation in 2010. Five years later, she was promoted to locomotive engineer. Change also came to her military career. After 17 years, Barrett decided to leave the reserves.
A few years later, Barrett moved back to her hometown in Berks County, Pennsylvania, where she cared for her grandmother until she passed away.
Barrett was looking for a new career, one where she could put all of her military experience to good use.
"I have all of this knowledge," she said. "Being in the Air Force, I had somewhat of an idea about securing trucks and checking them. It just all made sense."
With its corporate headquarters in suburban Reading, Pennsylvania, Penske was a brand name with which she was very familiar. After a short stint as a temporary worker, Barrett joined the company as a coordinator in the 24/7 Roadside Assistance center.
For Barrett, the role has brought her full-circle.

"Once again, it is helping people. It's keeping freight moving," she said. "From working as an engineer, I know the pressure on a driver when he calls and says his freight has to be there."
The past year-and-a-half has been a rewarding time for Barrett. "It's great because I am still learning every single day," she said."
Barrett said she appreciates Penske's commitment to hiring veterans. The company was recently named a 2020 Military-Friendly Employer by VIQTORY, the publisher of G.I. Jobs and Military Spouses magazines.
In addition, Penske partners and supports military-friendly organizations, including The Paralyzed Veterans of America's Mission: ABLE campaign, Support Military Spouses, World T.E.A.M. Sports and Toys for Tots.
"It is so important for companies to value veterans," Barrett said.
Penske Truck Leasing and Penske Logistics offer a range of career opportunities, including truck fleet maintenance technicians, truck drivers, fleet maintenance supervisors, operations management roles, logistics and supply chain operations roles and many others. Visit www.GoPenske.com/careers/veterans for more information on career opportunities.
By Bernie Mixon