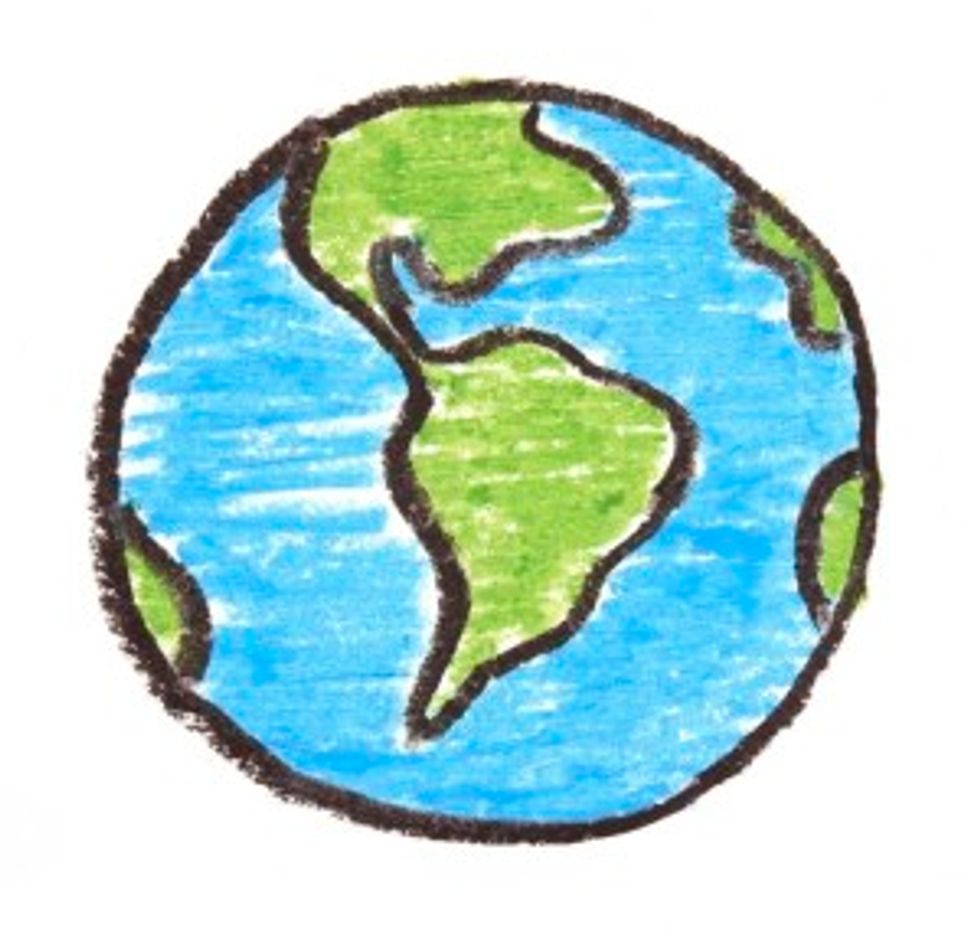 Penske Truck Leasing and Penske Logistics were among the companies that celebrated Earth Day and sustainability advancements being made in the transportation sector. The setting in Pottsville, Pennsylvania, was the grand opening of a Trillium CNG fueling station, with Wegmans Food Markets; NFI, a supply chain solutions provider; and Gladstein, Neandross and Associates (GNA), clean transportation and energy consultants.
"Today is an excellent example of how several organizations can work together and create a success story for the transportation industry to transition to alternative fuels," stated Drew Cullen, Penske senior vice president of fuels and facilities services (pictured speaking below). "We appreciate the opportunity to take a lead role in making this day a reality."
During the month of April, the company's sustainability efforts were recognized on a national level. The U.S. Environmental Protection Agency (EPA) honored Penske with its first-ever Clean Air Excellence Award, and back-to-back-to-back SmartWay Affiliate Challenge Awards.
Trillium unveiled a Class-8 public accessible compressed natural gas (CNG) fueling station in the Highridge Business Park.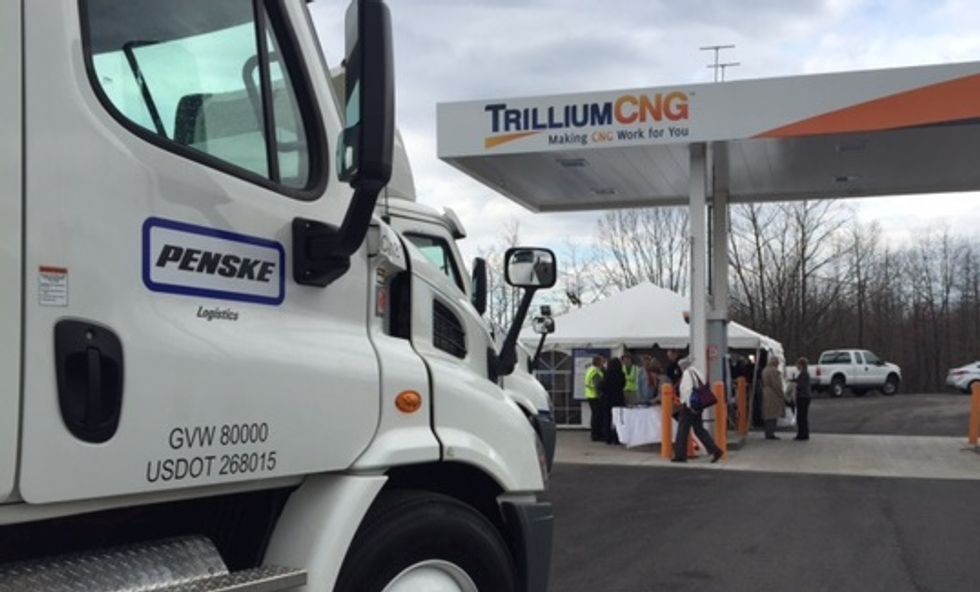 A total of 23 Penske Truck Leasing leased CNG alternative fuel heavy-duty trucks will be fueled by Penske Logistics, NFI and Wegmans at this location (one of the trucks is pictured, right, from the grand opening).
The replacement of 23 diesel-powered tractors with CNG-powered tractors will result in a 1.25 million pound annual reduction in CO2 emissions. This significant reduction in emissions is equivalent to the annual emissions of over 150 homes.
To accommodate natural gas truck demand, Penske Truck Leasing modified its nearby 10,400-square-foot Highridge Business Park facility that opened in November 2013 so that each of its four truck maintenance bays can service natural gas vehicles.
Public funding was secured for this project. Here are the GNA-secured 2014 Commonwealth grants being utilized in Schuylkill County:
Penske Truck Leasing:

$499,997 in ACT 13 funding from the Pennsylvania Department of Environmental Protection (Natural Gas Energy Development Program), to subsidize the purchase of 23 Freightliner Cascadia tractors equipped with Cummins Westport 12-liter engines. NFI is operating 15 of the tractors, while Penske Logistics is making use of five units, and Wegmans is running three trucks.

Trillium CNG:

$824,000 via the Pennsylvania Department of Community and Economic Development (Alternative Clean Energy Program) to subsidize the construction of their fueling station.
"With the new natural gas fueling station, NFI will be able to further its mission to improve its environmental impact," said Bill Bliem, senior vice president fleet services at NFI. "This also allows us to share these benefits with our customers that also prioritize expanding their sustainability efforts."
"We are proud to be part of this event and to be working with partners who share our commitment to sustainability," says David DeMascole, Wegmans' director of network planning. "If our high expectations for environmental and financial performance are met, these will be the first of many tractors using CNG at Wegmans."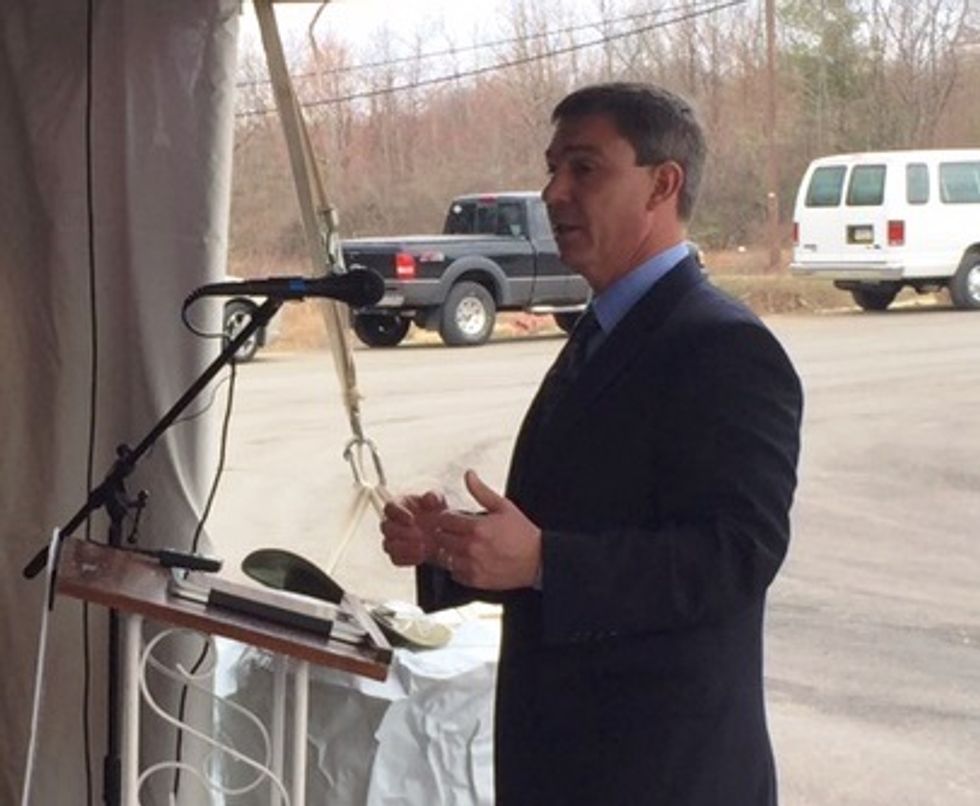 "Trillium CNG is excited to be partnering with NFI, Penske and Wegmans Foods to make CNG available in the area," said Mary Boettcher, Trillium CNG president. "We're confident other fleet operators in the tri-state region will take advantage of the environmental and economic benefits that natural gas provides."
By "Move Ahead" Staff