Penske Logistics professional truck driver PJ Singh was named a member of the prestigious 2022-2023 American Trucking Associations (ATA) America's Road Team. Singh is the fourth ATA Road Team Captain in the company's history. Based in Stockton, California, he services regional food and beverage accounts.
"I feel fantastic, and this is a very big achievement for me," Singh stated, when reached by cell phone on Wednesday morning. "The selection process was very tough."
That process has taken him to both Virginia and Washington, D.C. The group visited the White House on Sunday. Singh and the other new team members participated in an induction ceremony this morning. Later today, there is a photo shoot, training and a jacket ceremony. Tomorrow, they will be in Capitol Hill.
For the next two years, Singh and the 21 other drivers will represent their organizations by attending industry events, speaking at schools, and meeting policymakers, while maintaining full-time status with their respective companies.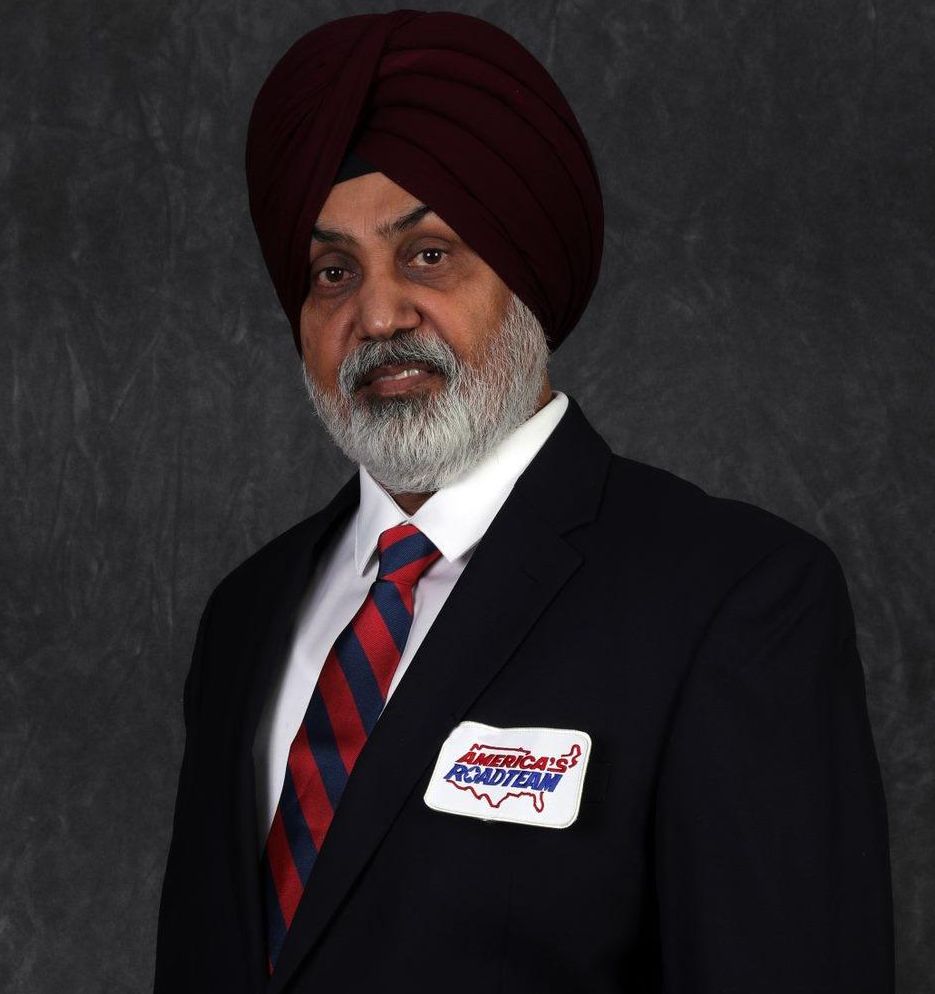 Penske Logistics professional truck driver PJ Singh was named a member of the 2022-2023 American Trucking Associations America's Road Team. Image courtesy of ATA
The drivers were judged on their ability to express their knowledge of the industry, their skills in effective communication about safety and transportation, and their overall safe-driving record. The panel of judges included trucking executives and trade press.

This year's class includes drivers from 13 companies, 17 states and drivers with more than 564 years of experience and 45,774,455 miles of accident-free driving, according to the ATA.
Singh himself has accumulated more than 1.5 million accident-free miles across nearly 21 years of being on the road as a driver. One key piece of advice that he has for his fellow drivers: Take your time and always be aware of your surroundings. He is a Smith System trainer for Penske.

"These Captains have dedicated their lives to spreading the message of safe driving," said Elisabeth Barna, ATA executive vice president of industry affairs. "They are leaders in their communities, role models in their companies, and are dedicated to and passionate about the industry."
During his time as a Road Team Captain, Singh has a few goals. He will advocate for tougher standards to earn a commercial driver's license (CDL), more training for professional truck drivers, and for scholastic schools to place a stronger emphasis on truck driving as a career, and for it to gain more visibility alongside other vocational careers.
Jeff Jackson, Penske Logistics executive vice president dedicated contract carriage: "A hearty congratulations to PJ for becoming our next ATA Road Team Captain. I am proud of him, and I know he will represent Penske Logistics well during his tenure."
By Alen Beljin