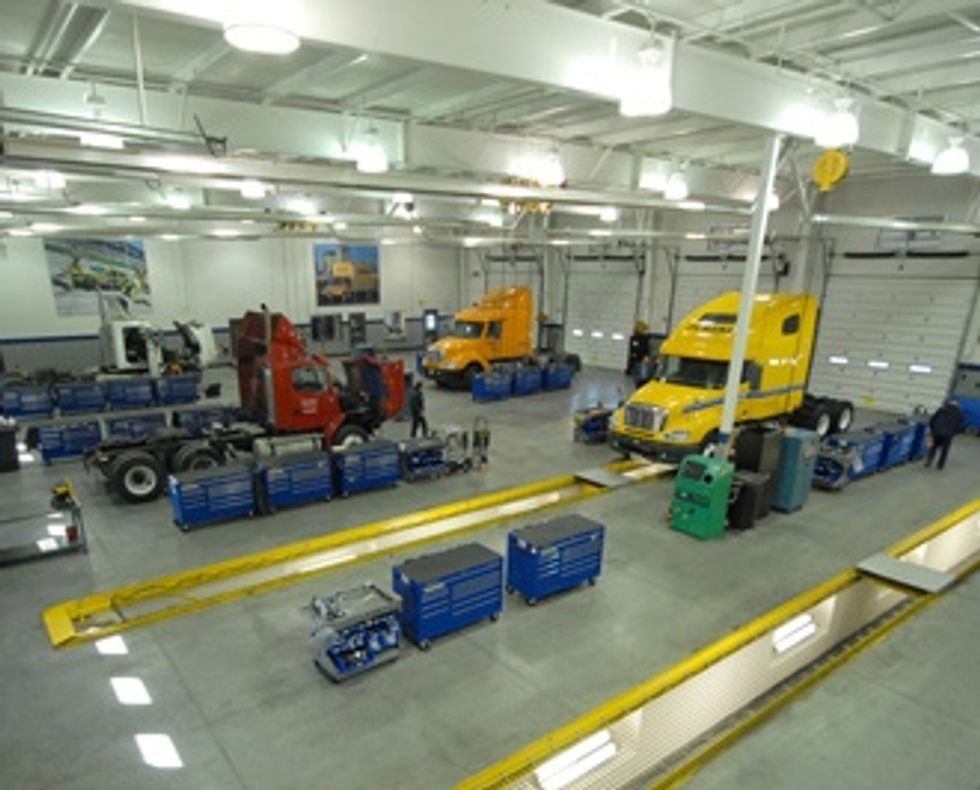 When he arrived at Penske Truck Leasing in 1987, Mark Swift quickly realized that Penske is a place that appreciates hard work and talent. He began as a mid-level maintenance technician in Davenport, Iowa, and in subsequent years, progressing in his career.
Today, Swift is vice president of field maintenance for the company's north central region. He is based in suburban Chicago and his areas of responsibility include 16 states in the Midwest.
"I recognized right away that this was a great organization," Swift recalled. "I knew that if I worked hard, the company would recognize and reward."
Investing in Maintenance Excellence
At Penske, there are over 5,400 maintenance technicians working on a North America truck fleet of about 210,000, ensuring that customer equipment is kept in top shape and on the road.
As Swift points out, there are plenty of training opportunities for Penske technicians to stay abreast of the latest in diagnostic, state-of-the-art technology. Today's medium-duty and heavy-duty trucks have become more complicated than consumer cars, and require so much more than a tool box to maintain.
The company provides 40 hours of annual mandatory training, and its training program has been certified by the National Institute of Automotive Excellence (ASE). There are also advancement opportunities within Penske's voluntary Technician Certification Program (TCP).
Views From the Field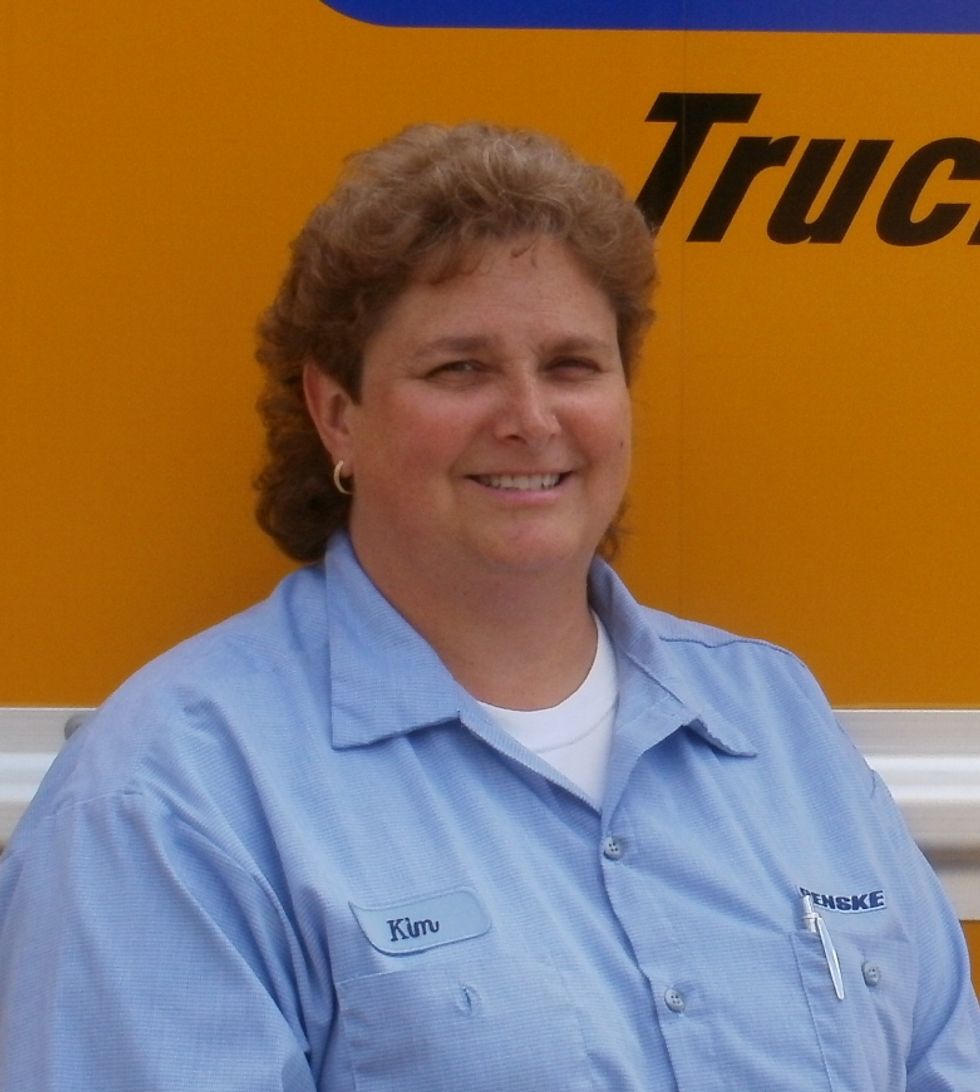 Kim Maue (photo top right) is a maintenance supervisor in Kennesaw, Ga., and has been in her current role for over eight years, after receiving several promotions along the way. She works with the technicians to ensure that the location's trucks are maintained properly and on time, and orders parts.
"I love the challenge of working with our internal and external customers, Maue noted. "There's something different every day." She started working with a Penske location in Indiana as a hiker, delivering trucks to different locations in the region. Maue was also in the employ of a Penske rental agent, assisting consumers with their do-it-yourself moves. She hopes to complete Penske's TCP program in the next two years, and has her commercial driver's license (CDL).
During his 10 years with Penske, Jesse Estrada (photo middle right) has gone through every level of the TCP program as a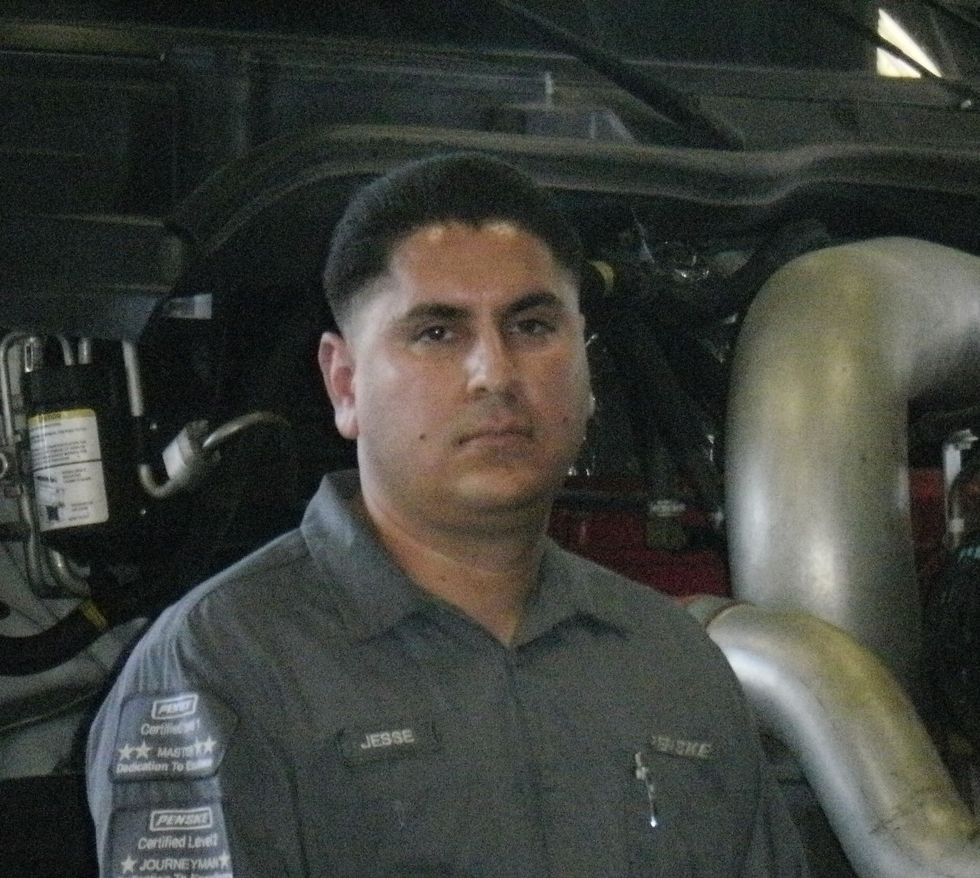 technician at the company's Montebello, Calif. location. Evolving as both a person and a technician is important to Estrada. "I love learning about theory and new technology," Estrada said of the TCP program.
"This is a great opportunity to improve myself as a technician, and there aren't many places that provide this type of opportunity," Estrada pointed out. "It is a great program and I have a sense of pride having completed it. I get a sense of satisfaction from learning to diagnose and fix a truck."
Estrada's earned an associate's degree and is currently pursuing an engineering bachelor's degree at California State University, Long Beach.
While both Maue and Estrada
have spent several years with Penske, Jason Blalock is getting his career off the ground in Wilsonville, Ore. Blalock started at Penske as a customer service representative and was quickly promoted.
He is now a second-year tech III in his first full-time job, and is nearly ready to graduate from the Portland (Ore.) Community College diesel service technology program.
"I have always considered a job as a technician," Blalock (photo bottom right) stated, recounting a childhood spent at his father's auto repair shop. "One of my earliest memories is at age five using a rubber mallet and a block of wood to drive pistons out of a Datsun engine block."
He is enrolled in the company's TCP program, and views completion as a viable promotional path. "I hope to move into a tech II position and eventually a tech I job (the highest level before entering management)," Blalock said. He has earned his CDL license.
Opportunities Are Available
When Swift looks back on his Penske career path, one that other technicians can look to emulate, he notes that he never campaigned for the next job, knowing full well the value of human capital. "I never sought out a promotion," he said.
Swift then dispensed a piece of advice that he no has doubt conveyed on more than one occasion: "We want our guys to come in and do well and advance. They have to work smart and work safe. It is up to the individual as to how far they would like to advance at Penske – the opportunities are here."
By Alen Beljin