Penske Truck Leasing professionals know that the best way to share career opportunities with the future workforce is to show them first-hand. Penske was one of more than 20 Berks County, Pennsylvania, businesses to participate in the Students Interacting with Business program Sept. 21-25.
Through this initiative – sponsored by the Berks Business Education Coalition (BBEC) – 9th and 10th graders from Berks County high schools visit local businesses to learn about company culture and future career opportunities. Through school assemblies by BBEC employees, students also learn about the interpersonal skills that businesses desire in prospective candidates.
Boyertown Area Senior High School's 600 10th grade English students traveled to different area businesses Sept. 23 through the Students Interacting with Business program. English teacher Sarah Diaz's class visited Penske.
"This program is very beneficial," Diaz said. "Some of the kids don't know about career opportunities with local businesses."
Ron Schwartz, Penske's director of staffing services, shared company facts with the students. He began his presentation by asking the sophomores, "What's Penske?"
One student replied, "Big yellow trucks."
Most of the participants were familiar with Penske's iconic yellow rental trucks but weren't aware of the company's many other services, including logistics and contract maintenance.
Schwartz offered the students some advice as they approach young adulthood. He encouraged them to never stop taking the opportunity to learn, and he emphasized the importance of good customer service. "Being customer-focused simply starts with a smile," he shared.
He shared a few skill sets that are important regardless of what career path the students choose.
"Something you should pay attention to right away is to focus on your written communication and presentation skills," Schwartz said. "You will soon start looking for part-time jobs, and in the future apply for colleges, and at some point interview for a career. You should always be able to sell who you are, what you believe in, and what skills or traits you can bring to the table."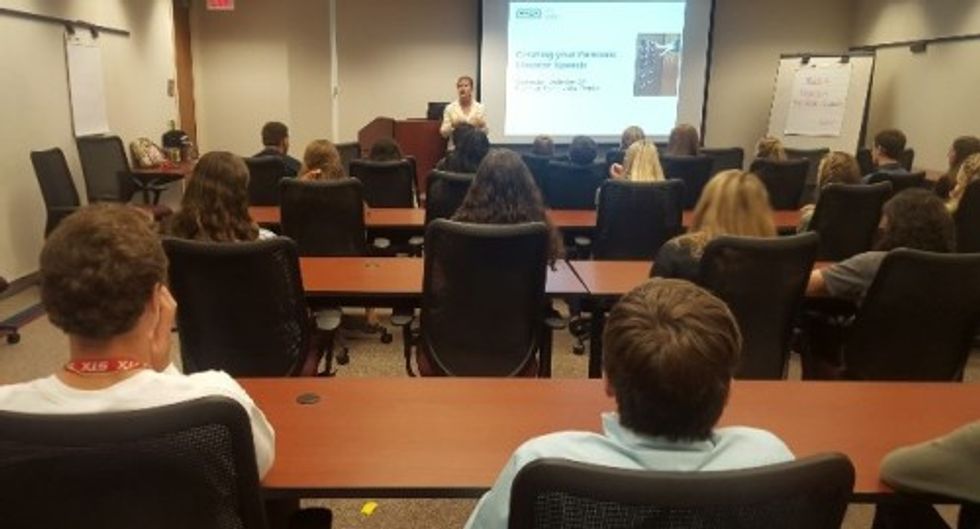 Led by Karyn Troxell, corporate human resources manager (seen speaking on left), the sophomores then participated in an activity to help them give a good first impression during a job or college interview.
Troxell told the students, "It's never too early to give thought to your own personal elevator speech. Think of what your response would be to the loaded question, 'Can you tell me about yourself?' You may only have a short amount of time to respond to that question, and how you respond could allow you to be seen as confident, polished and prepared."
"I didn't realize that public speaking was so important," said 10th grader Nick Moccia, Boyertown. "It [the exercise] was an opportunity to help you bring out your true character and talk about your interests."
Boyertown sophomore Lauren Moser appreciated the learning opportunity outside the classroom. "I think it's eye-opening to see how the employees interacted with us and got us involved and made us a participant," she said. "They were welcoming to us."
Hearing advice from adults besides teachers or parents resonates with students, Diaz said. "We [teachers] can tell them the importance of good speaking skills, but seeing it for themselves and hearing it from working professionals makes a difference," Diaz said.
Penske also welcomed students from Daniel Boone Area High School, Birdsboro, Pennsylvania, and Governor Mifflin Senior High School, Shillington, Pennsylvania, for similar presentations and tours of the company's 24/7 Roadside Assistance and logistics transportation management areas.
By Kandace Wertz