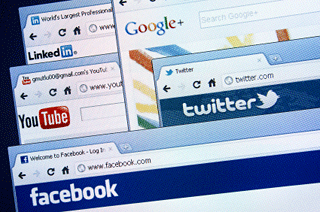 In an age where people can post their thoughts to the world on social media platforms via their smartphones while waiting in line for a morning coffee, Penske Truck Rental has responded by creating a team to help connect with and respond to customers in these forums.
Formed last summer, the Penske Cares team observes and responds to online social network discussions via Twitter, Facebook, blogs and other forums from Penske's headquarters in Reading, Pa., in an effort to assist current and potential consumer truck rental customers. The team is part of the company's central reservations call center and collaborates very closely with the company's 24/7 roadside assistance call center, and corporate communications as well.
Members of the team communicate with customers via a variety of social media channels, toll-free calls, and real-time chats on the company's website. The team operates seven days a week, from 7 a.m. to 1 a.m., Eastern time.
Jeff Werner, director of central reservations, stated: "the Penske Cares team has become a vital group for our department. With social media continuing to grow, we want to be able to provide the best customer experience for our customers."
During a typical day, Penske customers express excitement about moving day, ask friends and followers online which are the best moving trucks to rent, post photos of their trucks, and in some cases, even vent their frustrations with a delayed pick-up or drop-off process, or a truck breakdown.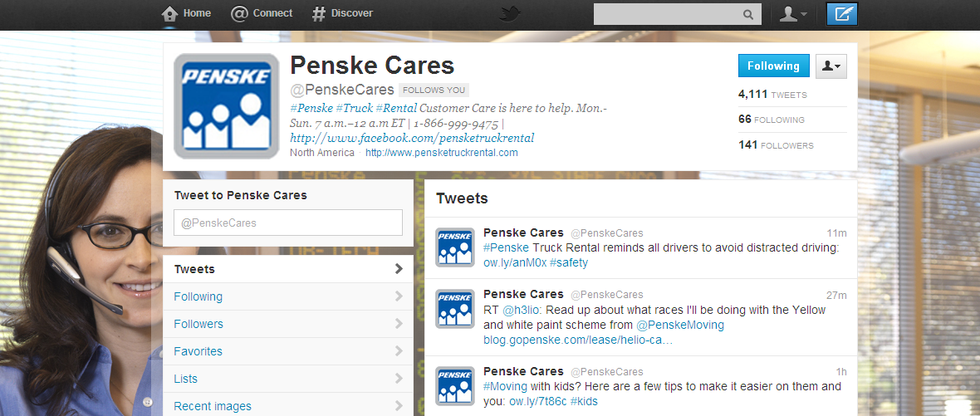 Via the team's Twitter page, Penske Cares includes website links for helpful moving tips and the myriad of discounts available, which includes reduced rates for AAA and CAA members, college students and active duty U.S. military, and partner promotions with industry leaders like Home Depot, Best Western and Shell.
Co-managing the team are supervisors Becca Hirneisen and Greg Sterner. Hirneisen has been with the company for 11 years, Sterner for nearly 12. Both have taken advantage of Penske's tuition reimbursement program. Hirneisen earned a bachelor's degree in business administration, attending classes at night. Sterner 's going the same route, and is a few credits shy of a business degree.
Sterner pointed out that the Penske Cares team can also develop into a new way to connect with customers and to help provide a better experience.
"The immediacy is the key to it all," he said. "We're reaching people in a way we could not just a few years ago. As a result, our customers feel special, and we let them know we're here, and that we can help if needed."
Hirneisen added: "this team allows us to take customer service to the next level. We want to be passionately personal and when customers hear from us online, they're generally happy by the end. The majority of the time, most people are surprised that we found them online."
Observations from the Penske Cares Team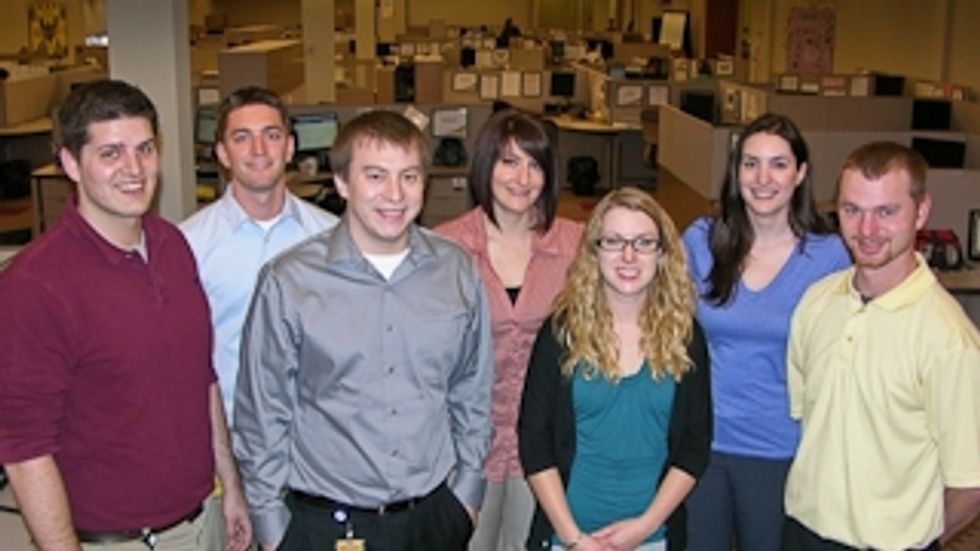 Rental support coordinators Taryn Hammerschmidt, Andy Lawrence, Dallas Mugno and Scott Philips enjoy the cutting-edge component of working with customers in a newer medium.
"We're excited to be doing it, and any way that the customer can reach out to a larger company is nice," Philips noted. "We're younger and we understand how to fully communicate with customers in this way. I like using social media – it's putting us in the now and getting us involved with the customer."
Mugno, a former small-business owner who found new customers via Facebook, noticed Penske's name surfacing during a series of tweets online, discussing which company to use for an upcoming move. "Now, we are able to view customers and see the way they talk, and that puts us all in the same room," he said.
Proactively, he reached out. The person responded and made a truck rental reservation. Mugno explained that the Penske Cares team is able to go beyond the concept of a customer call center.
"Since this conversation was in a public forum that allowed us to reach out to them – we would not have otherwise known the opportunity was available."
Hammerschimdt had observed the tweets of a West Coast nightclub owner with a healthy list of followers. "He was seeking the right moving equipment for trips to Nevada," she recalled.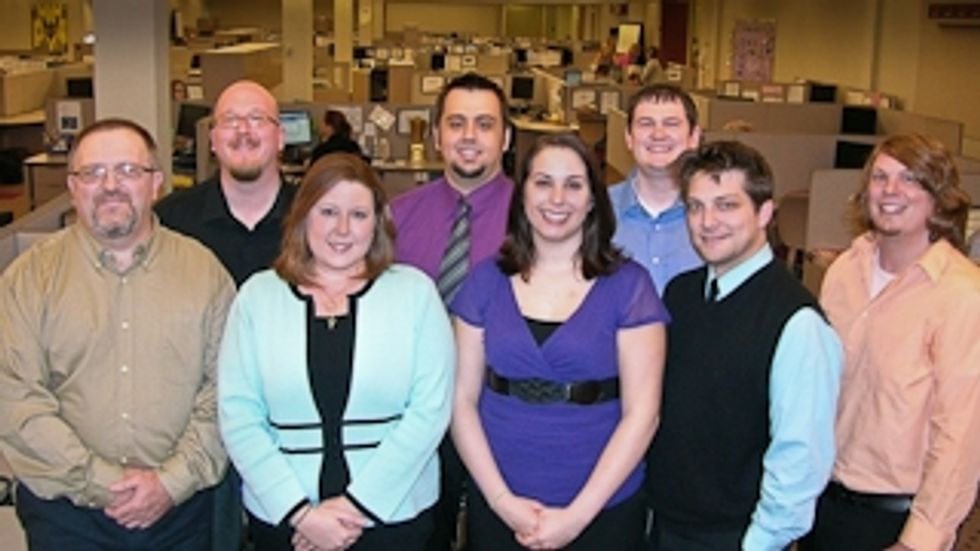 So, Hammerschmidt reached out to the customer, and offered a few options. After contacting the local Penske office on his behalf, she was able find a perfect match for the customer's needs, and help the customer complete his reservation.
"We try to work as a team, and make sure that the customer is comfortable with us," she said.
Lawrence recalled: "a gratifying social media experience for me was being able to quickly assist a customer who had posted on Twitter about a short-notice military move and how stressed they were about finding a truck. I quickly eased her tension by finding a truck and helping her through the reservation process. At the end of the call, the customer was very grateful for the personal attention and prompt help during a stressful time."
Werner, the central reservations director, understands the value of having a group of Penske associates utilizing social media tools to connect with customers and provide a better experience when possible.
"Our team is completely dedicated to taking care of the customer," he noted. "Whether it is identifying a potential customer move, handling customers concerns immediately, or simply responding to a social network post. We are excited to be able to offer this service, and look forward to connecting to our current and future customers through social media."
By Alen Beljin
Photo identifications for the Penske Cares team, and their supervisors.
Top photo, from left: Andy Lawrence, Scott Philips, Evan Gamboa, Taryn Hammerschimdt, Becca Hirneisen, Lindsey Villecco and Ryan Bramble
Second photo, from left: Rick Bucks, Greg Sterner, Amy Welder, Tony Kozuch, Helena Lucasti, Ryan Dixon, Dallas Mugno and Jordan Bingaman
https://twitter.com/#!/PenskeNews/status/196943068438609920