Penske received the "Outstanding Corporation" award from the Association of Fundraising Professionals (AFP), Berks Regional Chapter, Pennsylvania, for their outstanding commitment to philanthropy through financial support, encouragement and motivation of others to take leadership roles in community involvement.
The AFP presented the award Nov. 18 at its annual National Philanthropy Day awards breakfast to recognize individuals, corporations and foundations that make a difference in the greater Reading community.
Nominated by the United Way of Berks County, Penske supports the United Way and its partner agencies – as well as dozens of other local and national charities – through financial contributions and by motivating associates to volunteer.
Penske continues to be a top fundraiser for the local United Way campaign, with associates helping to raise more than $1 million for the second straight year.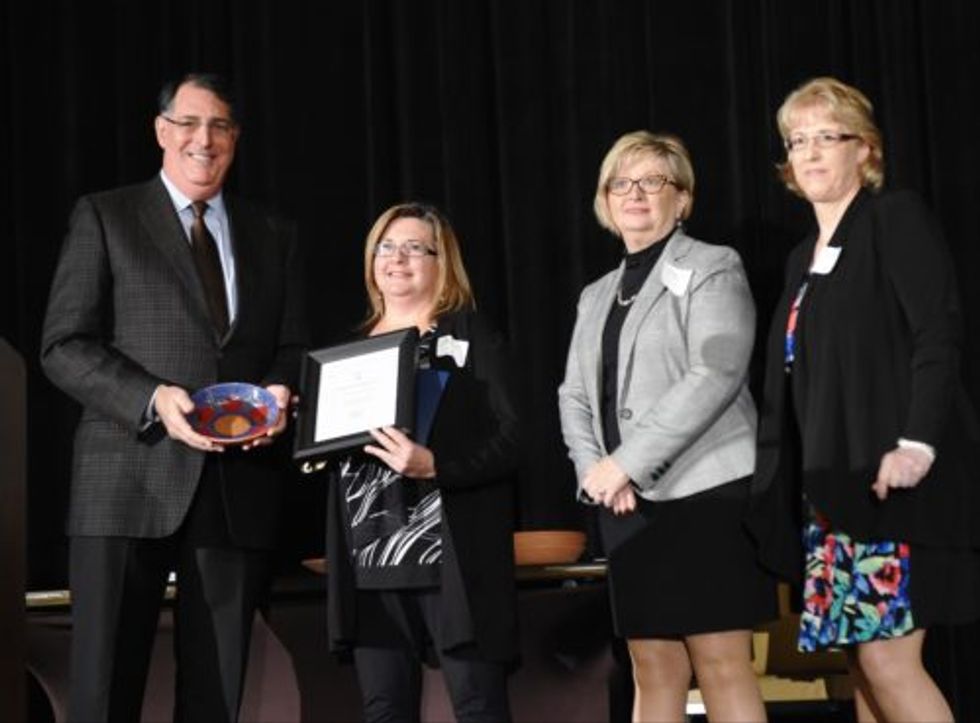 Mike Duff, Penske's senior vice president of government relations and chief compliance officer, accepted the award on behalf of Penske.
In his speech, he said, "Our founder and chairman Roger Penske is fond of saying that it should be very hard to get into our company but even harder to leave it. And that philosophy is why we don't just have the best people in the transportation industry – but the best people period. We have 27,000 associates worldwide, and they're not just good at what they do. They're good people. They not only contribute to our United Way campaign, but they also give their time to various nonprofit organizations. They help their neighbors who are in need and make their communities better places to live, work and raise their families."
Top photo: Displaying the "Outstanding Corporation" award are (from left) Penske Truck Leasing associates and United Way at Work Committee members Rosemary Schaffer, national support executive; Regina Hampton, senior compensation analyst; Mike Duff, senior vice president of government relations and chief compliance officer; Katrina Wills, financial reporting manager; and Lisa Schultz, IT service desk manager.
Bottom photo: Mike Duff accepts the award from AFP members.
By Kandace Wertz