Baby2Baby, a national nonprofit that provides basic essentials to children living in poverty and a recipient of a $3 million clothing donation from Old Navy, has received complimentary trucking assistance from Penske Logistics to distribute children's clothing to the Baby2Baby National Network.
Baby2Baby required a newly designed transportation network in a dozen markets for the 600,000 units of clothing, so Penske Logistics agreed to pick up the donations from Old Navy facilities and deliver them directly to members of the Baby2Baby National Network.
There were over 70 Penske associates from across the United States who worked together to make this campaign a success.
In Los Angeles, Penske Logistics truck driver James Maffett (pictured above) made a successful delivery to a Baby2Baby facility.
Maffett, an employee since 2014, is based in Redlands, California, where he picks up and delivers produce throughout Southern California. He is a member of Penske's local safety team, where he trains his fellow drivers.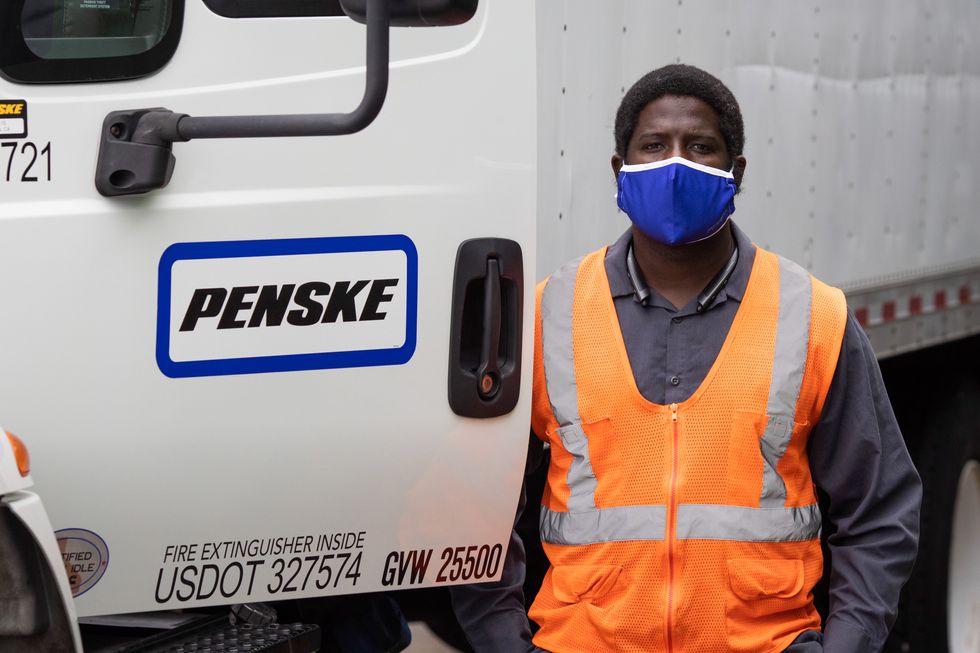 James Maffett is a Penske Logistics truck driver in Southern California. A member of Penske's local safety team, where he trains his fellow drivers, he picks up and delivers produce locally.
During the months of June and July Penske picked up and delivered Old Navy merchandise to the following markets: Atlanta; Baltimore; Birmingham, Alabama; Chicago; Dallas; Los Angeles; Miami; Nashville; Scottsdale, Arizona; Seattle; St. Petersburg, Florida; and Westchester, New York.

"We are very pleased to support the Baby2Baby National Network by providing dedicated contract carriage solutions to aid families around the country during this difficult time," explained Marc Althen, Penske Logistics president. "We also helped design a new network to pick up donated merchandise from Old Navy distribution centers and retail stores."
Baby2Baby Co-Presidents Kelly Sawyer Patricof and Norah Weinstein noted: "The need for basic essentials is higher than ever for the families Baby2Baby serves. They were struggling before the COVID-19 crisis, and now they are struggling even more because of millions of lost jobs, empty shelves and increased lack of access to these critical items.
"We are so grateful to Penske Logistics and Old Navy for helping us put clothing into the hands of hundreds of thousands of children across the country."
On May 12, Old Navy announced a larger $30 million clothing donation to American families in need.
By Alen Beljin