Editor's note: This story is part of our "50 Stories of People Helping People" series. As we celebrate Penske's 50th anniversary in 2019, we are spotlighting associates every Friday who are making a difference in their communities.­­­­­­­
Horses weren't the only things racing in Louisville, Kentucky, during last month's Derby Week. Penske associates from the Louisville East location spent May 1 at Battle of the Bounce competing in a charity obstacle course.
Each year Battle of the Bounce supports three local charities through pledges and encouragement of team members, supporters and sponsor partners. This year's proceeds went toward Kentuckiana Stroke Association, Christian Care Communities and Mattingly Edge.
Penske participated in the event as a sponsor and organized a relay team. The "Penske Pit Crew," made up of a team captain and four Penske team members, bounced their way to fundraising on Louisville's Riverfront.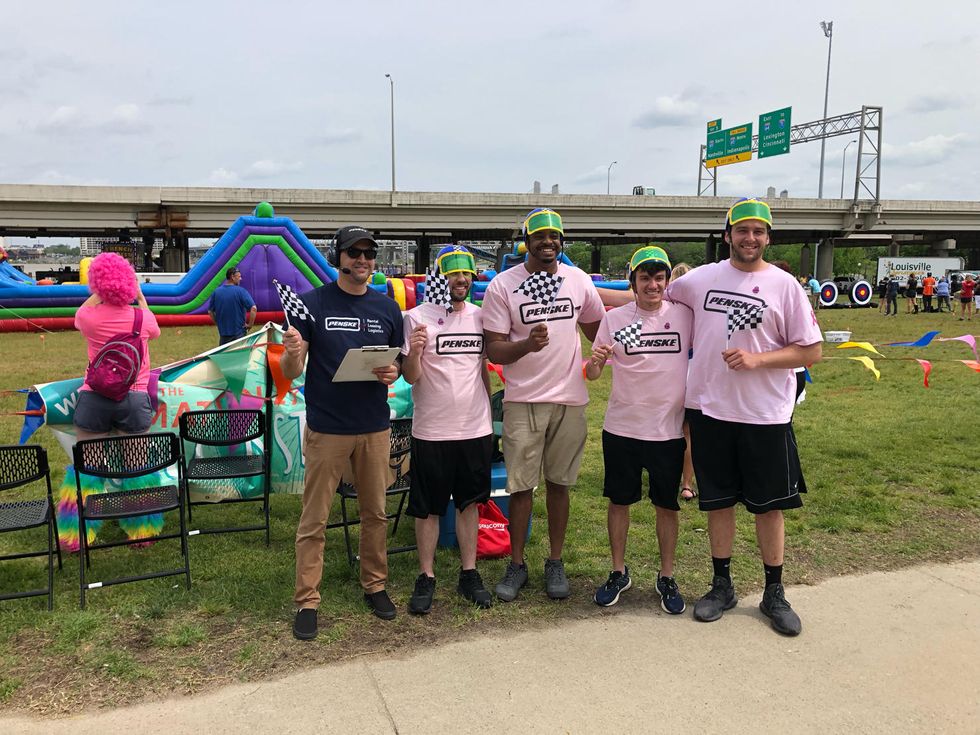 Team members Kyle Hahn (captain), Tim Shain, Keenan Bowman, Andrew Christensen, Mitchell Wessel (pictured, from left) all had cheers coming from the spectators — including a large cheering section filled with Penske associates, according to Matt Reinke, Louisville East district rental manager.
Reinke said that it was Penske's first year participating in the event.
"We stopped by one of our customers. This event company annually organizes this event. They told us about the event being a fun and unique way to support local charities. After looking into the event and what it supports, we decided this would be something worthwhile to participate in," Reinke said.
The Kentucky Derby is comparable to a national holiday in Louisville, Kentucky, according to Reinke. Children even get the Friday before the Derby off school. Reinke explained that the event was impactful because it shows that the community supports and cares for those less fortunate — even in the middle of all the festivities.
"The powerful part of the event to me was the networking opportunity we had with the other teams in the race. Being able to engage with others in the community who are similarly focused on giving back really made the morning enjoyable," Reinke said.
The team worked hard to win their heat of the obstacle course, which consisted of four parts — one for each team member. Team building skills were necessary for the completion of the course, which Hahn said the Pit Crew pushed themselves to use to their advantage.
Battle of the Bounce was a great way to get everyone out of the office and doing something great for the community — especially because the Kentucky Derby is a large event in Louisville.
Hahn was in charge of the outfits for the event. Each team participating in the race needed a theme. Wearing checkered race flags and helmets for the course, the Penske Pit Crew wanted to stand out.
"We chose Penske Pit Crew to get our brand out in other ways besides yellow trucks," Hahn said. "I think that being able to give back with a team effort, get out of the office and bond outside of work was something important for our location. The event just emphasized how everything comes full circle with the team building and giving back to our community."
By Emma Creamer, Communications and PR intern