A strong economy, continued e-commerce growth, tight carrier capacity and increasing demand for value-added warehousing services have positioned the third-party logistics market for rapid growth. In 2017, revenues reached $175 billion, and the U.S. market is expected to grow at about 5.5 percent through 2019 to reach a size of $195 billion.
The findings are part of the 29th Annual State of Logistics Report, which was introduced by the Council of Supply Chain Management Professionals (CSCMP) and presented by Penske Logistics on June 19.
For shippers and carriers alike, the most significant outcome of the year was rising rates, with spot rates increasing about 30 percent and contract rates increases between 5 and 15 percent, said Sean Monahan, a partner with the global strategic management consulting firm A.T. Kearney and lead author of the study (he is pictured above).
Monahan said: "The economy is doing well, and all modes are reaping the benefits from that. That is particularly true when we look at truckload, which for several years had been under a lot of pressure, facing excess capacity, a greatly reduced rate and a stagnant economy. Now that is inverted. We have capacity shortages, a strong economy and rates are on the rise."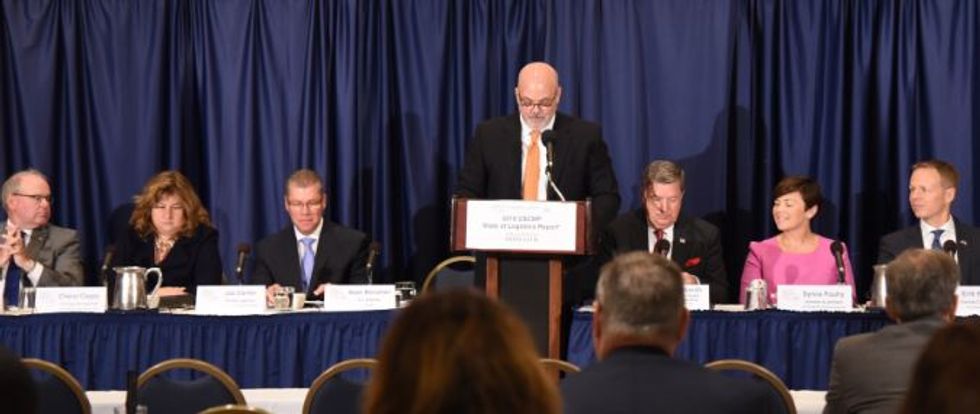 Monahan, along with Joe Carlier, senior vice president of global sales for Penske Logistics; Cheryl Capps, vice president of global supply chain for Corning Inc.; Sylvia Fouhy, vice president of customer experience, North America for Johnson & Johnson; Erik Hansen, vice president of intermodal for Kansas City Southern; and Joseph Ruddy, chief innovation officer for the Port of Virginia, took part in a panel discussion at the National Press Club in Washington, D.C. following the report's release.
Rates will continue to be elevated for the foreseeable future, Monahan estimates at least until 2020, because the power rests with the carrier. Despite the increasing rates, operating ratios haven't improved, meaning the revenue is not as profitable as it might have been.
Carriers are facing increasing driver wages and recruitment costs. "With a robust economy, drivers are finding other places to work. You see this labor shortage issue popping up everywhere, including warehousing," Monahan said.
To help combat costs, carriers are turning to technology to increase visibility, identify profitable lanes and shippers, and maximize backhaul matching.
Shippers are also trying to be more efficient as they deal with the rising costs of services and shipping goods.
"Brand companies that operate their own e-commerce are increasing the number of distribution centers they use. That way they can ship more standard freight verses expedited freight," Monahan said, adding that shippers are also getting much more in tune to using zone skipping.
Monahan said the combination of rising freight demand and constrained capacity has escalated trucking to a C-Suite hot button. "Some of the largest Fortune 500 companies in America highlighted the challenges in recent earnings reports, including household names Hershey's, Mondelez, Mattel and Michelin, among others," Monahan wrote in the report.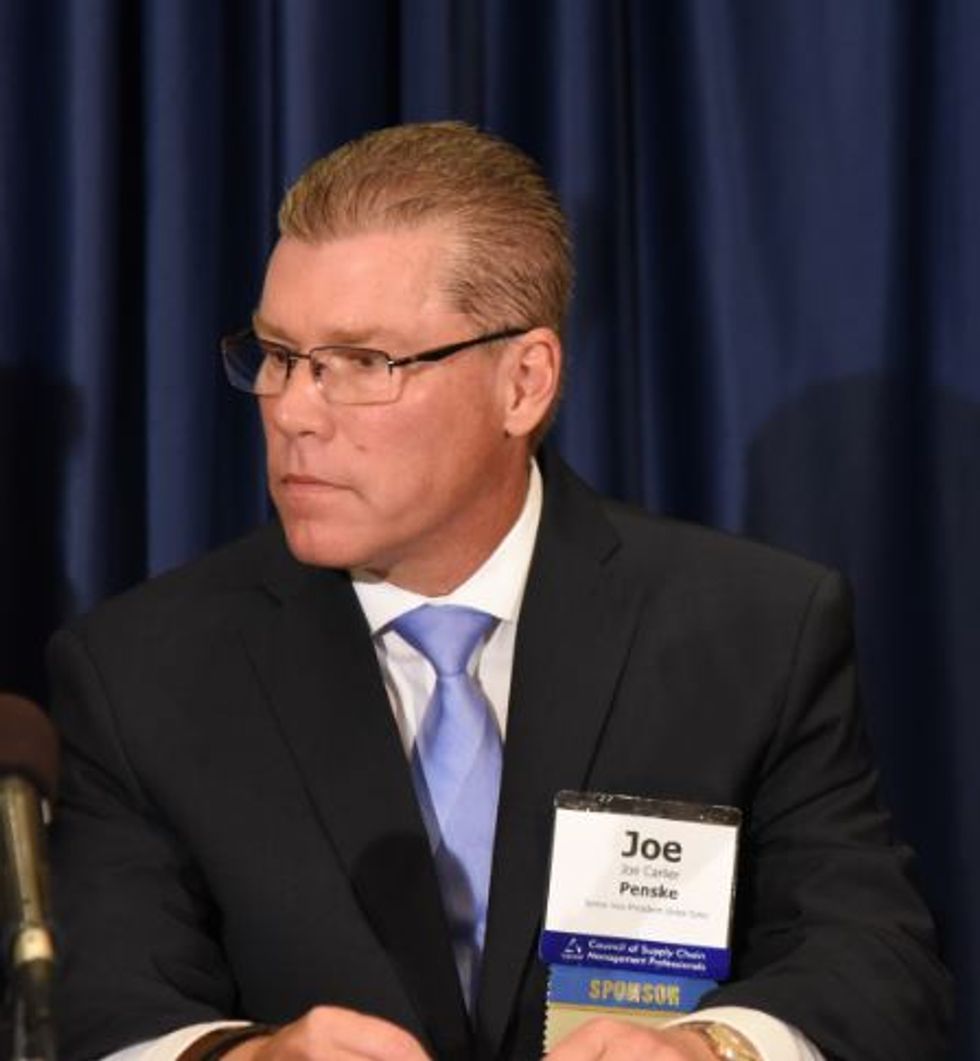 Joe Carlier, Penske Logistics senior vice president of global sales, was a panelist for the 2018 CSCMP State of Logistics Report. This photo was taken at the National Press Club in Washington, D.C.
Penske's Carlier said today's supply chain forces logistics providers to be very fluid and move quickly. "The key to better supply chains is for 3PLs to collaborate with companies and become more of a trusted adviser," he said.
The need to react quickly and identify new solutions is driven, in part, by the continued growth of e-commerce. E-commerce pushed parcel shipment volume up by 7 percent in 2017, to $99 billion, and forecasts indicate similar growth by the end of the year.
Shippers, carriers and logistics providers are focusing on solutions that make the last mile more efficient, such as click and collect technology, crowdsourcing deliveries and pick-up lockers. Monahan said growing demand, rising expectations and increasing costs are forcing shippers to re-think their last mile supply chain and creating potential for new players to enter the market.
"Right now, the last-mile delivery is very fragmented with a lot of opportunity," he said. "Solutions can be very localized. Being the best in New York City is different than being the best in Atlanta. You also have a lot of people trying to come in from the technology perspective."
There are no signs indicating e-commerce will slow down.
"The only thing that would put a bigger brake on it is if e-commerce providers really began to pass through the costs they face. Now it is somewhat subsidized by shareholders in terms of their earnings expectations," Monahan said, adding that even Amazon is starting to give shoppers a credit for accepting slower shipping. "You're beginning to see sellers that are having the consumer make a more rational decision, but nonetheless e-commerce continues to grow."
As part of the report, Monahan highlighted several technologies that could have a high impact across logistics' networks in the next decade, including the Uberization of freight, blockchain, fully autonomous trucks and artificial intelligence applications.
Going forward, Monahan suggests shippers should focus inwards on building the most resilient and attractive supply chains to attract and retain carrier capacity at the lowest costs. Similarly, carriers should focus on building and retaining a strong customer base capable of delivering strong network densities and minimizing capacity losses.
By "Move Ahead" Staff