Something as simple as a serving of macaroni and cheese – a fan favorite among many children – can mean the difference between a child in need having a meal or going hungry.
With this in mind, about 1,000 volunteers – including more than 40 Penske associates, family and friends – recently came together to assemble mac and cheese meals as part of Big Cheese III, a joint effort between the United Way of Berks County and the Greater Berks Food Bank to address child hunger.
"What kid doesn't like mac and cheese?" said Tammy White, president of the United Way of Berks County. "It is a meal that kids will like and one they will eat. It is easy to prepare – even in the microwave."
In the end, about 500,000 meals were assembled for the food bank in the largest event hosted by a United Way chapter nationwide and the largest food-packing event in the northeast.
Statistics show that one in five families in Berks County experiences or comes close to experiencing food insecurity. Children are among the most vulnerable. One in five children in Berks County is considered food insecure.
"Our mission at the Greater Berks Food Bank is to feed anyone who is hungry, but we have a special focus on children. Hunger and malnutrition can have severe effects on not only their physical and cognitive development, but also on their ability to do well in school and beyond," said Doug Long, manager of marketing and development for the Greater Berks Food Bank.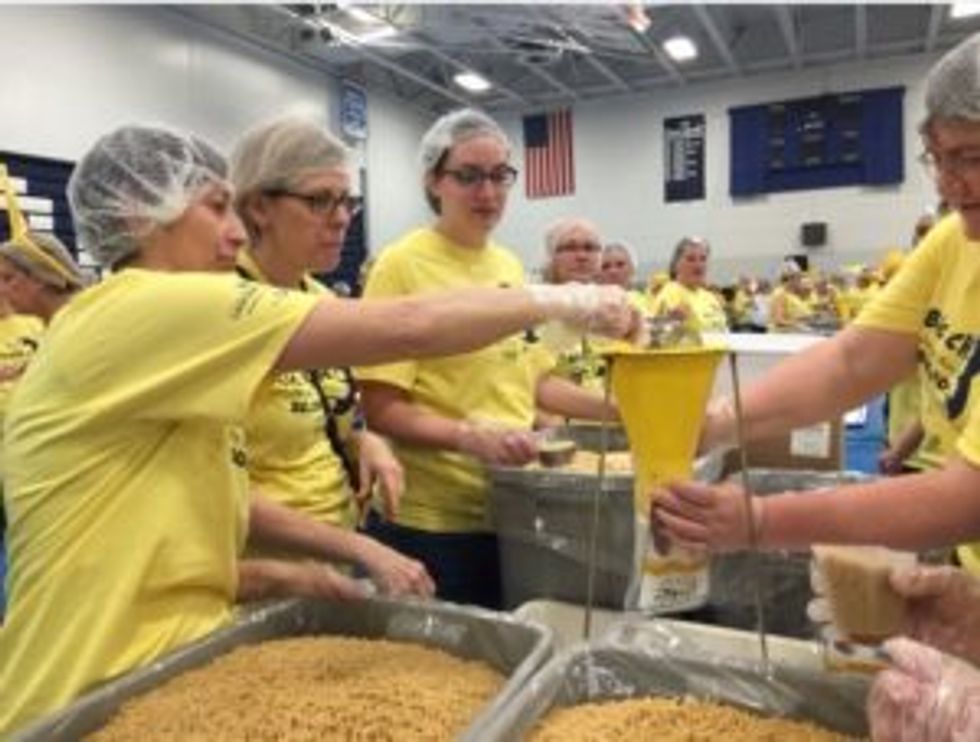 Many of the meals will go to the food bank's Weekender Backpack Program, which provides a bag of food each Friday during the school year for children in need so that they do not go hungry over the weekend.
This year the program provided nearly 40,000 bags of food to 1,500 low-income elementary school children at 18 community weekender sites.
Long said the meals will be earmarked for the weekender program, as well as for area food pantries to assist families in need.
Both organizations applauded the effort of so many from Berks County who came out to volunteer on the behalf of children.
"We could not do this type of activity if we did not have volunteers," White said. "It is companies. It is families. It is people who just heard about the event and said 'I want to register.'"
"Our community is filled with caring people, and that can be witnessed by the Big Cheese and sheer volume of volunteers who stepped up," Long said. "It speaks volumes to the generosity and caring of the community."
Among them were a group of Penske associates from the corporate office in Reading, Pennsylvania.
This was the second Big Cheese event for Dione Collins, a senior financial analyst in Penske's Finance Department. She was so inspired after participating in last year's event that she had to be part of it again this year.
"Volunteering is a way for us to give back to the community, but it also has the ability to unite people from diverse backgrounds and build friendships," Collins said.
Christina Feineman heard about the event through other associates who raved about the philanthropic aspects as well as the camaraderie it inspired.
"I was motivated to participate because I think it is a good cause," Feineman said. "You can say you contributed to something that touched the lives of so many. The impact of what you are doing is huge."
By Bernie Mixon