With each careful brush stroke, the weathered but proud façade of an aging West Reading, Pennsylvania, row home was brought back to life by a group of Penske associates, one coat of paint at a time.
The trio, Mary Tibbetts, Kelly Stoneham and Regina Hampton, all members of the United Way of Berks County's Emerging Leaders group, were eager to donate their time to the "Let's Paint the Town" initiative, which helps to revitalize homes in the neighborhood.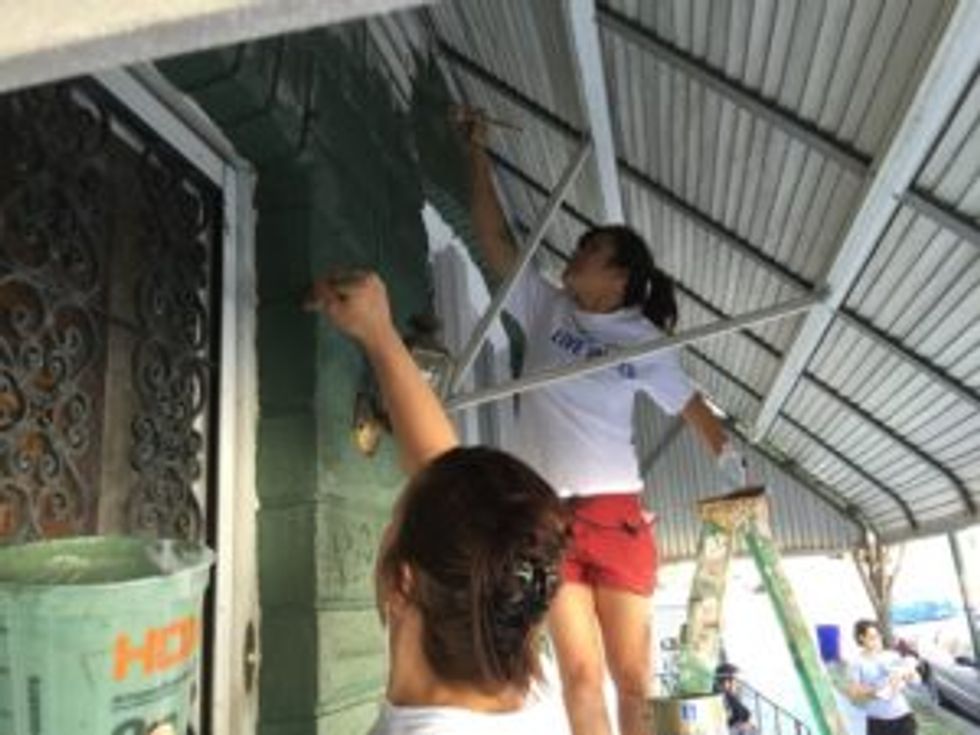 Their recent volunteer effort was part of the United Way's annual Day of Caring event, which drew more than 500 volunteers participating in more than 30 community projects throughout Berks County, Pennsylvania.
The day began for volunteers with the United Way's annual Campaign Kickoff event, which signals the start of the 2016 fundraising campaign, before making their way across the county to tackle a variety of volunteer activities.
In addition to the painting project, Penske associates were out in force across Berks County donating their time to read to children and to complete projects at a YMCA camp.
For Tibbetts, manager of fuel settlement and delivery in Penske's financial operations department, painting houses is not new. More than just a fresh coat of paint, efforts like these help her to make a lasting effect on the community.
"I want to see our community continue to grow," said Tibbetts during a painting break. "This is my way of contributing my share."
For Stoneham, an executive assistant in the Penske Logistics' corporate sales department, this was the first time she volunteered during Day of Caring. "It is so awesome to be able to work for a company that supports us like this," Stoneham said. "It makes me proud to work for Penske."
While the painting project was in full swing, another group of associates was busy with volunteer projects of a different kind at South Mountain YMCA in Reinholds, Pennsylvania.
With 90 buildings spread over 600 acres, the YMCA has provided thousands of children with a fun camping experience while also teaching leadership, character and life skills.
The opportunity to volunteer time to a charitable organization, but especially one benefitting children, was poignant for many associates with children of their own.
"My wife is a teacher, so I get to see first-hand how important a place like South Mountain YMCA is to students," said Tony Kozuch, communications specialist in Penske's marketing department, father of a little girl.
"It was a good opportunity to help make sure those students continue to have a safe place to have fun and learn – and all it took was a little time and elbow grease," said Kozuch, who helped build window screens for cabins. "The best part of the day was actually seeing kids using the facility. It made the work we were doing feel worthwhile, because you could tell it would be put to good use."
Over at the flowerbeds, Kandace Wertz, manager of associate communications, and Elizabeth Steck, executive assistant, teamed up to end the tyranny waged by growing weeds on unsuspecting flowers.
For Wertz, Day of Caring allowed this busy mother of three children a rare volunteer opportunity.
"Finding time to volunteer is almost impossible," Wertz said. "Participating in Day of Caring enabled me to better my community without worrying about fitting it into my hectic schedule. I'm grateful that Penske provided me with this opportunity."
Cathy Cooney, web design developer, and Angela Lancaster, manager of market research, were among a group of associates participating in a pool deconstruction project. Both relished in the bonds formed out of sweat equity.
"The best part of the day was working with women from our department to disassemble the YMCA's monstrous pool's water system in preparation for a new pool installation," Lancaster said. "Four women, six wrenches and a jigsaw taking apart giant equipment – that was the best part."
The effort of all associates involved was not lost on South Mountain YMCA officials.
"Volunteers from Penske help keep the operating costs of nonprofits like ours low, which means we can serve more kids and families," said Nathan Brant, CEO, South Mountain YMCA Camps. "Penske volunteers, with their hands and hearts, ensure that more kids from our community can enjoy a quality summer camp experience at the South Mountain YMCA Camps. We can't thank them enough."
To a person, the ability to give back was the overwhelming motivation for associates to take time away from their normal duties and donate time to the community. The associates credited Penske's sense of community and volunteerism.
"As one of the larger organizations in Berks County, I think it's important for us to give back to our community," said Alissa Ott, marketing specialist. "Not only does Day of Caring provide an opportunity to help agencies supported by the United Way, but it also serves as a team building opportunity and a chance to interact with colleagues you might not often interact with in the office."
That shared sense of community, reaching out to help someone in need, is central to Penske's mission.
"Penske understands that in addition to helping our customers succeed, it is important that we help improve lives in communities where we do business," said Michael A. Duff, senior vice president, government relations and chief compliance officer for Penske and chairman of the board of directors for the United Way of Berks County.
"Our associates also understand that, which is why so many of them have volunteered on this Day of Caring and are working on various projects to make the greater Reading area a better place to live, work and raise our families," Duff said. "I am proud that our associates know that good things happen when we LIVE UNITED."
Top photo: Liz Steck, executive assistant (left), and Kandace Wertz, manager of associate communications, pull weeds at the South Mountain YMCA in Reinholds, Pennsylvania.
Side photo: Kelly Stoneham, executive assistant (left), and Mary Tibbetts, manager of fuel settlement and delivery, paint houses in West Reading, Pennsylvania.
By Bernie Mixon