Penske Truck Leasing took delivery of one of the first Daimler Trucks North America LLC (DTNA) Freightliner electric eCascadia Class 8 trucks at a ceremony in Yountville, California, August 20, 2019. The truck is part of Freightliner's Electric Innovation Fleet.
"Co-creation is the cornerstone of DTNA's strategy to rapidly develop and deploy battery-electric trucks. DTNA's partnerships with customers like Penske provide valuable feedback for the final design of our trucks, as well as the design of the surrounding e-mobility ecosystem," said Roger Nielsen, president and CEO of DTNA. "DTNA's holistic approach is vital to advancing viable transportation solutions from which society as a whole will benefit."
The Freightliner Innovation Fleet is supported by a partnership between DTNA and the South Coast Air Quality Management District (South Coast AQMD) which focuses on improving air quality in the South Coast Basin and partially funded the Innovation Fleet with a nearly $16M grant. Freightliner eCascadias and medium-duty electric Freightliner eM2s from the Innovation Fleet are operated within the South Coast AQMD jurisdiction.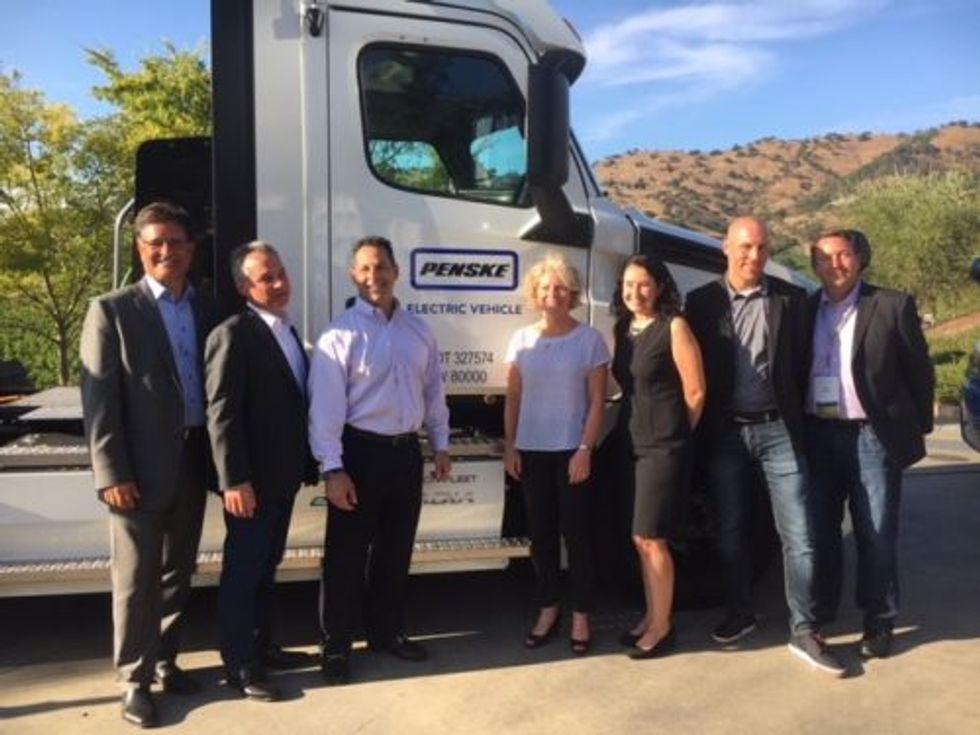 "We are excited to be a part of this ground breaking project that will directly impact local Southern California communities, especially those disproportionately impacted by air pollution," said Wayne Nastri, South Coast AQMD's Executive Officer. "We hope to see large scale deployments of similar zero emission trucks that will have significant environmental and health benefits across the entire state."
Penske Truck Leasing will run eCascadias in daily delivery operations within California's Inland Empire. "We're pleased to continue our collaboration with Freightliner and be among the first companies putting the eCascadia to work," said Brian Hard, president and CEO of Penske Truck Leasing. "Our first eCascadia will be used by our subsidiary Penske Logistics to make multiple, daily store deliveries on a dedicated route. Our in-house maintenance technicians are trained and well prepared, and our recent investments in charging infrastructure in the South Coast Air Basin will play an important role as we operate these cutting edge vehicles on their delivery routes."
The Freightliner eCascadia is built on the proven foundation of the Cascadia, the best-selling Class 8 on the market and was first revealed in June 2018 along with the medium-duty eM2. The planned start of series production for both models is late 2021. In preparation for their introduction, Freightliner has established multiple avenues for co-creating with customers. Freightliner's Electric Vehicle Council, a collective of 38 customer companies works to address the total e-mobility ecosystem. Freightliner's Innovation Fleet provides customers with the opportunity to fully test the eM2 and the eCascadia in real world use. In total, Penske and NFI will receive 30 battery electric trucks.